Odyssey Marine (NASDAQ:OMEX) has a history of not being particularly up front about its failures: indeed it is essential to their business model. Failed projects (Ancona, Sussex, HMS Victory, Neptune Minerals, etc.) are quietly swept under the rug without explanation while new substantially similar projects are touted as the next best thing and new money is raised from shareholders. If Stemm & Co. were compensated ($1.23 MILLION in 2012 according to the proxy[1]) by selling tickets to an explicitly fictional show it might be called paying for entertainment; when it's done by selling stock certificates, there might be another word for that.
OMEX's most recent presentation at Roth Capital removed a slide we had criticized as being detached from reality and compared to Enron's pronouncements of "off balance sheet value creation."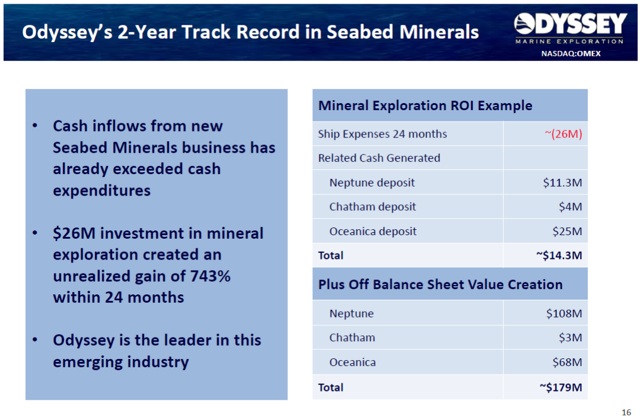 *From Craig Hallum presentation Sept. 25, 2013 and removed from March 12, 2014 Roth presentation
We analyzed OMEX's most recent 10-Q and published our findings on November 15th[2] as it appeared that Neptune had lost $25 Million its prior fiscal year and had become insolvent. Indeed, OMEX loaned Neptune $500,000 in the Q ended Sept 30, 2013 to keep it alive.
Now: Direct explicit proof that Neptune is in sharp decline:
As of March 4, 2014 Neptune is attempting to raise $5mm in the form of a convertible preferred (at $100/preferred share - don't confuse this vs. the common price/share) at $10/common share conversion and a 150% liquidation preference. To simplify: even the asking price is below $10/share equity, a minimum of a 43% decline in price since November 2012 when OMEX last pegged its Neptune value at $17.50/share[3] claiming $108 million of "off balance sheet value."
Will Neptune be successful at raising this $5 Million? Two interesting things to consider might be:
1) John Morris (co-founder of OMEX and former CEO) recently resigned as CEO of Seagrass Recovery and the company has ceased operations. We also believe there are lawsuits between very unhappy Seagrass's private investors and John Morris in process.
We have not previously mentioned Seagrass but we believe it is tightly connected to OMEX & Oceanica: Josh Adam is VP of finance of Neptune minerals which shares the same office space - 5858 Central Ave Suite A., St. Petersburg, Florida - and CEO as Seagrass. (Josh being the key fund raiser for Oceanica via MAKO). We believe it has deep financial connections through the opaque web of private companies that John Morris, Gregg Stemm & co. utilize.
2) Based on their SEC filing[4] The investment bankers that Neptune has used (paying $388,150 in commissions to) in the past have highly questionable histories and numerous allegations of fraud according to their FINRA reports[5] (which you can find yourself)
More importantly - this raises important questions for current OMEX stock holders that demand answers. In particular:
1) Did OMEX know about Neptune's sharply reduced equity valuation in September 2013 when it was touting its $108 Million of off balance sheet value and indirectly selling equity through conversions of its outstanding convertible notes?
2) What specifically was CEO Gregg Stemm referring to on the Nov 5, 2013 conference call when he said "We feel really good about what's going on with Neptune, and we feel very good about the deposits, tenements and the work that they've been doing…"?
Do current investors - some of which openly touted the "downside protection" of the off-balance sheet stakes, now provably deteriorated - think that Oceanica will be successful? Some will say: Neptune isn't important, Oceanica is where the real riches are. How many times will you allow yourself to be disappointed by OMEX projects before moving on? "Fool me once, shame on you, fool me twice, shame on me…"
We believe OMEX is desperate to raise equity
If you find yourself getting a call from Mike Argento at Lake Street Capital or Mike Malouf at Craig Hallum, maybe they really do believe the optimistic story they are putting out on OMEX, godspeed to the optimists. Maybe they have lots of their own money in the stock (I'd ask…), but be clear: They could earn big fees for persuading you to purchase fresh new OMEX stock paper. Craig Hallum has earned nearly $1 MILLION in fees for selling OMEX stock in the past.
"Contrary to some recent claims by Meson, we do not have plans for, nor do we believe that Odyssey will need to conduct any equity offerings in 2014." - Mark Gordon, Nov 5, 2013 conf call
Make no mistake - we believe OMEX sees the ship taking on water and is desperately trying to raise capital to keep the company afloat. We will have a more thorough analysis of how claims that the "Financial situation and outlook are best in company's history" is most definitely not the case after the 10K is released this week.
Will OMEX have another staged conference call this Monday the 17th where they only allow Craig Hallum and Lake Street to ask pre-screened questions like they did on November 5th? Or will they let real investors ask the legitimate questions that they have avoided to date?
---
[2] Report
[4] OMEX SEC Filing
[5] FINRA Report and FINRA Report 2
Disclosure: I am short OMEX. I wrote this article myself, and it expresses my own opinions. I am not receiving compensation for it. I have no business relationship with any company whose stock is mentioned in this article.