One of the things missing from my childhood was enjoying Coca-Cola (NYSE:KO). Pepsi and Mountain Dew (both Pepsico (NYSE:PEP) products) were the sodas available in my house when I was a child. These days whenever I drink a soda it is always a classic Coca-Cola (Sorry Warren, more Cherry Coke for you). Here's why:
The more than 3,500 products owned or licensed and marketed in over 200 countries by Coca Cola, which are in aggregate responsible for more than 1.9 billion beverage servings per day, represent only 3.3% of all beverage servings (57 billion) consumed each and every day. Yes, you read that right, all Coca-Cola beverage products combined only account for 3.3% of the daily beverage market volume worldwide, meaning Coca-Cola has plenty of room for growth.
In fact, Coca-Cola sold an increasing number of unit cases (a unit case is defined by Coca-Cola as 192 U.S. fluid ounces, or 24 eight-ounce servings) in each of the last ten years at a 4% compounded annual growth rate from 19.8 billion unit cases in 2004 to 28.2 billion unit cases in 2013, which represents a total increase of 42.4% between 2004 and 2013.
Table 1. Unit cases
| | | | |
| --- | --- | --- | --- |
|   | Volume (millions) | YOY growth (%) | CAGR Trend* |
| 2004 | 19.8 | - | 19.8 |
| 2005 | 20.6 | 4.0% | 20.6 |
| 2006 | 21.4 | 3.9% | 21.4 |
| 2007 | 22.7 | 6.1% | 22.3 |
| 2008 | 23.7 | 4.4% | 23.2 |
| 2009 | 24.4 | 3.0% | 24.1 |
| 2010 | 25.5 | 4.5% | 25.1 |
| 2011 | 26.7 | 4.7% | 26.1 |
| 2012 | 27.7 | 3.7% | 27.1 |
| 2013 | 28.2 | 1.8% | 28.2 |
|   | Total | 42.4% | 29.3* (2014) |
|   | CAGR | 4.0% | 30.5* (2015) |
* Forecasted
Based on the CAGR Trend in Table 1, one could anticipate unit case volumes of 29.3 billion in 2014 and 30.5 billion in 2015, respectively, assuming Coca-Cola continues to increase unit case volumes by 4% annually.
One of the more interesting pieces of information I came across while reading through Coca-Cola's 2013 10-K was: unit case volume outside the United States represented eighty-one (81) percent of Coca-Cola's worldwide unit case volume for 2013. In other words, Coca-Cola sold 22.8 billion unit cases outside the United States, meaning 5.4 billion unit cases were sold within the United States. This is interesting because the United States is responsible for only 19% of unit case volume while being responsible for 42%, or $19.8 billion, of Coca-Cola's total revenue of $46.8 billion, which means $27 billion of revenue is generated internationally.
Another way to think about this fact is that when Coca-Cola is able to achieve the level of revenue per unit case internationally that is does from its United States operations it will generate an additional $57.4 billion ($19.8 / 19% = $104.2; and $104.2 - $46.8 = $57.4) in annual revenue even if it never sells a single unit case more than the 28.2 billion sold in 2013.
With approximately 4.4 billion shares outstanding, $57.4 billion is equal to $13.04 additional revenue per share by doing nothing more than increasing international revenue per unit case to be on par with revenues realized per unit case in the United States. With operations in over 200 countries, Coca-Cola is well positioned to benefit from the rising standard of living and resulting increase in purchasing power of its international customers.
Further, by the end of 2014 Cola-Cola will have increased its dividend per share for the 52nd consecutive year. As shown in Chart 1, in the past decade Cola-Cola has increased its dividend per share from $0.50 in 2004 to $1.12 in 2013. This is a total increase of 124%, or 9.4% compounded annually. Should Coca-Cola continue to increase its dividend per share 9.4% annually shareholders would receive an approximate dividend per share of $2.10 in 2020 and $3.28 in 2025, respectively.
Chart 1. Coca-Cola dividend per share (actual and forecast)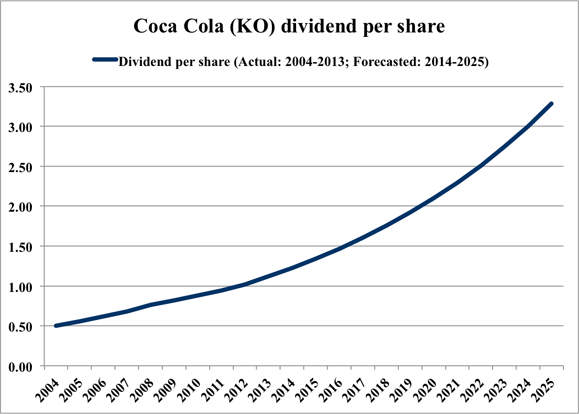 Source: Yahoo Finance
As a big believer in putting my money where my mouth is, quite literally in this instance, earlier this year I purchased enough Coca-Cola to make it the second largest holding I own by cost basis. This means KO now represents 9.1% of the cost basis of my personal investment portfolio. And unless Coca-Cola starts to taste like Pepsi I have no intention of ever selling a single share and every intention of buying more.
Risks
Four of the first six risk factors presented in Coca- Cola's 2013 10-K deal with health concerns and commodity scarcity:
Obesity concerns may reduce demand for some of (Coca-Cola's) products
Water scarcity and poor quality could negatively impact (Coca-Cola's) production costs and capacity
Product safety and quality concerns, including concerns related to perceived artificiality of ingredients, and
Increased demand for food products and decreased agricultural productivity may negatively affect the business
All of which are legitimate risks assuming global population and demand for limited resources, like water, continue to increase. However, Coca-Cola has been in business for 128 years (since 1886) and has seen the global population expand from approximately 1.5 billion in 1890 to 7 billion in 2014. As a result, I am inclined to give Coca-Cola's management the benefit of the doubt that they will be able to adapt to any changing consumer preferences (obesity/artificial ingredient perceptions) and matters of supply and demand (water/food products) of the commodities required to produce Coca-Cola's 3,500-plus products worldwide.
Think KO will never increase international revenue per unit case, will crumble under the demands placed on it by global population expansion or Pepsi tastes better than Coca Cola? Comment below.
Disclosure: The author is long KO. The author wrote this article themselves, and it expresses their own opinions. The author is not receiving compensation for it (other than from Seeking Alpha). The author has no business relationship with any company whose stock is mentioned in this article.