In the last week alone, a lot has been said about China's slowing GDP growth, declining manufacturing orders, and softer targets by the People's Bank of China. We could interpret this in many ways, but I want to strictly focus on why China's GDP is deflating, and what it means in the context of the broader equity market.
What does GDP mean?
No, I'm not here to quiz you on macroeconomic 101 concepts. But I do want to review the GDP calculation very closely. The standard expenditure calculation of GDP is Y = C + I + G + (X-M). China's calculation of GDP is somewhat similar, but the most important component is exports and imports along with investment.
To understand the impact of China's trade, we would subtract China's exports figures from its imports. According to the CIA World Factbook, China had $2.21 trillion in exports and $1.772 trillion in imports in 2013. China's GDP was estimated to be around $8.939 trillion in 2013 (official exchange rate). The contribution of trade when subtracting exports from imports is around $438 billion. The vast majority of GDP contribution came from investment in fixed capital at around 46%, according to CIA World Factbook.
So if anything, the reason for China's expanding GDP are two-fold. The amount spent on investment (fixed capital), and the difference between exports and imports. The key-word is the amount invested into fixed capital (machinery/equipment), plant, and property.
Below is Caterpillar's (NYSE:CAT) report on sales from the Asia Pacific in calendar year 2013 and year-to-date 2014:

Source: Caterpillar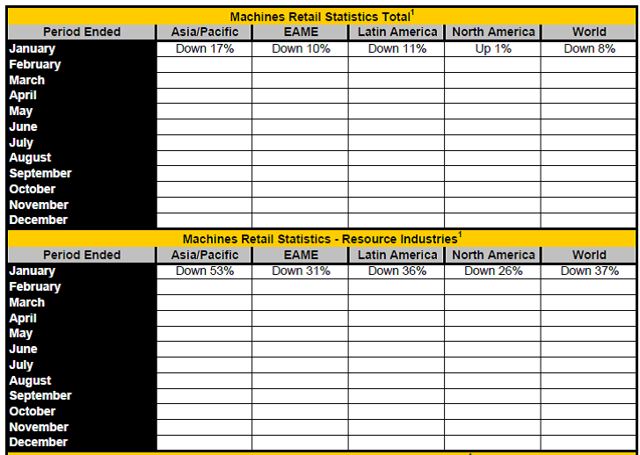 Source: Caterpillar
During January of 2014, Caterpillar reported a 53% reduction in resource industries, and 17% reduction in retail machinery. Granted, capital goods on construction were up by 10%, but that's only because China's rapidly expanding population base, and population shift to urban environments. This migratory population is driving the demand for an already healthy construction industry. Real estate values are extremely high in tier 1 cities, giving property developers a lot of equity to borrow against, for further construction. In either case, real estate isn't indicative of China's broader struggle with capital goods.
I expect China's GDP growth to slow because the aggregate investment into capital goods is nose-diving. With retail sales data from Caterpillar indicating massive declines between 2013, and 2014, further deceleration should be anticipated.
Why the rapid reduction in capital goods spending in China?
When any manufacturer invests into machinery, and other capital goods, they want to measure the amount of time it will take to earn a return on investment on that capital good/project. One of the most popular methods for assessing the potential returns on a project is net present value (NPV). In an environment of rising labor costs, it's become more difficult for China's manufacturers to break-even, dis-incentivizing long-term capital expenditure. From a macro perspective, the declining capital investment (46% of China's GDP is based on investment in fixed capital) will reduce China's GDP growth.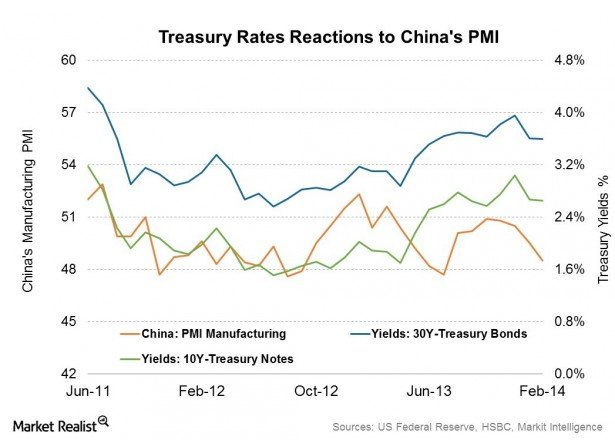 Quoted from: Yahoo! Finance
As you can tell, the PMI (purchasing manager's index) in China has declined, which confirms my suspicion that manufacturers investment into capital goods has also declined. If PMI declines below 50, it indicates that the manufacturing sector in an economy is contracting. According, to China's most recent report, PMI came in at 48.5, indicating that China's manufacturing sector is contracting. Since manufacturing is such a huge contributor to China's GDP, China has no choice but to offer softer guidance on its GDP growth.
The real concern I have with the PMI is that it indicates that new orders from customers is declining. My best guess is that rising labor costs translates into higher overhead, which manufacturers have to offset with higher pricing. Higher pricing will reduce the demand for a specified quantity of goods sold. Declining demand for finished goods will reduce investment into capital goods, and since the capital goods component is such a large percentage of nominal GDP, China's economy is well on its way to a slower growth trajectory.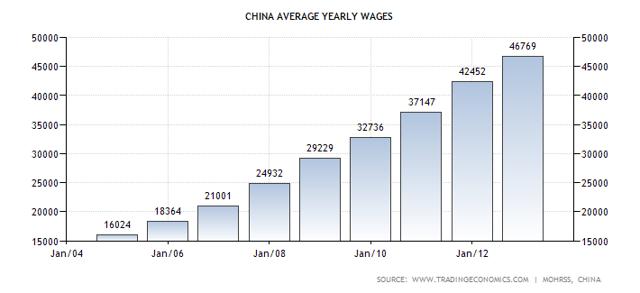 Source: Trading Economics
Rising wages is leading manufacturers to take flight to lower wage countries. However, considering the sheer base of machinery, and size of labor force, it may be more difficult for more advanced manufacturing to transition to countries with lower labor costs. Sure, textiles can jump on the low wage bandwagon, but what about companies that assemble printed circuit boards, or semiconductors? It's likely that they'll have to absorb rising labor costs, considering the sheer amount of pre-existing fixed investment into PP&E.
My best guess is that rising labor costs will dissuade manufacturers from investing into capital goods, as the amount of operating income available for further expansion is likely to shrink due to falling gross margins. Furthermore, the declining profitability from pre-existing manufacturing operations will make it more difficult for internal management at many of the manufacturing firms to make an adequate return on invested capital. In this environment, exports may decline marginally, but investment into capital goods will nose dive. This asymmetry is hard to quantify, but earlier I mentioned that contribution to GDP from exports minus imports was $438 billion. So even if PMI indicates declining demand for finished products, the bigger problem is the going-concern of pre-existing manufacturers, and the predictable behavior manufacturers tend to exhibit in a worsening economic environment (cut backs on investment).
Conclusion
If I were to make a bet on China, I would invest heavily into the service sector, and avoid the manufacturing sector. Worsening manufacturing, correlates to higher interest rates, so investing into Chinese Dim Sum Bonds (NYSEARCA:DSUM) could prove fatal. I don't think I'd want to go short the Chinese economy, as I see further weakness in broader equities as an opportunity to buy into ETFs that focus on services. Ideas that come to mind include the China Consumer ETF (NYSEARCA:CHIQ) and China Financials ETF (NYSEARCA:CHIX).
I would avoid capital goods that have a strong emphasis on China like Caterpillar and Deere & Co (NYSE:DE). I'm a little more optimistic on aerospace and defense like Boeing (NYSE:BA) and United Technologies (NYSE:UTX). In general, consumer demand for transportation tends to increase when there's higher discretionary spending (defer to income elasticity of demand). Since aerospace is further up-stream from transportation, I believe an indirect play on Chinese consumer growth through Boeing and United Technologies could offer a better mix of income and growth.
Disclosure: I have no positions in any stocks mentioned, and no plans to initiate any positions within the next 72 hours. I wrote this article myself, and it expresses my own opinions. I am not receiving compensation for it (other than from Seeking Alpha). I have no business relationship with any company whose stock is mentioned in this article.