As a business development company or "BDC", shares of Apollo Investment Corporation (NASDAQ:AINV) offers investors a generous yield of about 9.5%. A recent pullback in the stock market and in the shares of this company has created an ideal buying opportunity. As the chart below shows, this stock remains in a solid longer-term uptrend, in spite of the recent pullback. In February, the shares were trading for more than $9, and now trade for about $8.50, which is near the low end of the recent trading range. Investors who have bought on dips like this in the past, have typically done well and will continue to be rewarded with a generous yield.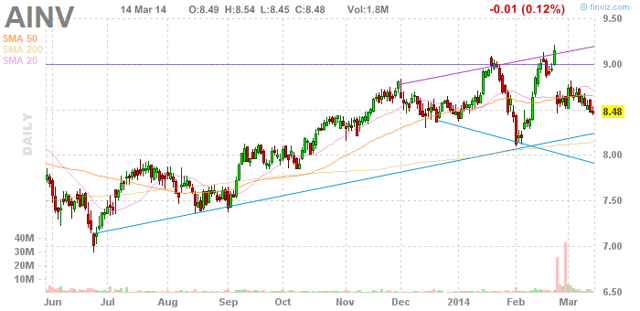 Apollo Investment Corporation makes money by providing debt and equity capital to a variety of companies such as restaurants, food distribution, healthcare, technology and other industries. It earns income from fees, interest payments, capital appreciation and other related sources, and it pays a large portion of this to shareholders. This company has a diversified investment portfolio which includes companies like: Avaya, Inc. (OTC:AVYA), Booz Allen Hamilton, (NYSE:BAH), Chesapeake Energy Corporation (NYSE:CHK), Miller Energy Resources (NYSE:MILL), and numerous others. This diversification across a wide range of industries reduces risk for shareholders.
There are a few potential downside risks to consider when investing in business development companies. For example, a recession is a potential risk to consider since a tough economy could impact loan repayments or reduce the value the investment portfolio. However, the risk of a recession seems limited at this time. Another typical downside risk is secondary stock offerings. Companies in this sector are more prone to secondary offerings, especially if the share price is trading well above book value. Apollo Investment recently announced a secondary offering for about 12 million shares on February 25, which is why the stock has been down lately. When offerings are made, this increases the supply on the market, but the stock often recovers after the new supply of shares are absorbed by the market. That is why I consider secondary offerings to be a great buying opportunity. For example, this stock was trading for just over $9 the week before the offering, and it now trades for around $8.50.
With the shares well below the recent highs, investors who buy now could see gains in a rebound. However, the main reason to buy this stock is for the generous dividend yield of nearly 9.5%. Apollo Investment recently declared a quarterly dividend of 20 cents per share for shareholders of record on March 21, 2014, and it will be paid out on April 7. This is another reason to buy this stock now, because you will only have to wait a few days to be eligible for the next big dividend. This 20 cent payment will essentially reduce your cost basis almost immediately, which is why the shares are even more attractive to buy now than many investors realize.
Insiders have been buying shares of Apollo Investment in the past few weeks. For example, on February 28, 2014, Edward Goldthorpe (an officer) purchased 10,000 shares for $8.64 each, in a transaction valued at $86,400. On the same day, Jeannette Loeb (a director) bought 13,500 shares at $8.62 per share in a transaction valued at over $100,000. On February 10, 2014, Gregory Hunt (an officer) purchased 10,000 shares in a transaction valued at nearly $84,000. When multiple insiders buy shares after a pullback, it can be a sign that the stock is undervalued.
In summary, there are a lot of reasons to buy now: A soon to arrive dividend payment, a generous yield of about 9.5%, plus the pullback in the stock is giving investors a better entry point. Furthermore, multiple insiders are buying now, which be another sign that this high-yielding stock is too cheap to ignore.
Here are some key points for Apollo Investment Corporation:
Current share price: $8.55
The 52 week range is $7.28 to $9.21
Earnings estimates for 2014: 90 cents per share
Annual dividend: 80 cents per share which yields nearly 9.5%
Data is sourced from Yahoo Finance. No guarantees or representations
are made. Hawkinvest is not a registered investment advisor and does
not provide specific investment advice. The information is for
informational purposes only. You should always consult a financial
advisor.
Disclosure: I am long AINV. I wrote this article myself, and it expresses my own opinions. I am not receiving compensation for it (other than from Seeking Alpha). I have no business relationship with any company whose stock is mentioned in this article.