The impact of the Gulf of Mexico oil spill has been staggering. The toll on the environment is obvious and the hit to the local economy of the states directly impacted is yet to be fully felt. For many residents of the Gulf Coast, their livelihoods are in ruins and the economic impact will continue to be felt far after the media attention becomes focused elsewhere.

For investors, there are many questions that need to be answered. The obvious ones revolve around whether or not BP and its partners, Anadarko's (NYSE:APC) share prices are discounting (pricing in) too much pessimism - making the shares an attractive buy for some investors. In addition, the servicing companies whose share prices have dropped are also being looked at as opportunities.

Those questions are of the obvious variety. But the longer term impact of the oil spill on US energy production is not being given the analysis it should. The Obama administration's restriction on new deepwater drilling is designed to give them a chance to review the rules and regulations in place to see if they are adequate. While this is prudent, it will come at a cost.

The new rules prevent continued exploration drilling in water over 500 feet but have allowed production from the existing 591 deepwater wells to continue. It should be noted that drilling in water 500 feet or less will not be impacted and there are over 4500 wells in these shallow waters.

The shutdown is impacting about 33 deepwater rigs, some of which are leased for over $500,000 per day. The drilling rig operators and their employees are going to be impacted significantly. While the President has suggested that unemployment insurance benefits will be available, the point is missed that these are high paying jobs, so unemployment benefits are not going to cut it-- especially in an economy where jobs are hard to come by.

The issue for the US and the energy industry is what impact will this have on future US oil production. About 33% of US oil production comes from the Gulf of Mexico but 80% of this oil comes from the wells working in over 1000 feet depths (i.e. deepwater drilling). Put another way, about 25% of US oil production comes from deepwater Gulf of Mexico.

One of the other side notes to this story is that for the first time in almost a decade, the US had been able to increase year over year production. In recent years, the Gulf of Mexico has become a source of excitement for oil companies as new discoveries have caused the industry to rethink their opinion of the riches that still remain to be drilled. As candidate Obama had promised, the US would wean itself off of foreign oil (read Mideast oil) in ten years. A key component for fulfilling that pledge has to be the Gulf of Mexico or a quantum leap in energy efficiency.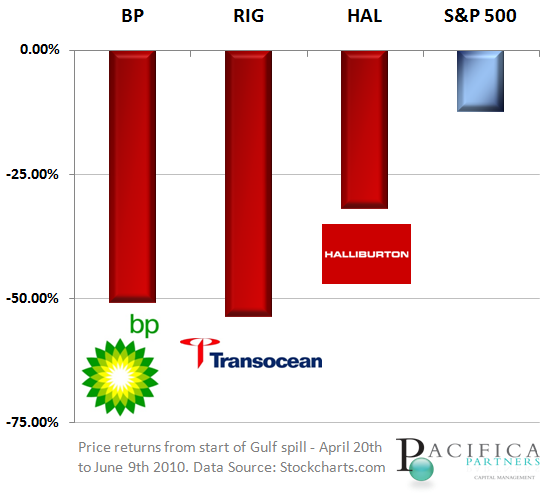 (Click on chart to enlarge - Source: StockCharts.com)
For the state of Louisiana, still dusting itself off from the impact of Hurricane Katrina, this disaster will impact the state's budget significantly. As its governor has stated, "During one of the most challenging economic periods in decades, the last thing we need is to enact public policies that will certainly destroy thousands of existing jobs while preventing the creation of thousands more."

Often times, regulations have unintended consequences. For the Gulf of Mexico, if rules are changed so that there is no upper limit on liability for damages from such incidents, smaller oil companies will be forced out and the super majors may decide it is not worth their bother to drill for wells that would not add significantly to their own oil production numbers.

Finally, for BP and its shareholders, there is another aspect to consider. What would happen if BP bows to pressure from politicians to eliminate its dividend until all damages have been paid? For starters, the largest source of dividend income for UK pension funds is BP stock. If the dividend is halted, what will be the impact on the pensioners? Would this make BP a sitting duck for another super major to take it out, and how might this impact diplomatic relations between the UK and the US? Already, there seems to be a significant difference in news coverage between the US and UK media outlets.

Thus, it can be seen that this is no time for "knee jerk" reactions from politicians. There is plenty of time to throw around blame and figure out what the appropriate levels of compensation should be and who will pay those claims. The irony is that just before this accident occurred, the White House had made a decision to show support for an expansion in offshore drilling. Now, they realize that the regulations were not sufficient.

During the run up to his election, it was thought that candidate Obama had been cautious towards future US reliance on the oil sands based on the idea that this was "dirty oil". Today, it seems that the Canadian energy industry might not look so bad. Already, Canada is the US's largest source of foreign oil - with the future of the Gulf of Mexico suddenly in doubt, it looks as if Canada will maintain that mantle for a lot longer than many might have thought.

Disclosure: We do not hold positions in the stocks mentioned