Zynga (NASDAQ:ZNGA) has seen an explosion in its share price since February of this year, rising from $3.40 to $5.80 this past week. With the recent rise in share price, I figure now is a good time to take a look at whether this new valuation is justified.
Zynga missed many analyst estimates again when it reported Q4 earnings, but the loss was less than expected, causing the shares to soar after hours. As of February 28th, there is a short interest of 46.5 million shares, the second highest it has ever been. The recent rise in share price is likely due to many shorts covering. The recent Morgan Stanley Technology Conference and the upcoming Candy Crush creator King Digital IPO, which is seeking a valuation of $7.6 billion, are surely helping Zynga's share price as well.
Zynga reported revenue for Q4 of $176 million, a 43% decrease year over year and a 13% decrease compared to Q3. Bookings were $147 million for Q4 of 2013, a 44% decrease year over year and a 4% decrease compared to Q3 of 2013. The adjusted EBITDA margin is down from 5% in Q3 2013 to 2% in Q4 2013.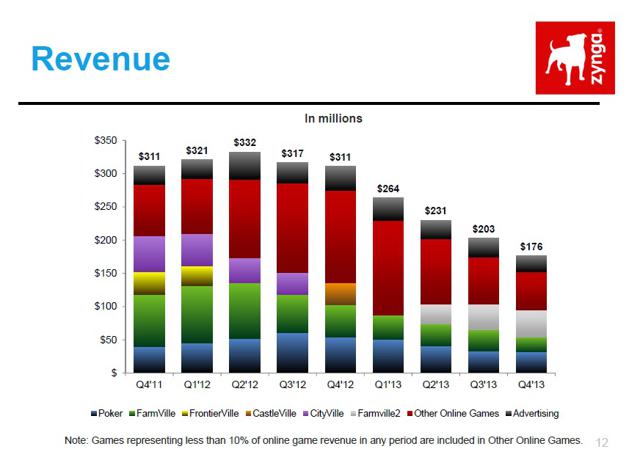 Zynga's daily and monthly active users are still continuing to decline, down 51% and 62%, respectively, year-over-year and are also down quarter over quarter.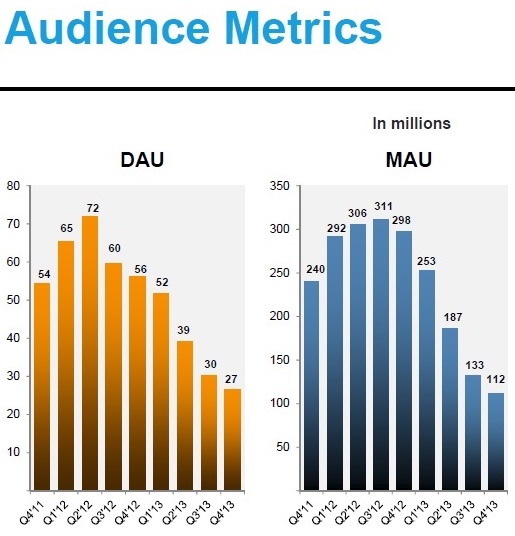 By now you should be wondering why is the stock up. Zynga's management is expecting Q4 2013 and Q1 2014 to be the bottom and where things will start turning around. They are expecting growth in revenue, bookings and users. Announcing the acquisition of NaturalMotion for $527 million also helped while announcing its earnings.
Another issue is the projected 985 million share count at the end of 2014 from the current 860 million. That is projecting a 12.5% dilution for 2014 which will certainly hurt earnings per share.
With no signs of any potential turnaround yet, combined with declining revenues, users and share dilution on top of that, I certainly would not want to own Zynga. Even if there is a slight improvement in revenues in Q1 or Q2 in 2014 it will not be creating much value for shareholders when it is facing a 12.5% dilution in 2014. The next earnings report is not expected until April, so I will be watching closely for any improvements in this declining company next quarter. Zynga is going to be on a long road to recovery and this recent rise in share price I feel is certainly not warranted.
Disclosure: I have no positions in any stocks mentioned, but may initiate a short position in ZNGA over the next 72 hours. I wrote this article myself, and it expresses my own opinions. I am not receiving compensation for it (other than from Seeking Alpha). I have no business relationship with any company whose stock is mentioned in this article.