As part of my research into an experimental dividend growth portfolio I have been looking into railroad stocks. Recently I wrote an article about Union Pacific (NYSE:UNP) which is trading at a historically high PE. One of the more undervalued such stocks is Norfolk Southern. Due to two large megatrends I believe this stock is poised to deliver long-term market outperformance for dividend growth investors.
Company Overview:
Norfolk Southern (NYSE:NSC) is a railroad that operates 20,000 miles of track in 22 states and Washington DC. It operates in every major eastern seaport, 10 river ports and 9 lake ports.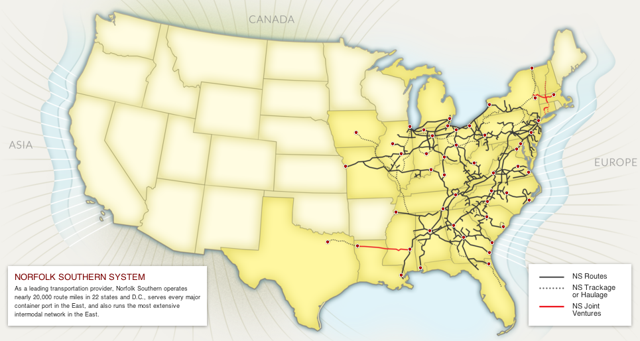 Source: Norfolk Southern System Overview
The company is well positioned to take part in two demographic megatrends that will provide strong catalysts for growth in the decades to come.
Catalysts For Growth:
The US Census Bureau predicts the US population will rise by 100 million by 2050. The Federal Railway Administration estimates that every American requires 40 tons of annual freight. This means an anticipated 4 billion tons of additional annual freight by 2050. This is projected to increase rail traffic by 35% over the next 36 years.
A growing population will also result in stronger economic growth, which always benefits the railroad industry.
The second megatrend is global population growth and growing demand for food. According to the UN the world's population is expected to grow from 7-9 billion by 2050. This will require a doubling of agricultural output to meet the increased demand.
In addition to the increased exports that 2 billion new consumers will demand, the US is one of the largest exporters of food in the world. In 2013 America exported $136 billion in food. A doubling of this would mean greatly increased business for Norfolk Southern.
Risks:
Norfolk Southern has several risks it faces that are unlikely to derail long-term growth but investors should be aware of. In the short-term these risks may create attractive buying opportunities.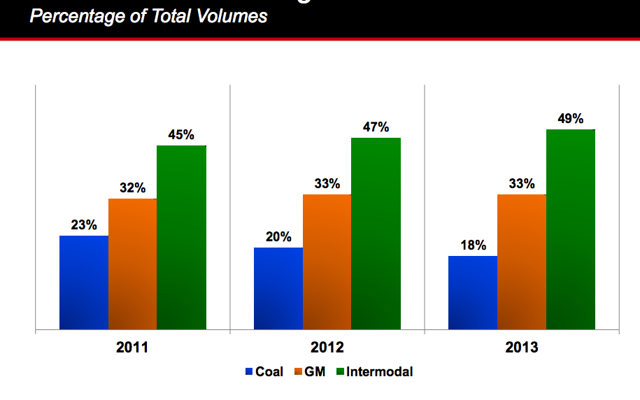 Source: BB&T Capital Markets Transportation Conference
One of its biggest risk factors is the company's heavy exposure to coal shipping. With increasing EPA regulations and the rise of natural gas as an alternative in energy generation, coal is likely to continue to drag on the company's results.
Investors should also be aware of the devastating effects of the recent winter weather.
Through the first 6 weeks of Q1 volume is down 5% overall with all segments except chemical (13% gain) experiencing declines, including 10% declines in auto transport and a 15% decline in coal.
This will result in a horrific first quarter that may pose a buying opportunity for an already undervalued stock.
Finally, the recent spat of rail transported oil accidents may lead to stricter oil tanker regulations on railroads. It will also add political pressure to increase pipeline transport with the Keystone Energy Pipeline the prime example. Increased pipeline transport would decrease demand for rail transport of oil which is one of Norfolk's strongest segments.
Recent Results:
According to the most recent earnings conference call:
Q4 results:
revenues up 7%
intermodal up 6%
merchandise up 12%
coal down 2%
agriculture up 6%, corn up 23%
chemicals best performing segment, up 22% on strong crude shipments
auto up 10%, double the rate of national auto production growth
lumber up 16%
Full Year Results:
Revenues up 2% despite a 12% decline in coal
EPS up 12%
2014 Outlook:
Q1 will be very weak due to weather issues as previously noted. Coal shows no signs of turnaround. Southern utilities have a stock pile of coal and natural gas is fast replacing coal as primary electricity source in the company's key markets for coal.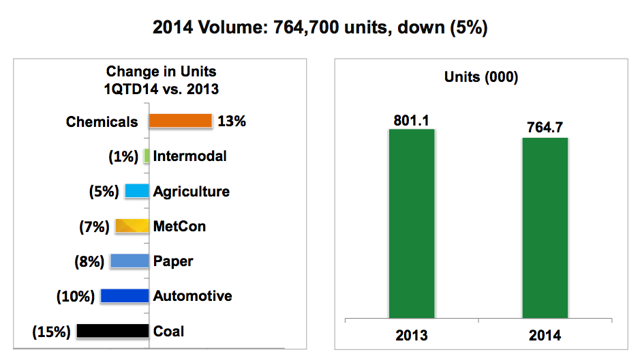 Source: BB&T Capital Markets Transportation Conference
Intermodal (highway container transport) is expected to be strong due the Q4 opening of the South Carolina inland port and Charlotte Terminal.
In merchandise the company projects strong crude oil and shale oil petroleum product shipments.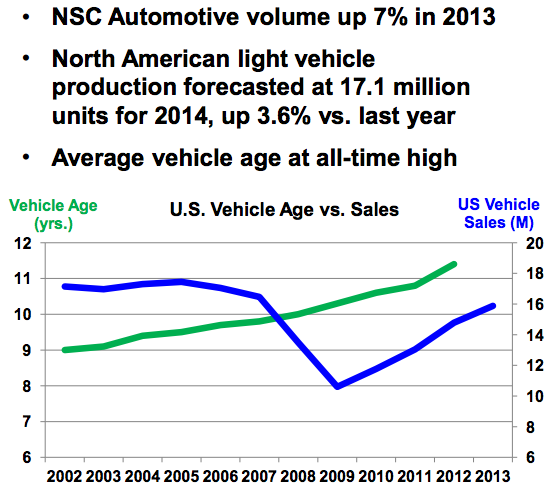 Source:BB&T Capital Markets Transportation Conference
Auto production in US during 2014 is predicted to increase 5% resulting in 5% projected growth in steel shipments.
2014-2016 Forecasts: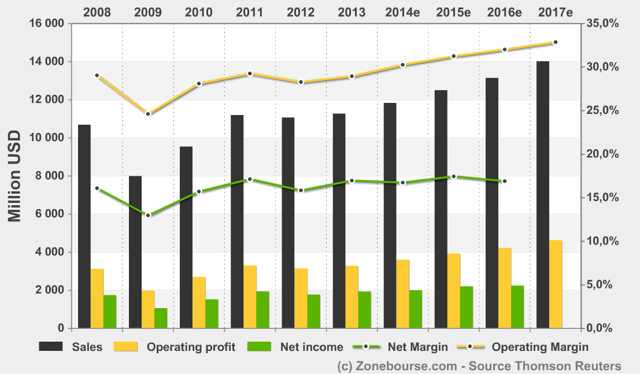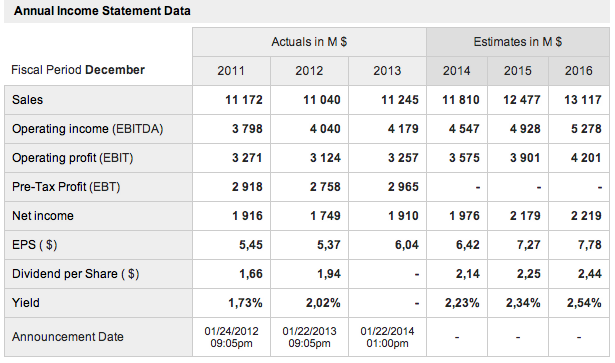 Source: 4-traders.com
Over the next 3 years revenues are projected to grow 5.36% CAGR.
Over the next 3 years EPS is projected to grow at 8.81% CAGR.
Over the next 5 years EPS is projected to grow at 11.07% CAGR.
Valuation and Fair Value:
To calculate present day fair value I start by using 5 year analyst estimates of 11.07% earnings growth to model 2018 EPS of $9.88. Next I determine the average 5 year PE ratio of 16.08 to use as my long-term multiple to determine a share price of $158.87.
To this I add the projected dividend the company will pay out over the next 5 years. I use the 18 year CAGR of 6.08% for dividend forecast, because it represents a reversion to the mean rate. Since 2004 the company has had many years of fast dividend growth and in order to let the payout ratio cool off, the dividend growth rate will need to be beneath the earnings growth rate for several years.
| | |
| --- | --- |
| Year | Dividend |
| 2014 | 2.16 |
| 2015 | 2.30688 |
| 2016 | 2.46374784 |
| 2017 | 2.63128269312 |
| 2018 | 2.81020991625216 |
| Sum | 12.3721204493722 |
As seen in the table, I am projecting total dividends of $12.32/share. I add this to projected share price to determine a total value of: $171.19
Next I discount this by the stock market's 1871-2013 long-term 9% CAGR returns. Adjusted for dividend reinvestment this return is 11.1% CAGR. To discount by this amount one has to divided the projected 5 year price by 63%. This gives a present day fair value of:
Fair Value: $105.02
Discount to Fair Value: 10%
Projected Total Return: 12.89%
Technical Analysis
Note that I am a long-term fundamental investor. I only present technical analysis to help potential investors time initial purchases. Existing shareholders should not sell unless the fundamental thesis of the investment changes.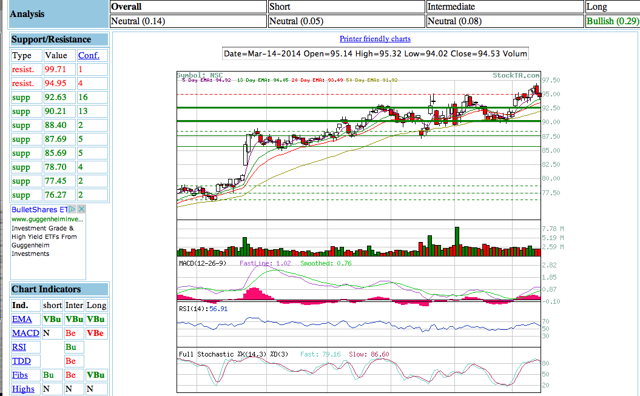 Source: stockta.com
The technical analysis indicates a neutral short term pattern. The most recent candlestick pattern indicates a bearish trend as does the overbought stochastic. However, there are two very strong support levels right beneath the current price. Interested investors should consider purchasing a half position now and filling out the position at a better price in the event of a dip. This dip may come at the next earnings announcement due to the weather related difficulties in the first half of Q1.
Conclusion:
Norfolk Southern represents exactly the kind of boring, consistent, dividend growing stocks that make dividend growth investing so successful. The company is currently undervalued relative to its peers due to its overexposure to coal. However, the megatrends that will drive growth in the railroad industry will help the company overcome this weakness as it eventually transitions away from coal and towards intermodal and merchandise transport. Norfolk Southern is currently a buy based on the current price though the discount to fair value is minimal. Consider purchasing in halves or thirds and adding on dips.
Disclosure: I have no positions in any stocks mentioned, and no plans to initiate any positions within the next 72 hours. I wrote this article myself, and it expresses my own opinions. I am not receiving compensation for it (other than from Seeking Alpha). I have no business relationship with any company whose stock is mentioned in this article.