Alcoa Inc. (NYSE:AA), the biggest U.S. aluminum producer, is positioned to record robust financial results in the coming years. This is because both the company's top and bottom lines are expected to be positively impacted by various factors that I will discuss in this article. These factors include the rebounding price of aluminum and the company's initiatives to improve productivity and reduce inefficiencies such as the closure of its most inefficient smelters.
Analysts regard the operational moves taken by the company as a step in the right direction. Investors' optimism about the company's future is reflected in the company's share price that rose 40.60% since the previous year, above the Dow Jones U.S. Aluminum index which rose 37.36%, as shown in the chart below.

Source: Ycharts
Alcoa, Inc. deals in the exploration, manufacturing, and engineering of lightweight metals that include aluminum, titanium, and nickel. The products made from these metals are supplied to aircraft, automobiles, commercial transportation, packaging, oil and gas, defense industries.
The company was recently honored and named as the most admired metal company by Fortune magazine. This is because the company is leading in around eight out of nine key attributes and is being revered for its innovation, use of corporate assets, long-term investment, financial reliability, and product and services quality supporting the growing importance of innovative, lightweight, metals to modern society.
Hence, I will analyze a few factors that will support the company's top and bottom lines in the coming years and turn the stock into a good investment opportunity.
Let us begin by discussing the major factors that will support the company's top line.
Rebounding Aluminum Market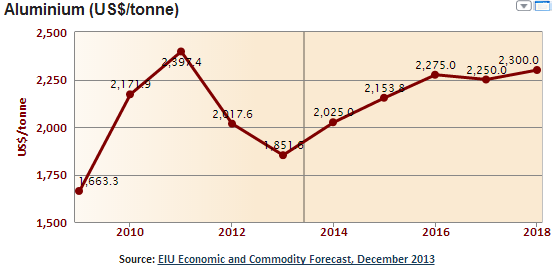 Source: Knoema
You can see from the chart above that aluminum prices per tonne declined since 2011 up until 2013. From 2014 to 2018, the price of the metal is forecasted to rebound.
According to analysts, aluminum for immediate delivery on the London Metal Exchange is forecasted to rise to $2,292 in 2014 and $2,400 in 2015. These estimates reflect the assistance to Alcoa's top line and bottom-line improvement in the coming years.
The factors that will contribute to these rising prices of the metal include rising aluminum demand from the aerospace and automotive industries as discussed below. Producer cutbacks will also lift aluminum prices in 2014.
Aluminum Demand in the Aerospace and Automotive Industries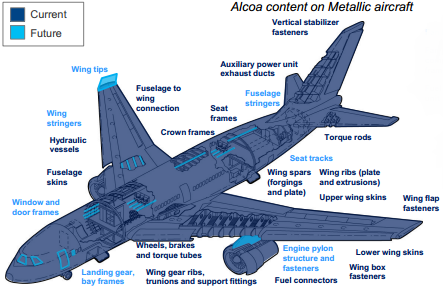 Source: BMO Metals and Mining Conference
The company projects a 7-8% growth in the global aerospace market because of rising production and backlogs of large commercial aircraft. You can see the Alcoa content on the metallic aircraft from the diagram above. The company is focusing more on the aerospace and auto markets looking at the growth prospects associated with these markets. The company anticipates an improvement in airline fundamentals triggered from the projected rise in air travel demand resulting in a 10% growth in the aerospace market and 12% for the large commercial aircraft segment.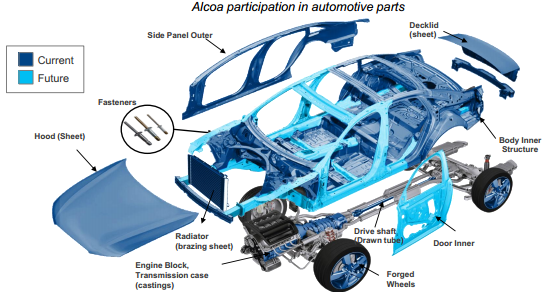 Source: BMO Metals and Mining Conference
The diagram above shows the participation of Alcoa in automotive parts and further room for expansion within a vehicle. The company projected 1-4% and 3% end market CAGR (2013-2016) for the global and North American automotive industries, respectively. Aluminum auto sheets are expected to grow at a CAGR of 14% from 2012 through 2025 while Alcoa projects a more than 50% CAGR for North America auto sheet (2013-2016).
This is driven by demand from automakers such as Ford Motor Company (NYSE:F) which recently unveiled its F-150 and recognized aluminum as a primary choice for mainstream auto use. As a result, Alcoa projected a rise in aluminum content per vehicle in North America and its revenue as shown in the charts below.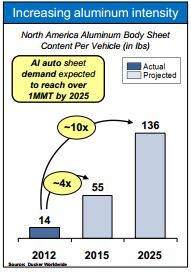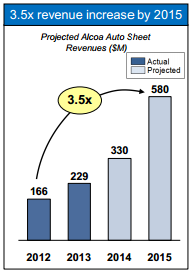 Source: BMO Metals and Mining Conference
Kaiser Aluminum (KALU) projects North American car builds to increase around 4% in 2014. With regard to the auto industry, vehicle sales have been growing over the last 12 months. As a result, usage of aluminum will represent the second largest-volume component material in automotive vehicles and is forecasted to double by 2025.
As referred to earlier, the rise in the use of aluminum by automakers like Ford and General Motors Company (NYSE:GM) will turn out to be the major reason for gains for Alcoa. This is further discussed in the following paragraphs.
Product Quality: Strength of the Company
Alcoa Inc. is recognized by numerous automobile manufacturers as their favored supplier of value-add aluminum materials for use in vehicle bodies. Automakers in the U.S. are increasing the usage of aluminum in their vehicle bodies in order to comply with regulatory fuel efficiency requirements.
Ford Motor Company has reached a deal with Alcoa to supply value-add aluminum materials for use in its F-Series trucks.
According to a Wall Street Journal report, General Motors is planning to secure aluminum to produce aluminum intensive pickup trucks. General Motors just signed a supply contract with Alcoa and Novelis, increasing their aluminum sheet production to drive aluminum-made pickup manufacturing.
In addition to external growth factors, the company is positioning itself to avail opportunities by undertaking strategic moves.
Strategic Moves to Support Growth
In 2012, Alcoa started to expand its aluminum lithium capacity and capabilities and began construction of a $90 million greenfield facility adjacent to its Lafayette, Indiana plant. When completed, the facility will produce more than 20,000 MT of aluminum lithium and is anticipated to cast its first aluminum lithium cast products by the end of 2014.
Alcoa and VSMPO-AVISMA Corporation signed a cooperation agreement in October 2013 that will let the companies cater to the growing demand for high-end titanium and aluminum products for aircraft manufacturers worldwide. This new joint venture will focus on manufacturing high-end aerospace products such as landing gear and forged wing components at Alcoa's plant in Samara, Russia. The joint venture is expected to be operational in 2016.
Alcoa and its CPI joint venture, created in November 2012, will produce high-end fabricated aluminum products in China. In total, three Alcoa businesses will be integrated into this company in 2014. One of these businesses will be an aerospace and industrial fastener facility located in Suzhou, China.
The company's $10.8 billion joint venture in Saudi Arabia recently produced its first metal. The Saudi plant integrates all the stages of aluminum production from bauxite mining to sheet rolling and will be Alcoa's lowest-cost factory as disclosed by the company.
After discussing the top-line growth opportunities for the company and the company's strategic moves to avail them let us now discuss the outlook of the company's bottom line.
Bottom-line Outlook
Alcoa's bottom line is currently sturdily tied to overall aluminum prices. The outlook of aluminum prices is bright so I will consider some other factors that will support the company's bottom line.
Productivity Savings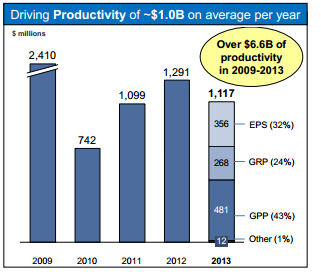 Source: BMO Metals and Mining Conference
You can see from the chart above that the company has been improving its productivity and recording bottom-line gains over the past several years. For FY 2014 the company has set a target of $850 million gains in productivity through process productivity, procurement savings, and overall cost reductions.
Removing Inefficiencies
The company has declared that it will permanently shut down its Point Henry aluminum smelter and two rolling mills in Australia by the end of 2014. The Point Henry smelter was under the company's strategic review since 2012 because of the unfavorable market conditions and concluded that the smelter had no prospect to turn financially viable. The two rolling mills that serve the local and Asian can sheet markets have been effected by excess capacity. Alcoa will record restructuring charges in FY 2014 with respect to these closures. These charges are anticipated to be around $250 million-$270 million after-tax and non-controlling interest, or 22-25 cents per share. Around 60% of these charges would be recorded in Q1 FY 2014.
Including the shutdown of the Point Henry smelter, the company has announced closures or curtailments of around 551,000 metric tons of smelting capacity, beyond the 460,000 metric tons under review in May 2013.
Alcoa is making capital investments and is on track to avail cost savings and curtail capacities in its upstream business. These curtailments will increase the competitiveness of the company's primary products business.
Debt Concern and My Take
Analysts expect Alcoa to earn about 35 cents in 2014 and 59 cents in 2015. The company aims to achieve 30-35% debt-to-capital ratio in FY 2014. The chart below shows that the company recorded a decline in its net debt in FY 2013 in comparison to its year-end net debt for FY 2012.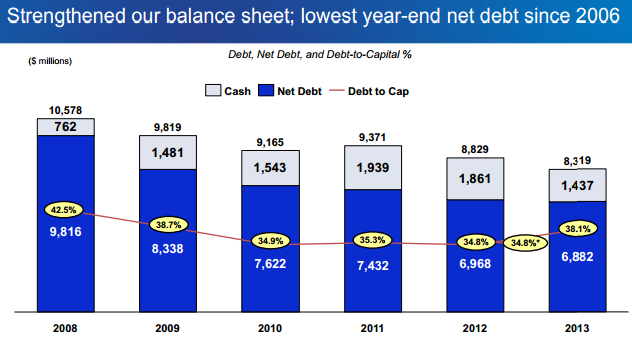 Source: AA 4th Quarter Earnings Conference
Stemming from my analysis I believe that the recovery in the aluminum market due to high demand will support the company's top and bottom line growth. The company's bottom line was negatively impacted by LME aluminum prices in the FY 2013 as shown in the chart below.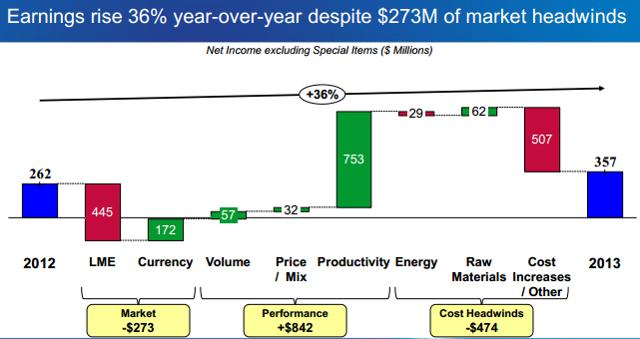 Source: AA 4th Quarter Earnings Conference
Additionally, the company's strategic moves to expand in growth areas, curtail inefficiencies, and add productivity gains will also support the company's growth in the coming years.
Disclosure: I have no positions in any stocks mentioned, and no plans to initiate any positions within the next 72 hours.
Business relationship disclosure: The article has been written by a Blackstone Equity Research research analyst. Blackstone Equity Research is not receiving compensation for it (other than from Seeking Alpha). Blackstone Equity Research has no business relationship with any company whose stock is mentioned in this article.