Most people know there is a shortage of food throughout the world. This means there is a secular growth story in place for food manufacturers. Sometimes market conditions dictate that the grow can accelerate, this is the case for Tyson Foods. (NYSE:TSN) at the current time. Pork prices, one of Tyson Foods' staples are soaring. Lean Hog CME futures have gone from $0.8450/lb. on January 9, 2014 to a high at the time of this writing of $1.2215/lb. on March 17, 2014. That's an increase of 44.56% in a little over two months. This has been largely due to the Porcine epidemic diarrhea virus. This has spread to farms in 27 states; and it has killed millions of young pigs since it was identified in the US for the first time in April 2013. The number of new confirmed cases has accelerated since late 2013. It is fatal only to young pigs (80% - 100% fatal for piglets under two weeks old); and it poses no threat to human health or food safety.
One might at first think that this would be a disaster for Tyson Foods . However, Tyson Foods is a buyer of hogs, not a producer. The hogs are not actually dying at Tyson Foods farms. The prices for hogs are going up; but Tyson Foods can pass along the price increases to its customers (probably with an extra hedge built in due to the volatility in prices). This means TSN should make even more profits than planned. Thus far the production has not decreased due to the disease. Tyson has about 17% of the US pork production market. There has not been huge growth of the pork market in the US. However, the Chinese demand has grown from 26.2 million tons in 1992 to 54.3 million tons in 2013 (about double). There is clear demand growth for the future.
Live Cattle futures have also risen from $1.3215/lb on December 19, 2013 to $1.46825/lb on March 5, 2014 (about 11%). The unrelenting drought in the US is one reason for this. The drought weather is expected to continue this summer (2014); and prices may rise farther. A weaker USD and increasing demand from countries other than the US are other reasons. At the start of 2014 US ranchers had 87.99 million head of cattle. This is the lowest total since 1951. Again this should mean more profits for TSN. It has 26% of the US beef market.
The graphics below describe the sales by segment for Tyson Foods and its sales by distribution channel.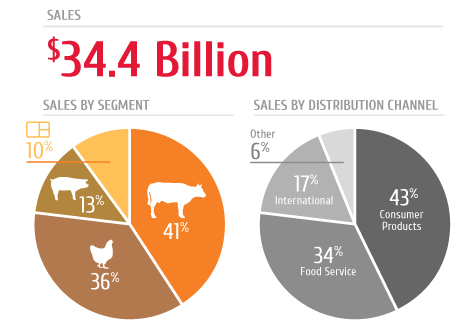 Overall Tyson Foods produces approximately 1 in 5 pounds of chicken, beef, and pork in the US.
In its Q1 2014, Tyson foods increased EPS 47% to $0.72 versus $0.49 for the year ago quarter. It had sales of $8.8 billion, which was an increase of 4.7% over Q1 of 2013. Operating income increased 36% to $412 million; and overall operating margin was 4.7%. To go along with this, it had record Chicken segment operating income of $225 million with a 7.5% operating margin. It had Pork segment operating income of $121 million with an 8.5% operating margin. Plus it repurchased 4.6 million shares; and it has increased its buyback authorization from 9.6 million shares to 34.6 million shares. This is in excess of 10% of the current shares outstanding.
Since Q1 2014 ended, both pork prices and beef prices have gone up substantially. These should serve to increase TSN's profits. It can pass the added costs on to its customers; and it will usually do this with an extra add on for volatility. This should lead to even larger profits in the near term. So far there has not been any lack of pork production, so that has not been an issue; and it is not an immediate problem. This means TSN should make even greater profits in the coming quarters. In fact management on March 12, 2014 reiterated that they expect fiscal 2014 EPS to be at least $2.78. This is below the average analysts' estimates of $2.89, but the management figure is likely a very conservative one, especially given the current price dynamic of the underlying commodities. With a PE of 17.70 and an FPE of 13.53, TSN is perhaps a little pricey. However, it does look like a strong stock; and its current underlying commodity dynamics make it likely to be even more profitable than currently forecast for the near future. The Q1 2014 surprise of +14.30% tends to confirm this. The continued strong rise in the underlying commodity prices tend to confirm it too.
The two year chart of TSN is also technically very good.
The slow stochastic sub chart shows that TSN is overbought. The main chart indicates that TSN is in a very strong uptrend. However, it is probably overbought for the near term. The chart indicates that it should probably be bought on any return of the price to the 100-day SMA or below.
The overall market is overdue for a significant pullback. Plus there has been significant negative emerging market news both from China and from the Ukraine. This bodes well for an overall market pullback. If you are looking for a stock to buy on such a pullback, TSN might be a good choice. It has the worldwide secular growth in food, especially in pork, going for it on top of the more near term fundamentals. It pays a rather meager 0.70% dividend, but it should produce good consistent growth over time. Plus in the current year it is forecast to grow by 27.90%; and that may be a very conservative number given the current underlying commodity price dynamics. It is a buy on a significant pullback. Alternatively, some people may wish to average in over 2014.
Two competitors to TSN may also benefit. These are Hormel (NYSE:HRL) and BRF SA (NYSE:BRFS). BRFS has a PE of 31.20 and an FPE of 6.80. It may see considerable stock price appreciation based on the latter. That is confirmed by the average analysts' EPS growth estimates of 68.90% for 2014 and 33.50% for 2015. It also has a next five years average EPS growth estimate of 51.08%. This is extremely impressive. Investors may wish to take a strong look at this stock. However, BRFS is a Brazilian stock, so it may be subject to the vagaries of currency exchange and the lower stability of Brazil. Plus its dividend is a meager 0.10%; but it may more than make up for that with growth. Overall it looks impressive.
Hormel is another US stock. HRL has a PE of 23.12 and an FPE of 18.72. It has a healthy average analysts' five year EPS growth estimate of 11.00%. It too may be worth a good look given the fundamental dynamics of the underlying commodities.
This article is only meant to draw investors attention to the strong upward price trends in pork and beef in the US. These both seem likely to continue throughout 2014. They may represent a money making opportunity.
In addition to the above stocks, investors can consider buying the underlying commodities. However, of the two, I would probably prefer to buy beef futures. The summer is coming up, and it is likely to be a dry one. That should only push beef prices up more. Pork prices have shot up so much that I would be reluctant to chase them. I would first wait for the USDA's Quarterly Hogs and Pigs report due out March 28, 2014. After that I would feel much more comfortable taking action.
NOTE: Some of the fundamental fiscal data above is from Yahoo Finance.
Good Luck Trading.
Disclosure: I have no positions in any stocks mentioned, but may initiate a long position in BRFS over the next 72 hours. I wrote this article myself, and it expresses my own opinions. I am not receiving compensation for it (other than from Seeking Alpha). I have no business relationship with any company whose stock is mentioned in this article.