It looks like the drama of recalls will not leave General Motors (NYSE:GM) alone anytime soon. On Monday, GM issued another recall for its vehicles, this time involving as many as 1.5 million vehicles for issues related to the airbags. These recalls come in addition to the 1.6 million recalls issued in the recent weeks. The company will be spending at least $300 million on fixing these issues that reportedly claimed lives of at least twelve people.
Recalls are never fun for car companies for several good reasons. First, when a car company recalls its vehicles, this usually results in high costs for fixing the issues that caused the recall in the first place. Considering that the auto industry usually has to work with low margins (most car companies will have operating margins around 5-7% due to high costs of materials, labor, production and marketing), having a large recall can eat into a good quarter's profits. Second, when a car company issues a recall, many owners of these cars are inconvenienced as they have to bring their cars to a service location, rent another car (which may or may not be covered by the company issuing the recall), wait anywhere between a few hours and a few weeks before they get their car back and deal with the stress of all this. Furthermore, if their car is not fixed correctly in the first attempt, this will increase the amount of stress faced by these people. Obviously, if someone buys a GM car, goes through a stressful recall process and remembers it, he may be less likely to buy another GM when it is time to shop for a new car. People tend to remember bad experiences with their cars.
Third, a car company will have to increase its marketing and public relations spending after issuing large recalls because these recalls can change people's perception of the whole company for the worse. When Toyota (NYSE:TM) issued several large recalls between the years of 2009 and 2011, these recalls reduced the company's perception and sales considerably and helped Ford (NYSE:F) and GM catch-up on the company. After this, Toyota had to invest heavily into marketing in order to fix its public image even though the company had one of the strongest brand images in the world prior to these recalls.
Large recalls can also bring up additional scrutiny from governments around the world. When a car company issues a large recall, governments from different parts of the world will take notice and they will conduct an investigation regarding the issue. Oftentimes, these investigations can trigger additional recalls, where it almost looks like a chain reaction (similar to what we saw with Toyota between 2009 and 2011 as mentioned above).
I am definitely not saying that these recalls will put GM out of business; however, these events should not be taken lightly either. It is difficult to call this just "another bump on the road" or just "cost of doing business." Car companies don't have very high margins and they have to operate at nearly perfect efficiency in order to stay profitable. A tiny change in market conditions or customer demand can easily put a highly-profitable car company into loss-making situations.
For example, the chart below shows GM's gross profit margin and operating margin in the last 4 years. Even at the peak of its performance, GM enjoyed gross margins in low teens and operating margins below 5%. The company simply is not profitable enough to allow such mistakes to happen as it runs on a thin bandwidth.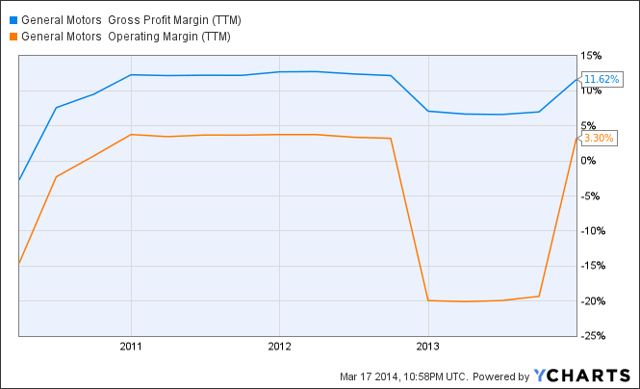 In the last month, GM's stock price fell sharply and this is likely to attract a lot of bargain hunters who will be looking for a cheap stock with a decent dividend yield. GM's current yield is around 3.50% which is high enough to gain attention of dividend investors; however, the company does not have a long enough history of paying dividends, which makes it difficult to draw any trends of conclusions.
Compared to the other car companies, GM's earnings multiples (based on trailing-twelve-months) are not exceptionally attractive either. Many people expect GM to expand its margins, improve its profitability and earn a lot more money than how much it earns today. This will seem increasingly unlikely if the company continues to issue expensive recalls.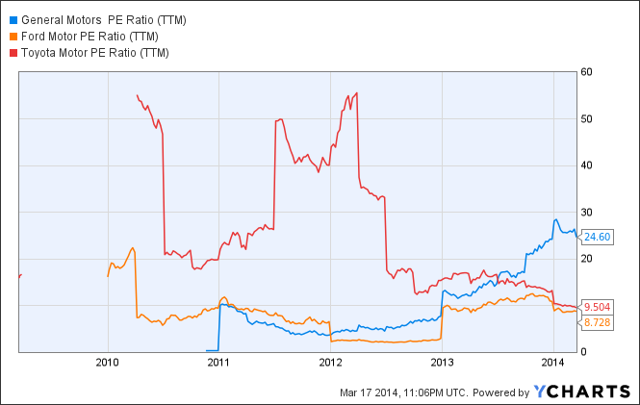 Of course, GM is not the only car company that issues large recalls. Most large car companies have a long history of recalls. I am sure that GM will survive this call and even some future recalls; however, the company needs to improve its quality control processes and make sure that these recalls are as minimized as possible if it wants to have a shot at growing its profits by expanding its margins.
Disclosure: I am long F. I wrote this article myself, and it expresses my own opinions. I am not receiving compensation for it (other than from Seeking Alpha). I have no business relationship with any company whose stock is mentioned in this article.