Q2 Holdings Inc. (NYSE:QTWO) is scheduled for an initial public offering on Thursday, March 20, 2014. QTWO provides a cloud-based, software-as-a-service ("SaaS") internet banking platform to regional and community financial institutions ("RCFIs"). Through an IPO priced between $11 and $13, QTWO is looking to raise up to $116 million, valuing the company at as much as $430 million.
Company Overview
As a provider of cloud-based virtual-banking solutions, QTWO enables RCFIs to offer their account holders a range of e-banking services on par with those of larger national banks. This helps RCFIs to both engage & retain their customers, who have come to expect the ability to access their finances and execute transactions anywhere, at any time, on any device.
QTWO's core offerings consist of both traditional Internet banking and mobile banking, as well as additional security and analytical services. Through QTWO's SaaS-based platform, RCFI account holders can easily check their balance from their tablet, pay bills from their mobile phone, or apply for credit from the comfort of their living room. This is important because, unlike the major banks, RCFIs typically lack the resources necessary to build out and maintain this type of platform. As a cloud-based solution, QTWO allows RCFIs to easily scale their online presence as they add additional account holders, reducing the cost and complexity of these operations.
As the business of banking has evolved over the past decade, larger national banks have placed less emphasis on physical branches and ATMs, and more emphasis on digital initiatives. This places an immense amount of competitive pressure on RCFIs, as consumers and small businesses are no longer bound to local institutions. While institutions like Bank of America, Wells Fargo, Citi, and JPMorgan have the resources available to build out and maintain extensive IT infrastructure, RCFIs are generally forced to rely upon third-party vendors to provide these services.
RCFIs have generally implemented new technology systems on a piece-by-piece basis, often finding a third-party vendor to address a certain aspect of digital demand as it became necessary. This has resulted in many RCFIs having a complicated mix of legacy hardware and software, both back-end and consumer-facing, via multiple vendors.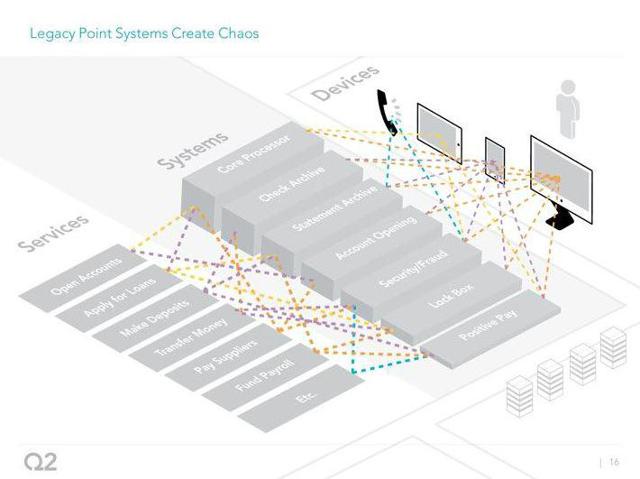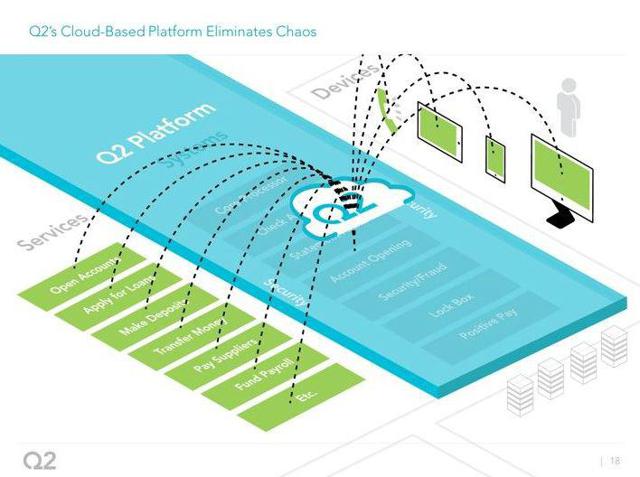 (Source: Company Marketing Materials)
QTWO's solutions offer a range of digital services desired by RCFIs, all as a part of a single SaaS platform. This reduces the back-end complexity for the RCFIs, and helps to ensure a consistent user experience for account holders. Additionally, QTWO has developed deep integrations with over 190 different back-end legacy systems, making its offerings compatible with a wide range of RCFIs, regardless of the systems they are currently using.
Regional and Community Financial Institutions
While a handful of major names typically come to mind when thinking about consumer and commercial banks, the reality is that there are 13,607 federally-insured financial institutions in the country. Of those, 13,570 consist of regional banks, community banks, and credit unions, all with less than $50 billion in assets. According to the Independent Community Bankers of America, over 90% of U.S. banks have assets under $1 billion, with 31.8% having assets less than $100 million. In the face of a rapidly changing banking environment, these smaller institutions have fought to aggressively acquire and retain account holders, and currently provide over 75% of small business loans in the U.S. QTWO's current major customers include Camden National Bank, Community Bank of Los Angeles, Eli Lilly Federal Credit Union, and the People's Bank of Alabama.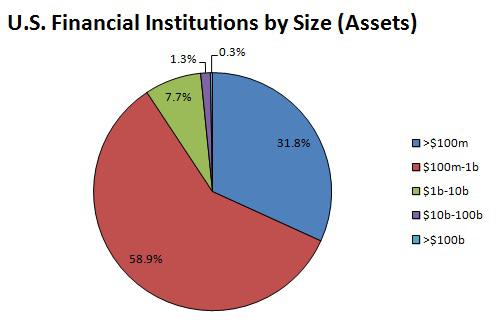 (Source: Independent Community Bankers of America)
With over 300 customers across 47 states, QTWO currently serves just 3% of this market. In its home state of Texas, however, it currently has an 18% penetration rate. Management is aggressively pursuing growth, attempting to boost its national penetration rate over the coming years to be more in line with this higher rate. As such, the Company has more than doubled its sales & marketing staff over the past year.
Historically, RCFIs have differentiated themselves and built customer loyalty via localized in-branch banking services and by serving as "centers of commerce" within their communities. Like many industries, this model was disrupted by the Internet. Over the past decade, account holders have increasingly engaged their financial institutions via digital means, as opposed to physical branches. This has made it easier for consumers to switch to a more competitive institution, and harder for small RCFIs to maintain account holder loyalty. Today, RCFIs must offer at least a basic level of virtual banking services in order to remain competitive. Consumers expect to be able to check their account balances and engage in basic financial transactions anytime, anywhere, on any device.
Because of this, QTWO's services are likely to see increased demand over the coming decade. According to a 2013 survey conducted by the Independent Community Bankers of America, 73% of RCFIs consider mobile banking to be "Important" or "Very Important" - up from just 24% in 2009.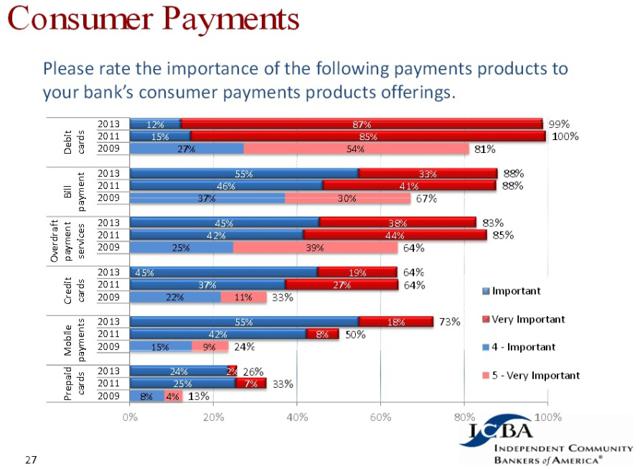 Mobile banking among RCFIs has grown six-fold over the past two years, with 37% of RCFIs currently offering the service and an additional 40% of RCFIs planning to implement it within the next year. With over 13,500 RCFIs in the country, this represents approximately 5,400 institutions who actively plan to adopt the type of services offered by QTWO within the next year.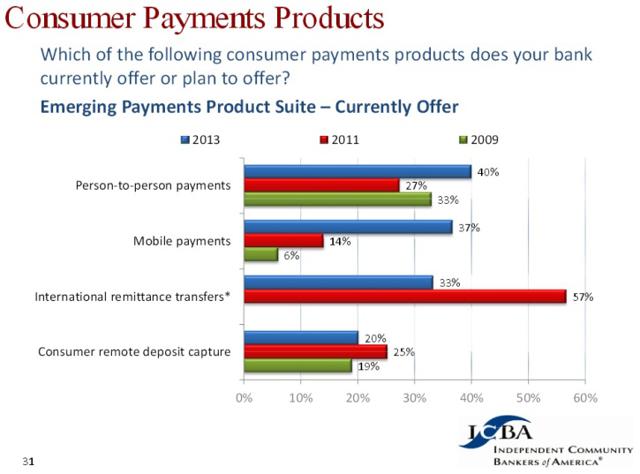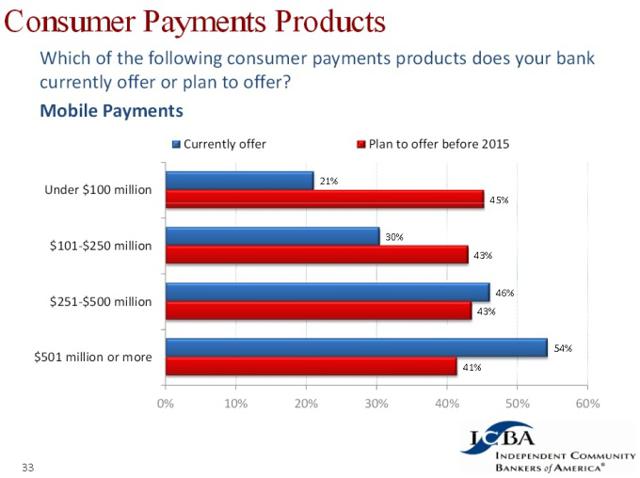 (Source: Independent Community Bankers of America)
Financial Overview and Valuation
While the above certainly bodes well for QTWO's future growth prospects, there are a handful of red flags to be found within its financials. Its gross margins have declined over the past two years, falling from 45% in 2011 to just 36% in 2013. Despite seeing its revenue grow by 52% in 2012 and 38% in 2013, its net loss has widened substantially, jumping from -$3 million to nearly -$18 million.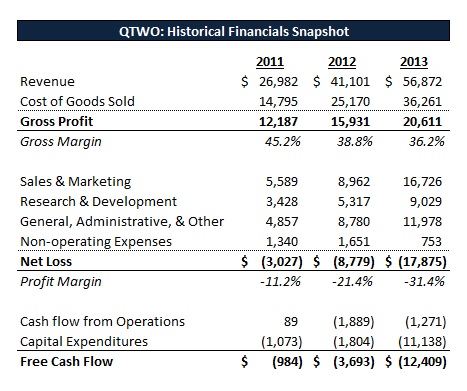 (Source: Company Filings)
While these numbers may be a cause for concern, they can also be chalked up to a small company heavily investing in itself ahead of an expected explosion in growth. Much of QTWO's net loss can be attributed to a jump in Sales & Marketing expenditures, which are "demand-generating" in nature and necessary for growth. Additionally, much of QTWO's negative free cash flow is related to heavy capex spending over the past year, during which it's upgraded its data centers and back-end technical infrastructure.
QTWO prices its sales contracts based on the number of account holders at an RCFI and the range of solutions offered via the SaaS platform. This allows QTWO's revenue from a given RCFI to scale both as the RCFI adds new account holders and as the RCFI adopts additional QTWO offerings (i.e. tablets, analytics, etc.). Revenue is recognized over the term of the sales contract, thus, the Company's gross margins will increase as new higher-margin contracts roll into this stream over time. Because of this, management believes it can achieve up to 60% gross margins over the coming years as its RCFI customers begin to scale. Most contracts are approximately 5 years in length, providing a highly predictable stream of recurring revenue, and management believes it can continue to grow revenue at least 30% annually over the coming years.
Conclusion
While the financials may not be immediately attractive to some investors, QTWO offers a service that's becoming increasingly vital for a large amount of institutions. The company is investing heavily in itself ahead of an anticipated explosion in growth, and offers a compelling opportunity at its initial offering price range of $11 to $13.
Disclosure: I have no positions in any stocks mentioned, but may initiate a long position in QTWO over the next 72 hours. I wrote this article myself, and it expresses my own opinions. I am not receiving compensation for it (other than from Seeking Alpha). I have no business relationship with any company whose stock is mentioned in this article.