One of the most interesting books I have ever read about event driven investing/contrarian investing/special situations has been Joel Greenblatt's 'You can be a stock market genius'. Investors who haven't read the book should not get fooled by the naive title: The book is first-class reading for investors looking for value in stock market niches and underfollowed areas. In his book, Greenblatt, a seasoned hedge fund manager, asserts that extraordinary value can be found in special situations such as restructurings, reorganizations, mergers and acquisitions and spin-offs.
Spin-offs are often pursued by companies that want to achieve a higher degree of visibility for a certain business division. Oftentimes, growth- and risk profiles of the spin-off division differ from the growth- and risk profile of the assets of the rest of the company which can lead to an inefficient market valuation. By spinning of a business unit, the company can achieve a higher equity valuation as the market now has an unobstructed view on the assets it has to value.
Spin-off investors can also benefit from indiscriminate selling as institutional investors rarely care about spin-off investments (for instance, because of low market capitalization, illiquidity, restrictive investment mandate etc).
On March 17, 2014 Chesapeake Energy (NYSE:CHK) announced that it is going to spin-off its oilfield services business which offers crucial exploration services such as hydraulic fracturing, contract drilling and rig relocation:
OKLAHOMA CITY--(BUSINESS WIRE)--Mar. 17, 2014-- Chesapeake Energy Corporation announced today that Chesapeake Oilfield Operating, L.L.C., its wholly owned subsidiary, has filed a Registration Statement on Form 10 with the U.S. Securities and Exchange Commission. COO currently conducts the operations of Chesapeake's oilfield services division, Chesapeake Oilfield Services.

The Form 10 contains a preliminary information statement about the potential terms and conditions of a spin-off of COO to Chesapeake Energy Corporation shareholders. It also provides initial information regarding COO as a stand-alone company, including financial, business, risk factor and management information. Immediately prior to completion of the possible spin-off, COO will convert into a corporation and change its name to Seventy Seven Energy Inc. The Form 10 is available at sec.gov and cosus.com. Shareholders who want more complete information regarding the possible spin-off of COO, including the potential benefits and risks associated with the transaction, should consult the Form 10, which may be revised or updated in the future.

Chesapeake intends for the spin-off to be tax-free to its shareholders for U.S. federal income tax purposes, other than with respect to any cash received in lieu of fractional shares. To that end, Chesapeake has obtained a private letter ruling from the Internal Revenue Service and expects to obtain an opinion of tax counsel regarding the tax treatment of the spin-off.
The spin-off not only allows Chesapeake Energy to achieve better market recognition for its high-growth oilfield services business, but also helps in offloading $1 billion worth of debt (see Form 10 SEC Registration Filing, page 30). This comes in handy as investors started to view Chesapeake Energy's free cash flow and debt load with increasing anxiety in 2013.
With Chesapeake Energy being under pressure to relieve cash flow, the company is busy pursuing a restructuring that includes the reduction of capital expenditures by 20% in 2014 and non-core asset sales.
Chesapeake Energy's share price was largely unaffected by yesterday's announcement. However, spinning off Chesapeake's oilfield services division should ultimately lead to improved focus and a higher equity valuation compared to the status quo.
(Source: Yahoo Finance)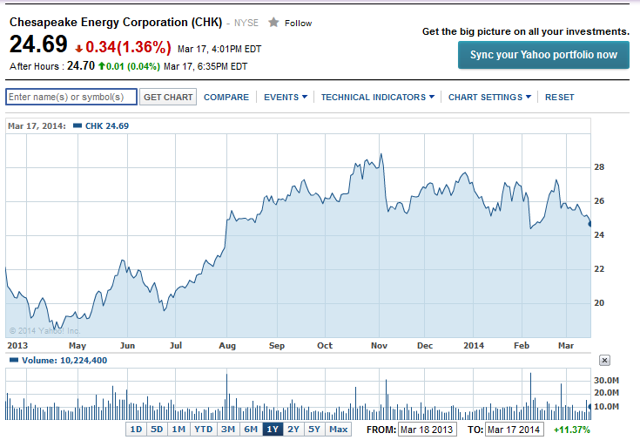 Conclusion
It is a good thing that Chesapeake Energy finally found a solution for its oilfield services business. Although the spin-off won't trigger a cash infusion (as opposed to an outright sale), it will create higher transparency/visibility for Chesapeake's high-growth oilfield business and, if Greenblatt is right about his assessment of spin-off investments, a higher equity valuation down the road. In addition, investors are now reassured that Chesapeake Energy is serious about pursuing strategic alternatives to simply its business structure. Offloading a $1 billion worth of debt in the meantime can also be considered a fairly clever move -- I am still wondering whether Icahn pushed for the spin-off behind the curtains. Long-term BUY.
Disclosure: I am long CHK. I wrote this article myself, and it expresses my own opinions. I am not receiving compensation for it (other than from Seeking Alpha). I have no business relationship with any company whose stock is mentioned in this article.