(Picture from Google Finance)
Since the beginning of 2013, shares in Johnson & Johnson (NYSE:JNJ) have gone up by 33.57%, slightly outperforming the S&P500 (NYSEARCA:SPY), which grew by 31.28% in the same timeframe. At the time of writing, shares in JNJ are trading at $92.81. The dividend yield has fallen to only 2.84%.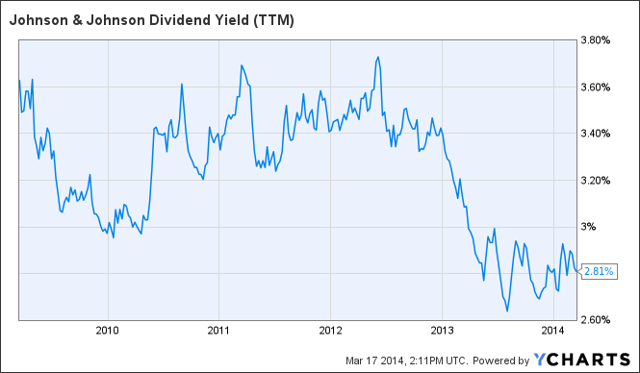 JNJ Dividend Yield (NYSE:TTM) data by YCharts
JNJ usually announces its dividend increases somewhere near the end of April. Let's take a look at the past 5 dividend increases:
| | |
| --- | --- |
| Date | Dividend increase |
| April 25th, 2013 | 8.2% |
| April 26th, 2012 | 7.0% |
| April 28th, 2011 | 5.6% |
| April 22nd, 2010 | 10.2% |
| April 23rd, 2009 | 6.5% |
Johnson & Johnson has had over half a century of dividend increases, so I think it's reasonable to expect a dividend increase somewhere next month. An increase to $0.70 per quarter, which is only $0.04 more than the current dividend, would push JNJ's yield to over 3%. However, considering JNJ's great results in fiscal year 2013, I wouldn't be surprised to see the dividend go up even more.
One of the things that make JNJ's dividend so reliable is its rock-solid balance sheet. With over $29 billion (just over $10 per share) in cash and short-term investments, one or more poor quarters won't necessarily lead to a dividend cut. Johnson & Johnson's current ratio is 2.2, indicating great short-term financial health. JNJ has only $13.3 billion in long term debt and $4.9 billion in short term debt. Furthermore, although the payout ratio has gone up in recent years, it's still not extremely high.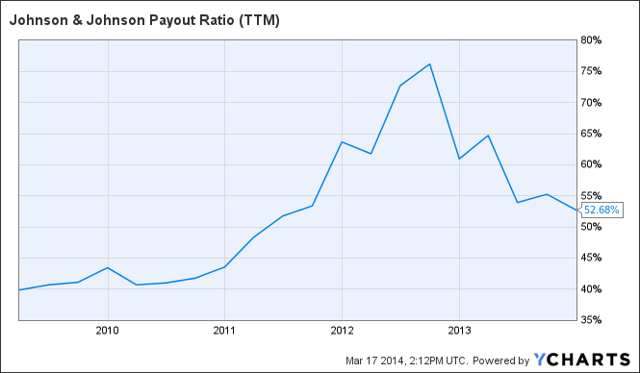 JNJ Payout Ratio (TTM) data by YCharts
Over the past 5 years, JNJ has traded at an average price to earnings ratio of 16.7. At a price of $92.81, the company is now valued at 19.3 times last year's earnings, which is quite a bit higher.
The company's forward P/E ratio looks a lot better. Analysts expect JNJ's earnings per share to reach $5.83, giving us a forward P/E of 15.9.
JNJ is currently valued at 3.7 times last year's revenue, and 3.5 times the expected revenues for the current fiscal year. This means the company is a lot more expensive than it was in recent years. JNJ's 5-year average P/S ratio stands at only 3.0.
Conclusion:
The coming dividend increase will be one of the few opportunities in recent times to buy shares in JNJ at a dividend yield of over 3%. A healthy balance sheet and a low payout ratio make JNJ's dividends reliable and safe. Although JNJ's price to earnings and price to sales ratios have gone up quite a bit, I still think it's a great investment for investors looking for reliable dividend growth.
Disclaimer: I am not a registered investment advisor and do not provide specific investment advice. The information contained herein is for informational purposes only. Nothing in this article should be taken as a solicitation to purchase or sell securities. Before buying or selling any stock you should do your own research and reach your own conclusion. It is up to investors to make the correct decision after necessary research. Investing includes risks, including loss of principal.
Disclosure: I have no positions in any stocks mentioned, and no plans to initiate any positions within the next 72 hours. I wrote this article myself, and it expresses my own opinions. I am not receiving compensation for it (other than from Seeking Alpha). I have no business relationship with any company whose stock is mentioned in this article.