(Correction Note: This article has been updated to reflect KNDI's business more accurately.)
So far this year one of the hottest areas for investment has been stocks of companies that have been involved in the business of utilizing alternative energy sources in vehicles. Fuel cells, batteries, EVs (electric vehicles) and companies that create components used with them or in them have been on a tear. Recently, just about any stock connected with this space has moved, and many have bubble-like trading patterns. Kandi Technologies (NASDAQ:KNDI) is one of them. Kandi is a China-based company involved in the design, development and manufacture of all-terrain vehicles, go-karts and specialized automobiles, such as pure electric vehicles. Its stock has also been on a tear and has begun to exhibit some similar trading patterns that are worth noting.
Background on the Alternative Energy Vehicle Bubble
During the past six months, many stocks in this space have seen an enormous rise. That rise created parabolic-shaped charts for the most popular names and culminated in trading volumes for some that saw entire floats turn over in a week, then in a day, and at the end, almost twice a day! And of course such manias never last and last week many of these stocks saw 8%-45% declines in their stock prices. For more about that bubble, you can read an article I published just before their crash titled: "The Fuel Cell Fab Four: A Bubble About to Burst?" The Fab Four referred to are Plug Power Inc. (NASDAQ:PLUG), Ballard Power (NASDAQ:BLDP), FuelCell Energy Inc (NASDAQ:FCEL) and Quantum Fuel Systems (NASDAQ:QTWW). In that article I focused on three aspects that led me to believe their bubble was about to burst: 1) price appreciation this year alone had exceeded 200% for the average within the group; 2) volume and turnover of float reached levels that could not be sustained, and 3) valuation metrics had reached extremes.
KNDI Has Many of these Over-Stretched Attributes
Past is often prologue and the pattern of extreme moves up in stock prices leading to over-valuation and increased and unsustainable levels of trading is a familiar one. The Fab Four in the bubble I wrote about all had tremendous increases in their stock prices in the six months preceding their March 11 drop:
| | | | | |
| --- | --- | --- | --- | --- |
| | Past week | Past month | Year-to-date | Past 6 months |
| PLUG | 77% | 160% | 434% | 1064% |
| FCEL | 81% | 150% | 150% | 185% |
| BLDP | 43% | 156% | 247% | 285% |
| QTWW | 19% | 27% | 31% | 139% |
KNDI has also experienced enormous increase in its stock price over the same periods of time (periods ending March 17, 2014):
| | | | | |
| --- | --- | --- | --- | --- |
| | Past week | Past month | Year-to-date | Past 6 months |
| KNDI | 22% | 65% | 84% | 179% |
Similar to the other stocks in this space, KNDI has not earned a full-year profit and therefore cannot be measured on traditional earnings-based metrics. However, it can be measured based upon its price to revenue and price to book value. Like the Fab Four, KNDI is showing a very stretched valuation:
| | | |
| --- | --- | --- |
| | Price/Sales | Price/Book Value |
| PLUG | 26.6 | 289 |
| FCEL | 3.3 | NA (negative equity) |
| BLDP | 9.1 | 7.8 |
| QTWW | 6.9 | 14.4 |
| | | |
| KNDI | 9.13 | 6.91 |
Of the total group, KNDI exhibits the second highest Price/Sales ratio and the third highest Price/Book ratio.
Finally, KNDI has just today started to stretch the volume of shares it trades relative to its float. Prior to their steep decline on March 11, 2014, the fuel cell stocks mentioned exhibited massive turnover of shares, relative to previous volume and in particular, relative to their float, as shown in the following table:
Avg vol, 10 days (million shares traded)

Avg vol, 3 months

(million shares traded)

Float

(million shares)

Days to turn over float

PLUG

68.4

28.3

88.4

1.29

FCEL

47.2

11.6

174.7

3.70

BLDP

18.2

5.1

109.3

5.98

QTWW

1.3

.75

18.7

14.38
The really big volume started its ramp up about two weeks before the fall. KNDI has just begun to see its volume spike, trading on March 17 (the day this article is written) trading over 15 million shares as compared to its 10-day average volume of 2.8 million shares daily. This amount of trading is 65% of the float of 23.6 million shares.
And There is Always a Cover Story
The hype that propels these stock bubbles is usually fueled by a cover story of some form. The recent mania had the Wal-Mart (NYSE:WMT) contract with PLUG as their cover story. On February 26 it was announced that Wal-Mart added 1,738 PLUG-manufactured fuel cell-powered forklifts to the already 550 it was using. The additions would be taken over the next two years. This cover story took an already heated fuel cell market to extraordinary heights. Investors needed to know no more about PLUG than it had a whale of an order from the mighty Wal-Mart. The fact that precious little about the order was revealed other than the number of units (conspicuous by its absence was information about the profitability of the order) was not a concern for investors who piled in droves and bid the stock up to more than $1.6 billion when all of the share dilution from two equity raises in a matter of months is factored in. This cover story was used to rationalize the extreme moves in the other stocks caught up in the mania as it was the tide that would surely float all boats on the fuel cell/battery/electronic vehicle sea.
KNDI has its own cover story: a terrific earnings report just announced. Revenue and earnings both jumped by impressive amounts. But so did the stock: up nearly 25% in a single day. Investors have this as their cover story that can be used to extend the line way into the future to prognosticate massive growth so that this company can continue to trade at huge multiples of sales and of book value. KNDI now boasts a market cap of nearly $800 million. On March 17, the day they released earnings, KNDI's market cap increased $150 million. This resulted from a quarterly sales increase of 92%, which is a dollar amount of just $24 million. Lest I be misunderstood, I get that these are good results. But the market had obviously been anticipating good results as the stock was up 34% in the month prior to making the announcement. No question the announcement was good; but investors today must ask the question: was it good enough to add another $150 million of market cap on top of the gains it had already made prior to the announcement?
Like the Wal-Mart order received by PLUG, KNDI's earnings announcement looks to be a cover story for a stock price that has run too far, too fast. 25% moves need a justification, however weak that justification may be. If the news is good, the valuation does not seem to matter…until it does. As Warren Buffett wisely said: "In the short run the market is a voting machine. In the long run it is a weighing machine". Today, investors are voting with their hearts and loving KNDI. But over time they are likely to weigh market cap to the earnings capability of this company and adjust the value of the shares accordingly.
Conclusion
KNDI is now starting to show several of the signs that the above mentioned alternative energy stocks did prior to their fall last week. The parabolic chart pattern is now starting to emerge: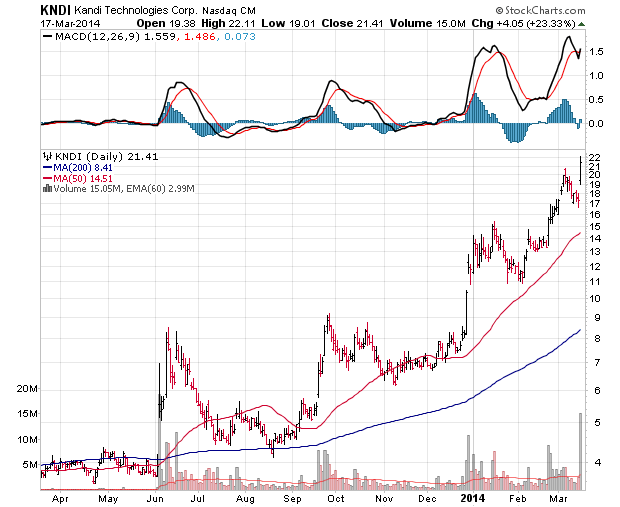 A few days of continued price gains would complete the pattern in the chart. Volume is getting dangerously high, as it approaches turning over the entire float in less than a week, in fact in just a few days.
I am not one of those who believe in chart patterns per se, but I am not going to ignore patterns that repeat themselves. I will not make an investment decision just on the chart pattern, but I will allow it to become a part of the mix if it can demonstrate some validity. KNDI's chart shows the type of emotion that can get in this stock. Notice the rallies in June, October and December of 2013. Each of those times KNDI went through a brief but dramatic rise in its stock price on unusually high volume. Shortly after a more normal trading pattern re-emerged in the stock and a significant portion of the gains were returned.
Further, while their most recent earnings announcement is surely good news, it seems to be sparking the beginnings of an over-reaction, very similar to the PLUG announcement of their recent Wal-Mart contract.
The similarities to the fuel-cell boom-bust are all there for KNDI: the enormous price gains over an abbreviated time horizon; the extended valuations; the increased and ultimately unsustainable turnover of shares, the cover story. It is easy enough to spot a bubble; it is very difficult to time when it will burst. I got lucky on the timing of the fuel cell bubble burst with my article being published the day before the crash. But that luck was aided by observation of the three phenomena discussed in that article. KNDI looks to me like it could very easily follow the same trajectory. Another few days of huge price rises and huge volume is about all this stock could probably take.
I presently have no position in KNDI. If I did own the shares, I would gratefully take my profit here. I will watch the stock over the next few days and I may take a short position in it, via in-the-money put options. I would position relatively small as this stock is exhibiting significant volatility and could move in large swings in either direction, as it has demonstrated. Having a few different entry points to obtain an average cost would probably also make sense. Finally, this article has focused on the trading patterns within the stocks mentioned. It has intentionally not delved deep into the business fundamentals of each. Investors are cautioned not to take this article as a recommendation to trade in any of the stocks mentioned, but to treat this is an introduction to an idea that may or may not stimulate your further due diligence. Hopefully it will stimulate some debate and some comments that will shed further light.
Disclosure: I am short PLUG. I wrote this article myself, and it expresses my own opinions. I am not receiving compensation for it (other than from Seeking Alpha). I have no business relationship with any company whose stock is mentioned in this article.