With Janet Yellen's first FOMC meeting upon us, I thought it prudent to assess what the FPSI data suggests about how the Yellen tenure might differ from the Bernanke years.
Fed Watching and the Bernanke Years
The Bernanke years involved the bursting of a housing bubble, a financial crisis, several government debt and budget showdowns and a slow and painful economic recovery. In one way or another all of these events have been examined through various Fed communications to the public, regardless of whether or not traditional "Fed watchers" noticed.
Traditional "Fed watching" relies on "experts" who prognosticate about likely Fed policy changes by splicing individual paragraphs, sentences, phases or even singular words. The public assume these "experts" are correct based on some inside knowledge they have about the Fed, monetary policy or the broader state of the economy, but these "expert" policy predictions are usually imprecise and often wrong. A more precise way to examine Fed communications is to use modern textual analysis technology to look at each and every word in every communication issued by the Fed. This technology allows us to measure the sentiment of Fed policymakers predicated on earlier policies, market response and economic outcomes; we call this data the Fed Playbook Sentiment Indicator (FPSI).
Bernanke Era FPSI, FFR and 10 Year Treasury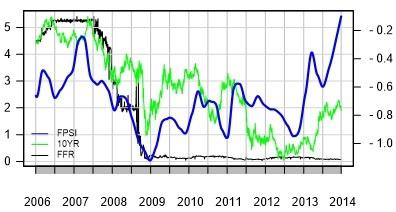 During the Bernanke era the FPSI demonstrates concern over the economy that is reflected in the Fed Funds Rate through 2008, but then reflects growing optimism about the state of the economy even as the Fed Funds Rate remains pegged to zero. Some of this information could have been gleaned through careful analysis of the starting and stopping of the Fed's quantitative easing programs, but with the final round of QE drawing to a close, it is clear that future Fed analysis must focus on sentiment, or as Fed officials call it, "forward guidance."
The Yellen Era
As the Yellen era begins with her first FOMC meeting and press conference as chair, it is clear that, due to her long career in public service economics, expert analysts feel they know a lot about her. Over the last few months many of the biographical and policy oriented articles about her have expressed near certainty about her stance on monetary policy issues. Unfortunately, these commentators have fallen into the same trap they always do when analyzing the Fed, they cue in on a few specific sentences or phrases then extrapolate and assume their interpretation is correct. While this method can be accurate, it can also be biased and incomplete.
Using the same type of FPSI data we did for all communications in the Bernanke era, we can specify only data attributed to communications by Ben Bernanke and by Janet Yellen while they were affiliated with the Federal Reserve System.
Bernanke and Yellen Observations with FPSI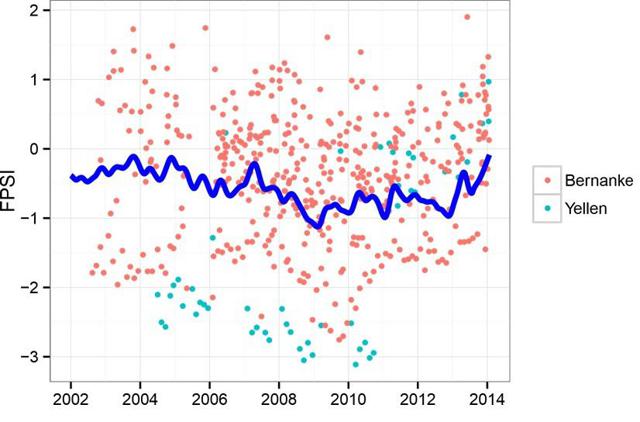 The scattered red data points in the graph are various speeches and testimony given by Ben Bernanke since his first affiliation with the Federal Reserve System began in 2002. The scattered green data points are speeches and testimony given by Janet Yellen since she first became affiliated with the Fed 10 years ago.
As you can see from this graph, Dr. Yellen's communications tend to be much more extreme than the FPSI average over the past decade, and more extreme than her predecessor, Ben Bernanke. However, Yellen's views appear to have moderated a great deal in the last 3 years. This coincides perfectly with her appointment to be vice chair of the Federal Reserve Board in October of 2010. Prior to that point Dr. Yellen had been President of the San Francisco Fed and her sentiment about the state of the economy was exceedingly negative. Upon moving to the Federal Reserve Board her sentiment shifted to a neutral or even positive position, very much consistent with the views of then-Chairman Ben Bernanke. This indicates that Yellen understood the importance of her role as vice chair and knew that she could no longer be vocally negative about the state of the economy without roiling markets. Surely this is truer than ever now that she is Fed chair. Therefore, the data suggests that Yellen will likely continue to express modestly positive views about the state of the economy in order to sustain market confidence.
Forward Guidance
Given that Yellen is likely to continue Bernanke's tepidly positive tone, the more important aspect of forecasting Fed policy in the Yellen-era comes from the policy itself. Specifically, Janet Yellen designed and championed the Fed's current communication strategy widely known as "forward guidance." Yellen even stated in an April 2013 speech that the Fed will be "… using communication - mere words - as its primary monetary policy tool." The empirics are consistent with this statement as Fed personnel referenced "forward guidance" 191 times between September of 2009 and the end of 2013. Nearly 70% of these references came in the second half of 2012 and 2013, with more than a quarter of all references to "forward guidance" occurring in the final 3 months of 2013 alone.
FPSI With Communications Using Phrase "Forward Guidance."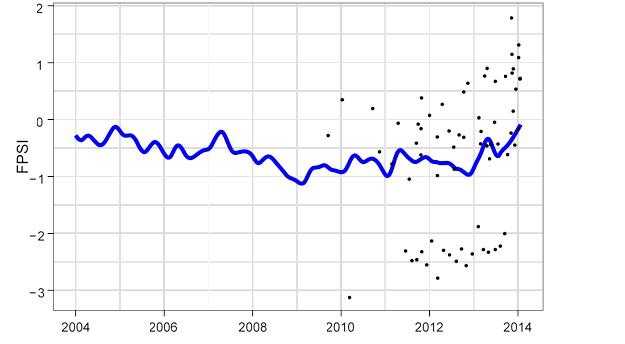 This graph demonstrates that the FPSI of data on communications referencing "forward guidance" is split into two clusters: one of doves concerned with persistent market weakness in 2012 and early 2013. And a second cluster with representing neutral-to-positive market sentiment primarily through 2013. Since we know that Janet Yellen's communications fall with this second cluster and that Yellen has explicitly stated that forward guidance is the policy of the future, we know what to expect from Yellen's first meeting as chair: the Yellen Fed will emphasize forward guidance more than ever while continuing tapering and downplaying the importance of asset purchases. If she wishes to demonstrate a subtle change in direction from the Bernanke era, Yellen may even include specific details about forward guidance in the FOMC press release. This would be a departure from the Bernanke era clarifications that came primarily during post-meeting press conferences. Regardless of when the policy is announced, the direction is likely to be consistent with recent policy moves; a $10 billion/month reduction in asset purchases and signs that the Fed will only raise interest rates when inflation climbs closer to 2% and there is less slack in the labor market.
The bottom line is that the Yellen chairmanship does not represent change in policy direction for the Fed because Janet Yellen helped shape the current policy direction. This means markets are unlikely to be surprised by Yellen. Lack of surprise means diminished volatility, continued economic growth, slowly rising interest rates and nothing from the Fed that should curtail the continuing stock market rally. Simply, the Yellen Fed is unlikely to be cause for drama, so investors should look elsewhere if they are seeking the spark to a correction.
Disclosure: I have no positions in any stocks mentioned, and no plans to initiate any positions within the next 72 hours. I wrote this article myself, and it expresses my own opinions. I am not receiving compensation for it. I have no business relationship with any company whose stock is mentioned in this article. Along with my colleague, William MacMillan, I hold a pending patent on the methods for examining central bank communications that are discussed in this article. Further details about this data can be found on our website, FedPlaybook.com.