Objective: Autobytel (ABTL) is a small cap with a fully diluted market capitalization of $175 million and no net debt. My goal of this article is to explain to the reader the following:
A) What they do
B) How they make money
C) Opportunities and risks
At the outset, let me be clear, Autobytel is a relatively thinly-traded small capitalization stock that is very volatile and only suitable for the "risk" portion of your portfolio. If you decide to initiate a position, please use a limit order and size your position according to your risk profile. Now, with those caveats disclosed, let's kick the tires.
A) What Autobytel Does
Autobytel generates both internally and non-internally generated leads in the direct retail channel, which is direct to Dealers and through its website, Autobytel.com, as well as indirect leads to Dealers through a wholesale marketplace of manufacturers and third-party auto lead generators. Autobytel does compete in the used segment, but this isn't its main focus, accounting for only 8% of its FY2013 revenue. In terms of its participation within the retail and wholesale channels, Autobytel essentially has relationships with all of the OEMs (original equipment manufacturers), essentially the different car brands in the marketplace today. The addressable retail dealership network consists of 18,500 dealer stores, with Autobytel maintaining existing/organic partnership agreements with 3,600 dealers. These partnerships do have somewhat higher churn rates (about 3%), as either party can elect to discontinue the relationship with 30 days' legal notice. The specific relationships and terms vary, but generally, a dealer pays a monthly fee to be on Autobytel's platform, and then, incremental revenue is negotiation between dealer and Autobytel based ultimately on sales conversation performance and lead generation. The specifics can vary, as different states have different laws regarding how payments are structured, but remember, ultimately, if Autobytel is generating solid qualified leads that convert to sales, it's a self fulfilling cycle. Also, as discussed on the Q4 2013 earnings call, Autobytel said, out of the 18,500 dealers, it would only make sense to have relationships with 9,000 dealers. The reason they would stop at 9,000 is that they are trying to optimize their relationships with existing dealers and there are geographic or territorial constraints to having too many relationships with too many dealers within a given zip code. If you have too many relationships within an area, this can lead to too much competition and hurt margins for the dealers. Remember, for Autobytel to earn its fees, there has to be some gross margins opportunity for the dealers.
Please note, given Autobytel's recently inked acquisition of AutoUSA from AutoNation on January 13, 2014 for total proceeds of $11.854 million (see F-27 of ABTL's FY2013 10-k for granular specifics), netting out the dealer overlap, Autobytel currently has relationships with 5,000 dealers. Also, AutoUSA operated a slightly different model, where they were purely an aggregator and sourced their leads exclusively from non-internally generated sources. If this merger is integrated well, always an unknown in the beginning, this consolidation eliminates a competitor and provides Autobytel with better inventory selection (from a consumer's perspective), access to 1,400 net new dealers, and hopefully, scale.
Revenue Mix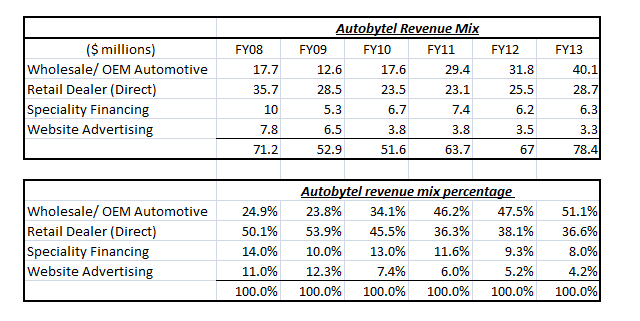 Source: Autobytel's 10-Ks
Other Acquisitions
Lacking the in-house expertise to create web applications tailored for smartphones and tablets, Autobytel has made a series of wise mobile acquisitions, and I would argue at reasonable prices, to avoid missing mobile web traffic now that consumers are increasingly spending more of their web browsing via smartphones. Specifically, Autobytel made the following mobile purchases enhancing its ability to attract consumers via mobile:
Cyber in September 2010
Direct investment and partnership with AutoWeb in September 2013 for $2.5 million
Small investment in SaleMove in September 2013
Advanced Mobile in Q4 2013 for $2.5 million upfront, with $1.5 in contingencies (or earn-outs over three years)
B) How Autobytel Makes Money
The lynchpin of this entire analysis, and ultimately if ABTL is a buy at its March 14th, 2014 closing price of $14.14, centers on evaluating Autobytel's ability to scale and ultimately optimize this business. As far as I know, the company doesn't delineate its gross margins in the wholesale channel versus the direct retail channel. I would suspect the direct channel segment has higher margins, as there aren't any others to split revenue with on a sales conversion. Moreover, the key to generating operating leverage in the financial statements is having your SG&A shrink as a percentage of your revenue, assuming the revenue pie is growing. There are some variable components to SG&A, however, assuming at least for the time being, given the competition, gross margins are somewhat capped at 40%, then Autobytel needs to drive the top line and maintain relatively fixed SG&A. Looking at four years of previous data, the Sales and marketing component of SG&A moves in more of a variable fashion, but fortunately, as expected, the other line items of G&A are more fixed-cost in nature.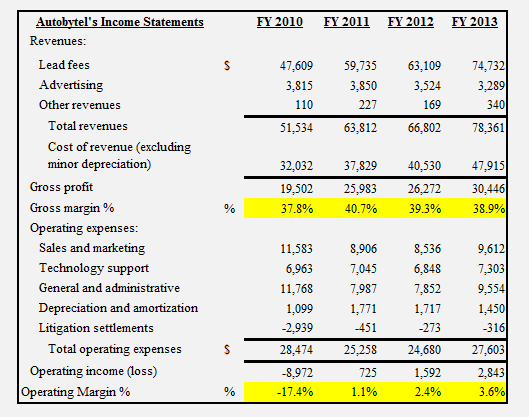 Source: Autobytel's 10-Ks
Components of Cost of Revenue:
Cost of revenues, which make up approximately 60% of Autobytel's costs, consist of lead and traffic acquisition costs and other cost of revenues. More specifically, lead and traffic acquisition costs consist of payments to lead providers, including internet portals (like major website portals that display advertising highlighting Autobytel) and online automotive information (like Kelly Blue Book for its content). Other cost of revenues consist of search engine marketing ("SEM"), search engine optimization ("SEO"), fees for third-parties for data and content, and other website maintenance and associated costs with hosting Autobytel.com.
Now, without having access to Autobytel's management team for a one-on-one meeting, and without the granularity of the breakout of SEM, SEO, and third-party data costs, it's difficult to determine if Autobytel has the ability to improve its gross margins. I would, however, hypothesize that it's so critical to create a name brand and increase public awareness, so customers can directly visit Autobytel to research and request leads the next time they are seriously considering buying a new automobile. Visiting Autobytel directly bypasses sourcing tolls it must pay its traffic acquisition partners.
From my perspective, as a consumer, the enhancements to its mobile applications are much improved, as I have accessed its website on my smartphone and give the site reasonably favorable marks. Also, I have requested a quote over the past month using Autobytel. Overall, I was impressed with the quick response rates and amount of time it saves from actually physically having to visit each store to get pricing and availability.
C) Opportunities and Risk
Opportunities:
Net Operating Losses (NOLs)
With the benefit of survivorship and longevity, it certainly appears at least at face value Autobytel is starting to scale this business through organic growth and smart acquisitions at reasonable prices. Given this inflection point and the company's accumulated deficit of $242 million, Autobytel now has approximately $37 million in net operating losses (NOLs), which it can use to outset a large portion of its future taxable income. These NOLs are valuable, as they greatly improve cash flow if Autobytel generates the operating profits to utilize them.
Acquisition of AutoUSA
AutoUSA had FY2013 revenue of approximately $30 million. Netting out the overlap, as Autobytel was AutoUSA's second-largest lead generator, management stated on its Q4 2014 conference call that after AutoUSA is integrated, it should add incremental revenue of $22-$24 million. Also, AutoUSA's gross margins were lower, measured at 25%-27%, but a key piece of the merger is the implied synergies, as Autobytel already has its SG&A infrastructure, so this acquisition should be accretive to earnings post integration.
Growth
As you can see, automotive leads volumes have grown nicely, especially in the wholesale channels.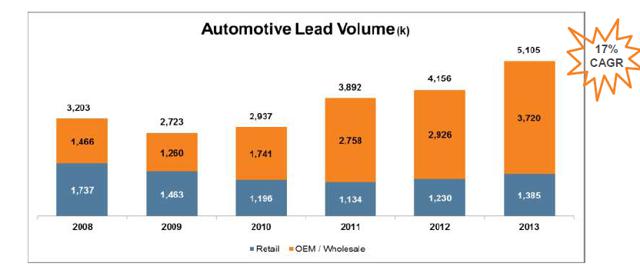 Source: Autobytel's March 2014 presentation at the 26th Roth Conference
M&A Activity and the scarcity value of being publicly traded in this space
Cox Communications recently reacquired the 25% stake in Autotrader.com and Kelly Blue Book (kbb.com) that it didn't already own, in January 2014, at a price of $1.8 billion, ultimately valuing the company at $7 billion. Privately-held Dealer.com was recently acquired in December 2013 for $1 billion at an estimated multiple of approximately 4x revenue. Also, Classified Ventures, the owner of Cars.com, recently listed itself for sale at an asking price of $3 billion. Moreover, two days later, Cox and Apax Partners suggested they might be willing to pay $2.5 billion for Cars.com. It's hard to access the financial statement of privately-held companies for comparison purposes, but according to the popular press, if Cars.com transacts at $2.5 billion, this would represent approximately five to six times privately-held Cars.com's FY2013 revenue. Besides the obvious media attention and possible expanded valuation Autobytel may gain by drafting off the implied P/S metrics of the M&A deals highlighted above, this should, at the very least, only enhance the stock market's awareness of Autobytel. Lastly, given that there aren't many pure play automotive lead generators that are publicly traded, from a scarcity value, Autobytel may benefit from greater investor appetite to pay more for Autobytel's valuation, given that Autobytel is publicly traded and the M&A premium gives the shares upside optionality value. How much optionality, it is hard to determine.
Understanding qualitatively how Autobytel can generate more revenue
Arguably, success in lead generation really boils down to providing Autobytel's ultimate paying customers, its dealers, with consistent strong qualified leads with high sales conversion ratios. Starting in 2011, respected third-party data provider, R.L. Polk started measuring Autobytel's sales conversion ratios, measured over a 90-day time period from the initial lead to whether or not a purchase was consummated. Enclosed below, please find the graph of this information.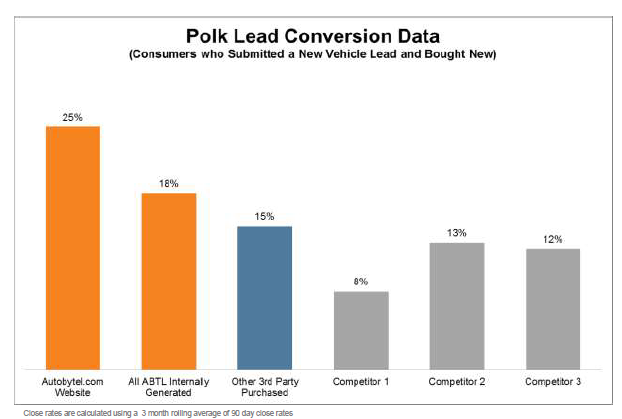 Source: Autobytel's March 2014 presentation at the 26th Roth Conference
Risks:
S-3 Filings
On February 27th, Autobytel filed an S-3 form with SEC, which discloses its intention of raising upwards of $75 million in capital, with the latitude to structure this in the most opportunistic form in the eyes of Autobytel's management (common equity, preferred stock, convertibles, and debt securities). This possible dilution, uncertainty, and the inherent prospect of how management will allocate that amount of new capital has been an overhang to Autobytel's stock price post the earnings release of its Q4 2013 results.
Can Autobytel scale this business?
It's unknowable at this point whether Autobytel can continue to drive its top line and operating margins higher to generate more EBITDA and more impressive financial performance. Honestly, I'm not sure how to value Autobytel relative to its much larger, better-capitalized competitors who own and control content, notably, AutoTrader.com, Cars.com, Edmunds.com, Dealer.com, and perhaps TrueCar.com. I don't feel comfortable inventing some arbitrary revenue or earnings multiple to definitively determine fair value. This is a highly competitive business, and for continued share price appreciation, management must demonstrate it can grow earnings and take advantage of its NOLs for cash flow generation.
Dilution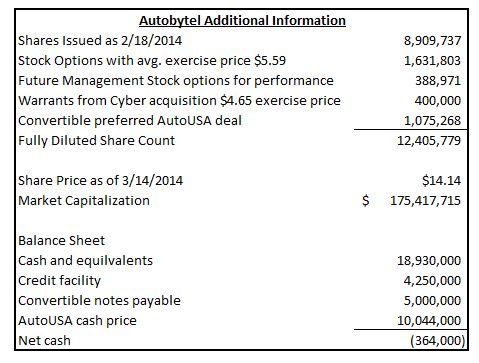 Source: Autobytel's 10-Ks
FY2014 Consensus Revenue and EPS
As of March 16th, according to Yahoo Finance, the four sell-side analysts that cover ABTL have FY2014 revenue of $105 million and EPS of $0.36. Given that Autobytel generated $78.4 million in FY2013 and the AutoUSA acquisition should add about $20 million, the implied revenue growth of Autobytel's core business is 8.5% ($105 million - $20 million AutoUSA = $85 million, which is a 8.5% over its FY2013 revenue base of $78.4 million). This isn't that high of a bar leap-over.
Conclusion
If you want exposure to online car lead generation at a reasonable price, Autobytel is definitely worth considering.
Disclosure: I am long ABTL. I wrote this article myself, and it expresses my own opinions. I am not receiving compensation for it (other than from Seeking Alpha). I have no business relationship with any company whose stock is mentioned in this article.
Additional disclosure: I'm long a modest amount of ABTL, with a cost basis of $13.70.