Introduction
In this article I'll have a closer look at Fortuna Silver Mines (NYSE:FSM) which has just reported its financial results for 2013. I'll provide my opinion about the financial results and the company's balance sheet, where after I will briefly discuss Fortuna's outlook. This will result in my conclusion at the end of this article.
All images in this article were directly sourced from the company's press release.
My view on the financial results
In the financial year 2013, Fortuna Silver produced 4.6 million ounces of silver, 43 million pounds of lead and zinc and 21,000 ounces of gold which resulted in a total revenue of $137.4M. Fortunately, Fortuna Silver was able to keep its production costs under control, as those rose by just 5.5% which is a very decent result compared to other mining companies last year. However, as the company recorded an impairment charge of $30M, the bottom line shows a net loss of $19.1M or $0.15/share.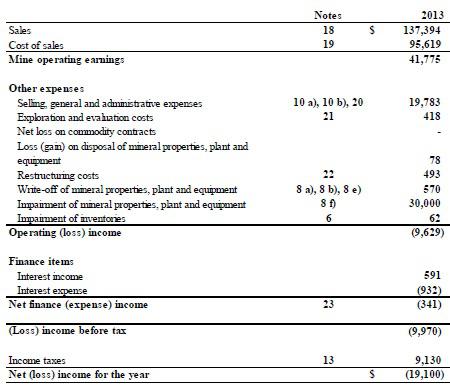 As impairment charges have no influence on the cash position of a company, I'd love to have a look at the cash flow statements of Fortuna Silver, as I'm a firm believer these statements offer a better indication of the quality of the two underlying operating assets of the company. So when looking at the cash flow statements, the company reported an operating cash flow of $44.8M before changes in working capital. As the capital expenditures totaled approximately $60.5M, Fortuna Silver was essentially free cash flow negative in 2013, but that situation will change this year as the production is still expected to increase and the all-in sustaining cash cost to decrease (see later paragraph).
My view on the balance sheet
Moving over to the balance sheet, Fortuna Silver's balance sheet looks very robust. As of at the end of 2013 the company had a working capital position of $66.4M and a current ratio of 4.95 which effectively means the company has no short-term financial constraints (keep in mind a current ratio higher than one means the company has sufficient current assets to cover its current liabilities). On top of that, Fortuna's current assets are higher than the value of all liabilities on its balance sheet so this once again emphasizes Fortuna has its finances under control.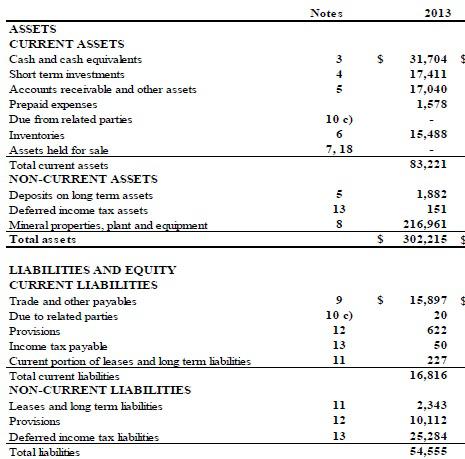 As of at the end of December 2013, the book value per share was approximately $1.97/share, which means the company is trading at approximately twice its book value. This isn't exactly cheap, but keep in mind Fortuna expects to continue to grow its production rate and should be free cash flow positive this year.
Outlook
Earlier this year, Fortuna Silver released an official guidance for 2014. The company now expects to produce 6 million ounces of silver and just over 32,000 ounces of gold for a total production of 8 million ounces of silver equivalent. The expected cash cost per ounce of silver (on an all-in sustaining basis) were estimated to be $17.14/lbs which means that at the current silver price, Fortuna will be on track to generate close to $25M per year in free cash flow. This is excellent given the fact that approximately $40M will be spent on capital expenditures this year.

A free cash flow of $25M equals $0.20/share and might not sound very impressive, but keep in mind this takes some non-recurring costs into consideration. For instance, the 2014 capital expenditures for the tailings dam at San José won't be $11.7M every year, and the free cash flow will undoubtedly increase from 2015 on.
Conclusion
When I saw Fortuna's share price drop by an astonishing 14% yesterday, I was scared the company's financial results would be bad. After glancing at the financial statements I don't see a smoking gun, and Fortuna keeps on delivering what it promises. For this year, I'm looking forward to a healthy production increase to 8 million silver-equivalent ounces at a lower all-in sustaining cash cost than last year meaning Fortuna will be free cash flow positive in 2014.
Should the shares drop further today I might pick some up, as I like the track record of the Ganoza family which is consistently building out this business and I expect further growth from 2015 on as the ore from the Trinidad North discovery will very likely be blended with the San Jose ore.
Disclosure: I have no positions in any stocks mentioned, and no plans to initiate any positions within the next 72 hours. I wrote this article myself, and it expresses my own opinions. I am not receiving compensation for it (other than from Seeking Alpha). I have no business relationship with any company whose stock is mentioned in this article.