Berry Plastics Group, Inc. (NYSE:BERY) provides plastic consumer packaging and engineered materials, which are then sold to consumer-oriented end-markets, such as food and beverage, healthcare, and personal care. On January 30, 2014, the company reported fiscal first-quarter earnings of $0.18 per share, which beat the consensus analysts' estimates by $0.02. For the past year, the company's stock is up 20.89%, while the S&P 500 (NYSEARCA:SPY) has gained 19.1% in the same time frame.
I recently sold Berry out of my growth portfolio, because I felt it was time to get out of the stock, and traded it in exchange for Biogen Idec Inc. (NASDAQ:BIIB). The intent of this article is to evaluate Berry, and not compare it against Biogen (but I will also provide fundamental information on Biogen). With all this in mind, I'd like to take a moment to evaluate the stock on a fundamental, financial, and technical basis to show why I've made the switch for my growth portfolio.
Fundamentals
The company currently trades at a trailing 12-month P/E ratio of 38.97, which is expensively priced, but I mainly like to purchase a stock based on where the company is going in the future, as opposed to what it has done in the past. On that note, the 1-year forward-looking P/E ratio of 15.77 is currently fairly priced for the future in terms of the right here, right now. The 1-year PEG ratio (1.87), which measures the ratio of the price you're currently paying for the trailing 12-month earnings on the stock while dividing it by the earnings growth of the company for a specified amount of time (I like looking at a 1-year horizon), tells me that the company is fairly priced based on a 1-year EPS growth rate of 20.86%. The company has great near-term future earnings growth potential, with a projected EPS growth rate of 20.86%. In addition, the company has great long-term future earnings growth potential, with a projected EPS growth rate of 14.5%. Below is a table of the fundamental metrics I look for in a company, and shows how Berry fares against Biogen.
| | | | | | | | |
| --- | --- | --- | --- | --- | --- | --- | --- |
| Ticker | Price ($) | TTM P/E | Fwd P/E | EPS Next YR ($) | Target Price ($) | PEG | EPS next YR (%) |
| BERY | 23.38 | 38.97 | 15.77 | 1.48 | 22 | 1.87 | 20.86 |
| BIIB | 345.60 | 44.19 | 24.64 | 14.03 | 210 | 1.86 | 23.73 |
Financials
On a financial basis, the things I look for are the dividend payouts, return on assets, equity, and investment. The company does not sport a dividend to speak of, but is sporting return on assets, equity, and investment values of 1.4%, -30.5%, and 7.8%, respectively, which are all respectable values, with the exception of the return on equity. In this particular instance, I will forego the dividend aspect of the financials, because the stock is in my growth portfolio; and in the growth portfolio, a stock does not have to have a dividend. Below is a table of the financial metrics I look for in a company, and shows how Berry fares against Biogen.
| | | | | | |
| --- | --- | --- | --- | --- | --- |
| Ticker | Yield (%) | Payout TTM (%) | ROA (%) | ROE (%) | ROI (%) |
| BERY | 0 | 0 | 1.4 | -30.5 | 7.8 |
| BIIB | 0 | 0 | 16.9 | 23.3 | 20.7 |
Technicals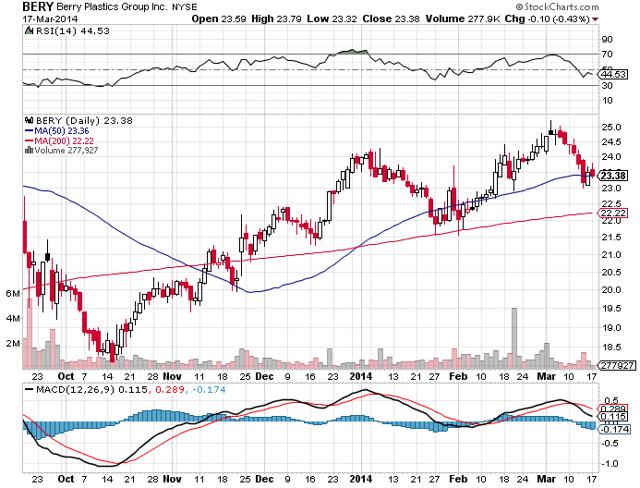 Looking first at the relative strength index chart [RSI] at the top, I see the stock is dropping from overbought territory, with a value of 44.53 and downward trajectory. I will look at the moving average convergence-divergence [MACD] chart next. I see that the black line is below the red line, with the divergence bars decreasing in height, indicating some bearish momentum.
Conclusion
These are two completely different types of companies, and before you begin to chastise me for it, this article was not meant to be a comparison. I'm merely just displaying the data points for Biogen as a baseline for me in future articles. I sold Berry for a 9.29% gain, or 20.61% on an annualized basis. Since making the switch, Berry is down 0.43% against the 3.94% gain Biogen has posted. I just felt it was time to leave Berry and jump into Biogen, because in the recent sell-off in biotech stocks, Biogen acted very well.
Fundamentally, I believe Berry to be fairly valued based on 2015 earnings, and fairly priced based on future growth potential. Financially, I don't like the negative return on equity. On a technical basis, Berry may be dropping quite a bit. I will provide reports on how each is doing against each other as the future progresses.
Disclaimer: This article is meant to serve as a journal for myself as to the rationale of why I bought/sold this stock when I look back on it in the future. These are only my personal opinions and you should do your own homework. Only you are responsible for what you trade and happy investing!
Disclosure: I am long BIIB, SPY. I wrote this article myself, and it expresses my own opinions. I am not receiving compensation for it (other than from Seeking Alpha). I have no business relationship with any company whose stock is mentioned in this article.