Public Service Enterprise (NYSE:PEG) recently announced its capital expenditure budgets for the next few years. Investments in its transmission assets will take the lion share of cap ex going out to 2018 with 68% of the budget. This will continue to drive earnings and share prices higher over time.
PEG is a New Jersey-based electric and gas utility serving 4 million customers, about 2.2 million electric and 1.8 million gas customers. These assets are known as PSE&G. Below is a map of the PSE&G service territory: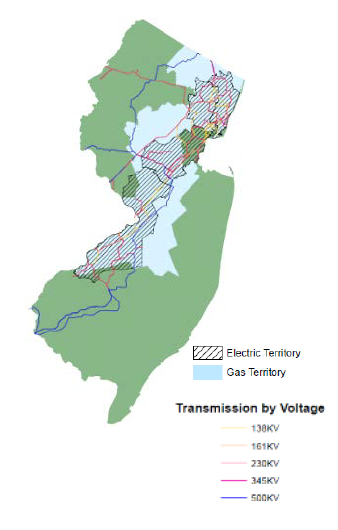 PEG also operates a merchant power segment known as PSEG Power. About 55% of total energy produced in 2013 was nuclear with the balance being mainly coal and natural gas. Below is a map of its plant locations and a breakdown of power generated in 2013 by fuel type.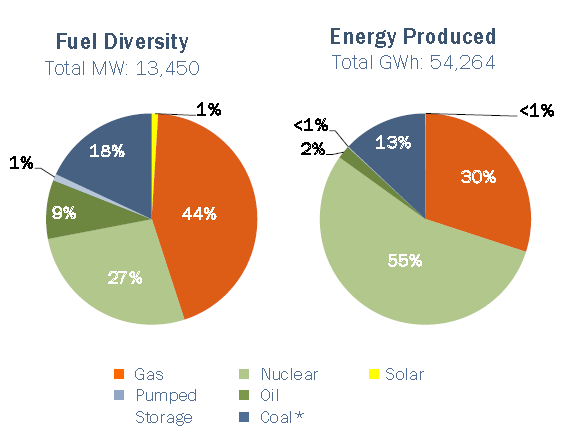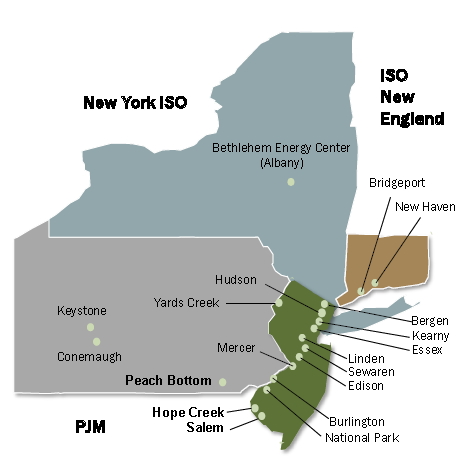 From the 2013 10-K (pdf), below is a listing of comparisons of operating costs by plant location.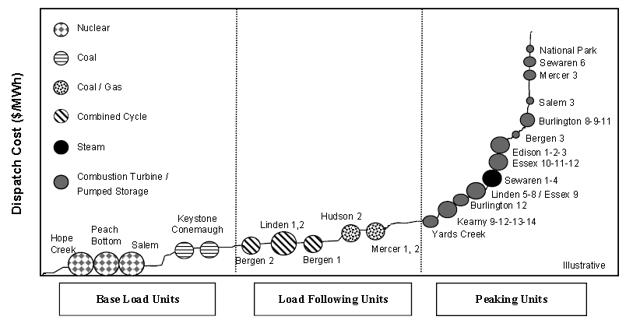 From the above chart, it becomes obvious that base-load nuclear and coal-fueled plants have a substantial cost advantage and the cost structure curve steepens as peaking plants are added. However, with PEG operating in the PJM auction structure for pricing, peaking unit's real-time revenues are correspondingly higher than the base load as they are only needed when power is at a premium.
Of the total 35Tmw of base-load generating capacity, 100% is hedged for 2014, 75% to 80% for 2015 and 30% to 35% for 2016. Of the 19Tmw of load following and peaking capacity, only 35% to 40% is hedged this year with no hedging in 2015 or 2016. This translates into an opportunity for higher revenues and profits for the merchant power business if power prices turn upwards from their current depressed levels of the past few years.
Beyond the footprints outlined above, the company expects to invest $10 billion over the next five years, with about $6.8 billion in its transmission business. Below is a graph from its latest investor presentation.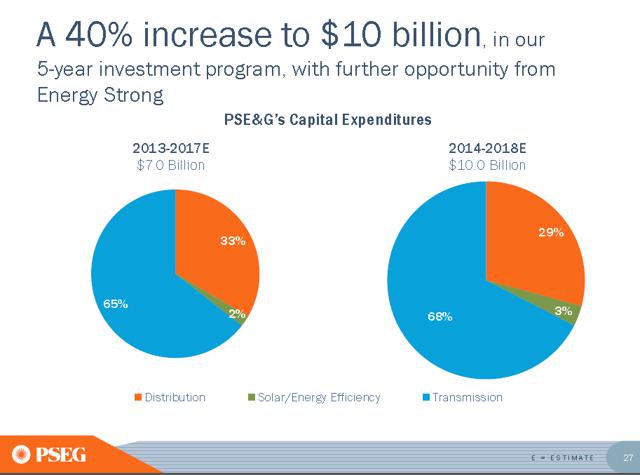 PEG is transforming itself into a transmission-focused company with the advantages that comes with being regulated by the FERC rather than the state PUC. While S&P Credit rates New Jersey as "Credit Supportive," or neutral, in its assessment of the regulatory environment, the FERC usually allows for higher returns on the similar dollar investments. Below is a table of the allowed returns by regulated segment, also from the presentation:
| | |
| --- | --- |
| Asset | Allowed ROE |
| Transmission | 11.68%* |
| Electric | 10.30% |
| Gas | 10.30% |
* Not including incentive rates for specific projects. Specific projects may generate upwards of 12.9% ROE.
The higher level of transmission investment will increase that segment's percentage of PEG's rate base. Below is a table of the percentage of transmission assets to PEG's total rate base:
| | | |
| --- | --- | --- |
| Year | % Transmission | Total Rate Base |
| 2009 | 15% | $7.3 billion |
| 2013 | 36% | $10.4 billion |
| 2018 | 50% | $20.4 billion |
Management has done an exceptional job of generating shareholder value. While the increase in value may not show up in exceptional stock returns, the balance sheet is one of the strongest in the industry. Reviewing some of the data from the most recent 10-K and from 2006:
Shares outstanding have remained virtually unchanged since 2006 at 506 million shares;
Long-term debt has decreased from $10.3 billion in 2006 to $8.1 billion in 2013;
Net assets have increased from $13.6 billion in 2006 to $21.3 billion in 2013;
Total liabilities have remained stable at $21 billion from 2006 to 2013;
Operating cash flow between $2.8 and $3.1 billion should cover annual cap ex;
PEG has generated free cash flow in 9 out of the past 10 years.
Earnings for 2014 are expected to be in the $2.55 to $2.75 range, with $2.65 as its mid-point.
Over time, the percentage of earnings from the regulated PSE&G segment, including transmission, will continue to exceed earnings from the unregulated merchant power segment. Below is a table outlining this transformation: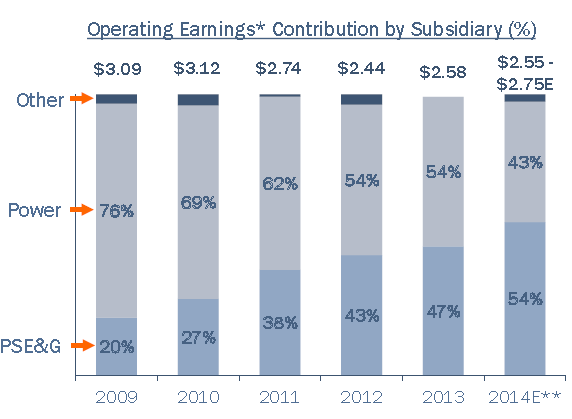 Management has been extremely successful in generating above average return on invested capital. Below is a graph from fastgraphs.com outlining ROIC during the past 15 years. With an investor's goal of 5% ROIC, PEG has generated a 15-year average ROIC of 8.1%, with the lowest of 5.8% in 2004.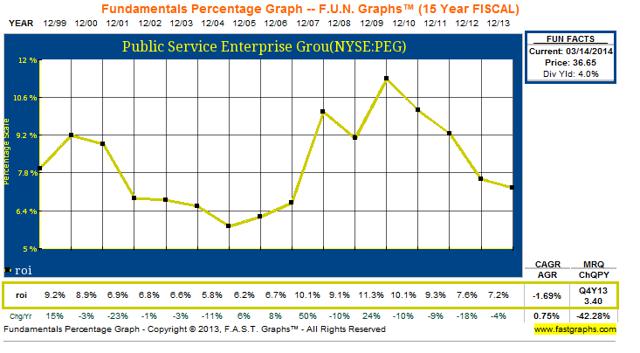 According to stockcharts.com, PEG's stock is in a bullish trading trend. Below is a point and figure chart going back to 2004. To break this pattern, share prices would have to fall below $33 to create a negative trend of a Three Box Reversal.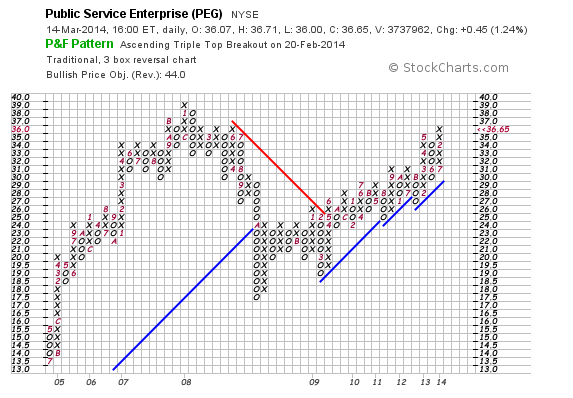 The industry publication Fortnightly offers an annual list of its top 40 utilities. PEG is rated second on the overall list. The table below outlines the placement of PEG in each category. Listed are the ratings out of 40 and the average reported performance.
| | | |
| --- | --- | --- |
| Absolute Ranking | 2 | |
| 4-yr Average Profit Margin | 9 | 11.61% |
| 4-yr Average Dividend Yield | 37 | 4.22% |
| 4-yr Average Free Cash Flow | 16 | 4.60% |
| 4-yr Average ROE | 7 | 14.96% |
| 4-yr Average ROA | 5 | 4.66% |
| 4-yr Average Sustainable Growth | 13 | 7.45% |
However, these attributes have not created a groundswell of stock returns. Below is a table and graph from the 2013 10-K showing total stock returns over the previous 5 years. As shown, PEG barely matched the S&P Electric Utility Index.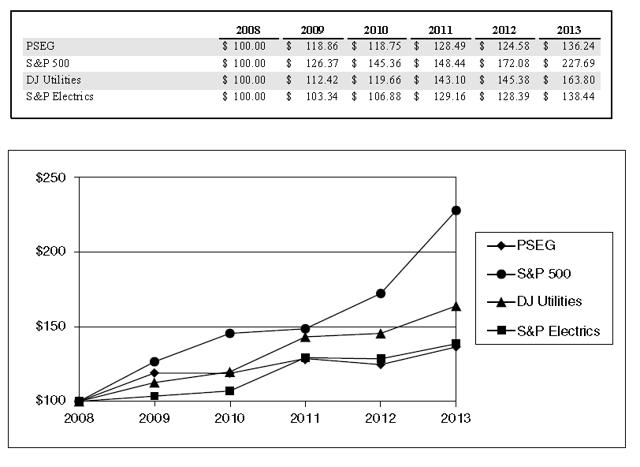 Utility investors should review PEG as the push into a larger transmission footprint should add to earnings growth over the next decade. While dividend growth has barely kept up with inflation at 3%, higher regulated earnings growth. led by higher allowed transmission returns, may allow for a step up in dividend growth over time.
Author's Note: Please review important disclaimer in author's profile.
Disclosure: I have no positions in any stocks mentioned, and no plans to initiate any positions within the next 72 hours. I wrote this article myself, and it expresses my own opinions. I am not receiving compensation for it (other than from Seeking Alpha). I have no business relationship with any company whose stock is mentioned in this article.