Exxon (NYSE:XOM) is involved in exploration and production of crude oil and natural gas, alongside its midstream activities of transporting petroleum-related products. This means that Exxon is very much affected by the fluctuations in the crude oil price, as well as the stability of energy-producing countries. The oil and gas industry has been impacted, in the most in recent weeks, by the fluctuating price of WTI crude oil. During the last month, WTI has increased from $96 to $105 per barrel, and then fell back to $101 due to the ongoing Ukraine crisis, because a number of key players have major stakes in Russian oil. It seems that there is a high chance that sanctions can be placed on Russia by the NATO, which would affect the global market for energy that is already volatile in terms of price. This increase should help oil companies like Exxon, as they would be able to earn higher revenues through higher prices.

Source: YCharts
Natural gas prices are also being affected, because Russia contributes around 27.5% to the world's gas supply, which means that if the Ukraine crisis escalates, there might be a major shortage of gas that could increase the prices even further.
Iraq Troubles
Exxon is already facing problems in Iraq. The company's joint venture with the Kurds to pump oil from the West Qurna-1 field, which is under the Kurdistan Regional Government (KRG), has angered the Iraqi government. The government is already at odds with the Kurds due to the cessation of crude oil flow to Turkey, and Exxon has signed a deal with the KRG to pump oil, which would be supplied to Turkey. The Iraqi government is now considering some stringent actions against Exxon as a response to this deal.
Kazakhstan Pollution Scandal
Exxon, along with its partners, is working in Kazakhstan for the extraction of natural gas from the Kashagan oil field, which has the capacity to lift Kazakhstan into the world's top 10 oil producers. Exxon has a 16.81% stake, along with Total S.A. (NYSE:TOT) and ENI S.p.A (NYSE:E) having a similar interest. The Kazakh government is planning to penalize the Kashagan venture, as it has found that it is knowingly burning off natural gas to clear the leaky pipes. According to the government, this practice is creating pollution in excess of the standard pollution level. The government is considering a fine of $1.2 billion to be levied on the partners working on the Kashagan oil field.
Although it should not affect the company's current share price in any way, but it can create future hurdles in obtaining mining rights, and is already causing bad press.
Damar field
On the bright side, Exxon has initiated gas production from the Damar field near Malaysia. Exxon and its two partners (Petronas Carigali and Petronas) are sharing the contract; Exxon being the operator with a 50% interest in the project. The field is expected to produce 200 million cubic feet of gas per day from the planned 16 wells to be developed on the platform. This is a much-needed addition to Exxon's production levels, and will increase cash inflows, as the company would be needing higher operating cash flows to finance its capital expenditure of $190 billion in five years (inclusive of 2013 expenditure) on expansion. Around $37 billion of this will be spent during 2014, which is a 13% decline y/y in the drilling budget.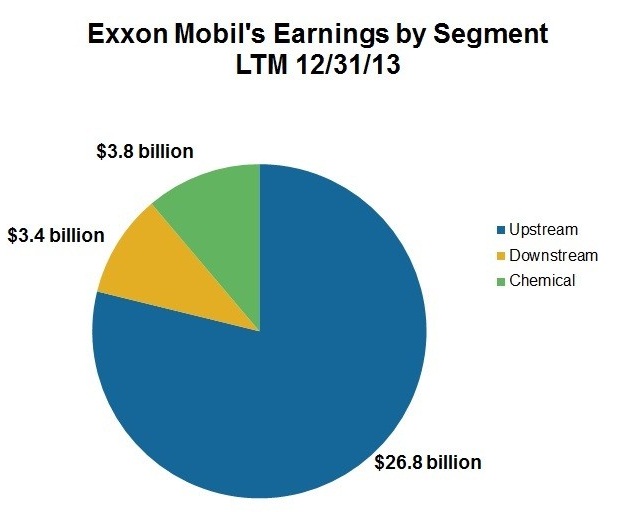 Source: Yahoo Finance
Last year, Exxon focused its capital expenditure on upstream projects (essentially on exploration and production of crude oil and natural gas). This focus was one of the reasons the company was able to increase 2013's production by 103% through the addition of proven oil and gas reserves amounting to 1.6 billion oil equivalent barrels, with a 153% Reserve Replacement Ratio (RRR) for crude oil and other liquids. This shows that the company's management has been able to increase its reserve levels, and this may have been the reason why the company has decided to decrease its capital spending in 2014.
Bottom Line
We can see that the company has been busy in trying to increase its production and reserve levels, as it announced the discovery of 2 to 3 trillion cubic feet of natural gas in Block 2 offshore Tanzania, along with the start-up of new projects, as mentioned above. This should help the company in increasing its revenues with a higher level of production, which will reflect a higher stock price if conditions do not change. Furthermore, the current conditions in Crimea are pushing natural gas and oil prices upwards, which is a good sign for Exxon. If sanctions are imposed on Russia, it will further increase the price of oil and positively impact Exxon. However, in the long run, the crisis may impact the plans of Exxon to invest in Ukraine along with its partner, Shell (NYSE:RDS.A).
| | |
| --- | --- |
| | Amounts in ($ Billions) |
| Market Capital | 406.24 |
| Long-term Debt | 7 |
| Cash and Cash equivalents | (4.9) |
| Enterprise Value | 408.34 |
According to our calculations, the company has an enterprise value of $408.34 billion, and from this, we can find a target price close to $94.5 per share, while currently, stock is being traded at $94 per share. Although this shows that share is currently being sold at fair value, but we believe that the positive fundamentals can lead to a surge in valuations and investors can also rely on Exxon's 2.7% dividend yield. The analysts' target price of $99.53 supports the argument of expected growth in the share price, making it a good investment.
Disclosure: I have no positions in any stocks mentioned, and no plans to initiate any positions within the next 72 hours. I wrote this article myself, and it expresses my own opinions. I am not receiving compensation for it (other than from Seeking Alpha). I have no business relationship with any company whose stock is mentioned in this article.
Additional disclosure: Equity Flux is a team of analysts. This article was written by our Basic Material and Financial analyst. We did not receive compensation for this article (other than from Seeking Alpha), and we have no business relationship with any company whose stock is mentioned in this article.