Its taken a strong stomach to be an investor in the off shore drilling sector as of late. Companies across sector have been beaten down since last November. Fear is alive and well when it comes to off shore drilling stocks and with oil pricing and demand issues unclear moving forward its difficult to see and end to this current downtrend. I do my best not to fall in line with the general crowd mentality which has been to the sell-side for this industry. Instead, I focus generally on fundamental value, dividend health, and dividend growth potential. I think contrarian value can be found with the off shore drillers and because of this I knew that I would have to take a closer look.
Because of the recent sell off amongst the drillers, many now offer investors exceptional yields. Its hard to ignore such high yields, especially for someone who wouldn't mind bumping his portfolio's average annual income up a few tenths of a percentage. I only own one drilling company, Ensco (NYSE:ESV), though I'm not opposed to increasing my exposure through diversification.
When considering whether or not I am interested in owning a stock the first several pieces of information that I look at are dividend related. My goal for my holdings is to generate a reliably increasing passive stream of income and therefore, dividends, and dividend growth specifically, play a paramount role in my decision making process for adding shares. If you are interested in learning more about my personal investment philosophy, please refer to a recent article published here on SA of a more detailed synopsis of my thought process for stock ownership and portfolio construction.
After looking at what I deem to be the major players in the drilling industry's' dividend health I was quickly able to cut the list of stocks in half from a potential ownership standpoint. The four stocks that I looked into were Noble Corporation PLC (NYSE:NE), a $7.4B company, Transocean Ltd. (NYSE:RIG), a $14B company, Seadrill Ltd. (NYSE:SDRL), a $15.6B company, and Ensco PLC , an $11.3B company that currently makes up roughly 1.64% of my portfolio. The two stocks that I was able to cut due to their perceived lack of dividend health and growth prospects were Transocean and Seadrill. While Transocean does have a very attractive forward P/E of 8.3, its dividend history is too volatile for my liking. Seadrill, on the other hand does have a recent history of dividend increases; however, its payout ratio is higher than I would like to see and leads me to question its dividend growth longevity. For someone not as concerned with dividend performance as I am, either of these companies might be a good fit for a portfolio; however, for me, it was an easy decision to make the cuts listed above.
| | | | |
| --- | --- | --- | --- |
| Ticker | Dividend Yield | Dividend Payout Ratio | 5 Year DGR |
| ESV | 6.25% | 37.30% | 86.40% |
| NE | 5.15% | 22.30% | 35.10% |
| RIG | 5.76% | 51.00% | N/A |
| SDRL | 11.90% | 70.20% | N/A |
Now, that left me with NE and ESV. Both company's fundamentals and dividend health look very similar. Both companies have low payout ratios, both companies have low debt/cap ratios, and both companies are trading at prices lower than their fair value calculated by Morningstar and S&P Capital IQ (although I should mention that ESV is listed with 4 stars while NE is given 3). ESV edges out NE rather significantly in terms of revenue growth (3 year), net income (3 year), TTM operating and net margins, and TTM ROA and ROE.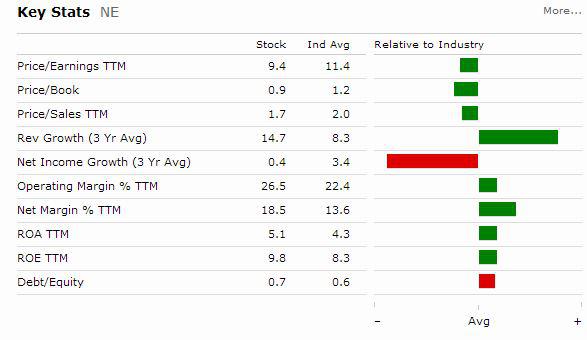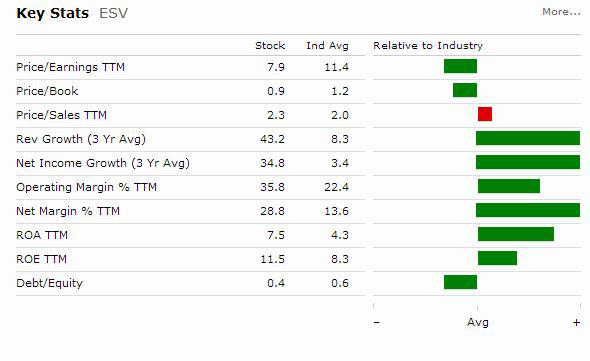 Source: Morningstar
So, with these comparison figures in mind, combined with that fact that ESV at its current price yields roughly 1.1% more on an annual basis, the previous due diligence work that I had put in before my initial ESV purchase, and a second round of research done for this article because of ESV's continued downward spiral and the glaring value that I believe has been unearthed, I've come to the conclusion that Ensco is the best of breed when it comes to off shore drillers. I will be monitoring the stock closely in the coming days looking to add more shares. I worry about its current negative trend and being that I already have exposure to the stock I will wait until I see some sort of resistance hit before making a second purchase. I will keep anyone following the Stress Free Portfolio updated via stock talk here on SA.
Company Background: ESV is the world's second largest off-shore drilling company. The company takes pride in its #1 total customer satisfaction rating that is has received four years in a row from EnergyPoint Research. With regard to this sanctification ranking and the relative strength of ESV's fleet, in the company's 2013 full-year earnings report CEO Dan Rabun stated, "Ensco's fleet will continue to grow as we complete the construction of six additional rigs scheduled for delivery through 2016. Highgrading our fleet with technologically-advanced rigs is a key element of our success in achieving the highest levels of customer satisfaction." He was also proud to mention Ensco's new 120 series jackups, which he hopes will give his company a further advantage in harsh environment drilling situations.
2013 Performance: ESV posted impressive earnings figures in 2013 with a full year diluted EPS of $6.07 which was up 20.4% compared to 2012's figure of $5.04. 2013 totaled a record $4.920 billion in revenues (up 14% from 2012) while net income also increased in the double figures, up 21% to a record $1.418 billion.

Source: ESV Fourth Quarter and Full-Year 2013 Results
Q4 highlights:
ESV's most recent quarterly earnings report (Q4 2013) showed a continued growth, but disappointed relative to analyst estimates with an EPS of $1.56 (missing by $0.03) and revenue of $1.26B (missing by $10M, but up 15.6% Y/Y).
ESV's average day rate for its fleet increased 16% during the quarter to $230,000 due to the addition of several rigs to its active fleet, higher day rates for several of its floaters and jack ups.
ESV's deprecation expenses rose 9% to $157M Q4. The company claims this rise is due to its growing active fleet size. I see this increase as a trend likely to continue into the future, but it doesn't worry me as revenue growth greatly outpaced the expenditures. General and administrative expenses were unchanged Y/Y.
ESV reported 73% floater utilization during Q4. This was down 10% Y/Y; however, the company said that two of its rigs were idle during Q4 due to the bankruptcy of OGX, a Brazilian operator it was working with. When looking at this floater figure adjusted for planned downtime by the company, operational utilization was down 1% Y/Y at 89% for Q4 2013. Jackups saw a much higher planned downtime adjusted utilization: 97% (down 2% Y/Y).

Source: ESV Fourth Quarter and Full-Year 2013 Results
Fundamentals: I think that ESV is oversold right now as the offshore drilling sector has taken an absolute thrashing since November 2013. ESV's current share price of $48/share translates to a 7.9 TTM P/E ratio and a 7.6 forward P/E ratio. The stock is more than 25% off its 52 week high from May 2013 and at the time of this writing is currently sitting 0.02% off its 52 week low. The stock is in a terrible technical down trend with a RSI hovering just over 20. ESV is currently trading 6.9% below its 20 day simple moving average and 5.9% below its 20 day exponential moving average. I think such a sharp short-term move is unwarranted, especially for such a well managed company with rock solid fundamentals.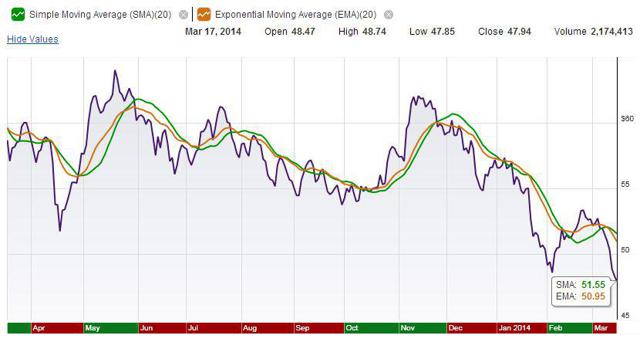 As far as dividends go, in the recent past ESV has been a star. Its dividend was doubled during 2013 to $3.00/share while maintaining a low pay-out ratio of 37.3 making its high 6.25% yield relative safe. The company's 5 year DGR is 86.4% having grown from $0.10/share in 2009 to $3.00/share in 2014. I think continued dividend growth is likely, though probably not as such a rampant pace.

Source: F.A.S.T. Graphs
Another reason that I like ESV as a high yielding part of my portfolio is its CAPEX dividend/infrastructure ratio. In 2013, ESV's CAPEX was $1.8B. 72% of these dollars were invested back into the business with new construction and fleet improvements. The company continued its "high-grade" movement, selling 3 older rigs in 2013 (ESV has sold 13 rigs since 2009) and putting the proceeds from these sales back into its fleet. I see this as a prudent plan which will enable ESV to maintain a high level of production and its spot atop the consumer satisfaction rankings.
ESV has a low debt load with a 27% debt/cap ratio and an $11B contracted backlog.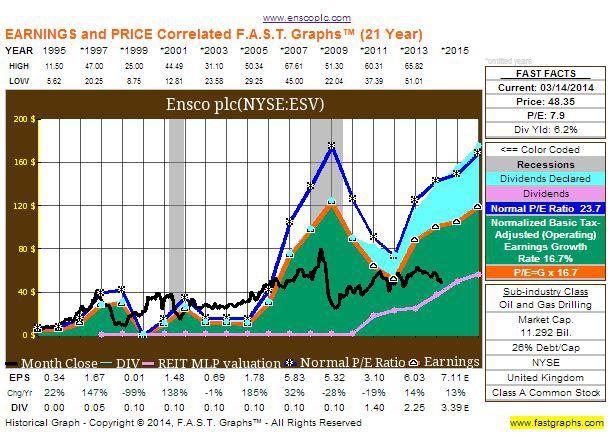 Disclosure: I am long ESV. I wrote this article myself, and it expresses my own opinions. I am not receiving compensation for it (other than from Seeking Alpha). I have no business relationship with any company whose stock is mentioned in this article.