So far this year, the price of gold has risen by about 15%, while the price of silver has risen by about 7.5% - a reversal of what we were experiencing this time last year. This brings the question of if gold and silver have finally overcome their troubles from last year. I'm of the opinion that they have, for reasons that I'll argue in this piece.
First, one thing that I find disheartening about this trend, that's supposed to be enjoyed, is that many seem to think that the positive trend will be short-lived, mostly pointing at the Ukraine crisis as the reason for which the prices of gold and silver is increasing. While that could be true to some extent, I still think that most of the metrics that are available to us point toward a recovery.
Let's start with China. For what it is, it's certain that the revelation of China's gold bullion importation is influencing the surge. According to a report from Citibank;
The true volume of gold which is unclassified in Chinese data is 640 tonnes for 2013 and 270 tonnes for 2012.
And with the demand for Gold in China still high, it's next to certain that the true volume that Citibank referred to will be higher by the end of 2014.
However, this should not tempt us to believe that once China tapers on gold demand the price of gold will return to its 2013 levels. Instead of looking in that direction, we should rather ask, "Why is China importing so much gold?" Whatever explanation anyone would give would boil around the fact that gold is (was) undervalue(d).
A similar trend is noticeable with silver. Over the past few weeks, the U.S. mint has been selling all Silver Eagle allotment. In fact, for the week ended March 14, 94% of the increased (1.2 million) allotment were sold in the first two days. Whenever supply is consumed so fast, chances are the product on market comes at a cheap price. Generally, the more people find out about the undervalued status of these metals, the more they'd rush to the market, and in the end, prices will go up.
In addition, the slow rate of economic growth also suggests that we should invest more in precious metals to safeguard our money. If nothing else, the fact that employment data isn't improving means economic growth is slow. Simply put, if the economy were improving, there'll be more need to employ more workers - the reverse is currently the case. The crisis that the retail industry is passing through also confirms that economic growth is slow. And as long as the growth rate is slow, there is always a risk of high paper asset volatility, which is another reason to go the way of hard assets.
However, since it's precious metal explorers that provide us with these precious metals, there's almost an equal case for investing in their stocks too. Moreover, with huge volume of gold going toward the east, it could be hard to lay your hands on the yellow metal, leaving precious metal stocks as the next viable option. It's just that you'll have to do the extra work of finding out which ones have effective management and growth potentials. Alamos Gold (NYSE:AGI), Hecla Mining (NYSE:HL) and Premium Exploration (OTCPK:PMMEF) are three companies with effective management and growth potentials to put on your watch list as we approach an era of precious metals.
Alamos Gold is one of the most cost effective miners in the industry. Just before the close of last year, I predicted that the company would beat its cash cost guidance for 2013, which it did. Its total cash cost per ounce came in at $496, beating its low-end guidance of $500. Its all-in sustaining cost came in at $772 per ounce, also beating what it had predicted. You might want to note that these figures are above industry averages.
It becomes clearer when you consider that big players including Goldcorp (NYSE:GG), Barrick Gold (NYSE:ABX) and Kinross Gold (NYSE:KGC) had all-in sustaining cash costs per ounce of $1,031, $915 and $1,169 respectively. Being able to keep costs low means that the company can maintain healthy margins. One other thing that should be savored about this company is that its debt column has zero in it. Long story short, Alamos Gold is currently trading below its real value - which might not remain the same much longer.
Hecla is best known as a silver producer. However, its purchase of Aurizon means this company is now a producer of both gold and silver. Here is my thesis for an investment in Hecla. Hecla has a track record of producing silver at low cash costs. In 2013, for instance, its cash cost per ounce came in at about $6.84, compared with the $10.81 that Pan American Silver (NASDAQ:PAAS) had. So with the experience of the management at Hecla at lowering costs, the company will find it easy being profitable at producing gold - which would increase the value of the company.
As for Premium Exploration, the first thing to note is that the company is very small - with market capitalization of just over $1.5 million. So you need to be very cautious with it. However, the growth potential of this company isn't deniable. The company is finally on course to start production in 2014 on its Idaho gold project. The Idaho gold project consists of three known deposits, per the company. The company says its flagship project will be on the Friday-Petsite, which drill results have indicated to be a high-grade, and shallow, gold zone.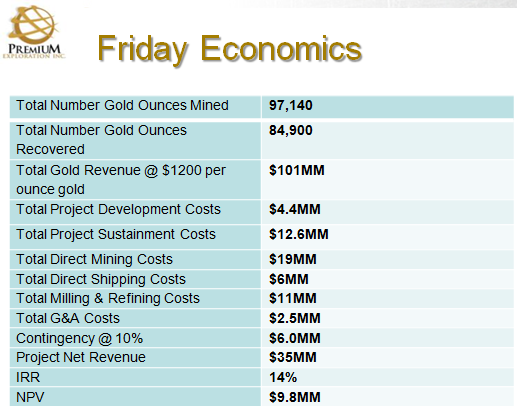 Source: Premium Exploration
The fact that it is a shallow gold zone would give the company a good start in the business of mining. This is because the costs of mining at shallow levels are generally lower than the cost of deep zone mining. Therefore, the foundation to be cost effective is there. So the outcome here would help investors have a grasp of the ability of the management team to determine if the company could be an interesting long-term play.
I'm not suggesting that Premium Exploration will be profitable at production, but that it has made it to the point of production should make precious metal investors add this one to their watch list. The simple reason is that only a few small companies make it to the point of production (the capital-intensive nature of the business makes it difficult). Moreover, if the information in the chart above is any accurate, then Premium Exploration is well positioned for a good start.
Recap
Investors shouldn't buy into the idea that precious metal is only having a rally that will end soon. As I've argued, the long-term investment thesis for investing in precious metals is very much intact. So now is a good time to take some position in metals and great companies that produce them.
Disclosure: I have no positions in any stocks mentioned, and no plans to initiate any positions within the next 72 hours. I wrote this article myself, and it expresses my own opinions. I am not receiving compensation for it (other than from Seeking Alpha). I have no business relationship with any company whose stock is mentioned in this article.