I am always on the hunt for undervalued assets. History has shown me that a great place to look for them is among beaten down stocks in "out of favor" industries. If you would like to see an overview of how I find great investments, click this LINK. A perfect example of a company I think will be a great investment is China Mobile (NYSE:CHL), which I documented last week with another Seeking Alpha article. This time however, I'm digging through the companies in the offshore oil/gas exploration industry. The three I am going to discuss today are Transocean Ltd (NYSE:RIG), Ensco Plc. (NYSE:ESV), and Noble Corp (NYSE:NE).
The most widely know of the group is probably Transocean, as a result of its role in the 2010 Gulf Oil Spill. All three of these stocks are trading near 52 week lows and two boast dividends over 5%. A 5% dividend sounds pretty good when the 10 year US Treasuries currently pay 2.7%. Let's take a look at how the three companies compare, and see if there is a compelling investment among them.
The Metrics
This group has been unloved for some time. Is it justified? I can't say for sure, but it looks like these stocks are priced for a pretty miserable future. I do think that the price of crude oil will go lower in the next year or two and that would have a negative impact on the group, but I see no reason for these companies to have been punished so severely. I believe crude oil prices are going lower as a result of the glut of oil that is coming to market and the moderating we are currently seeing in global growth. It's a good thing I don't look to the stock market to forecast the economic future, because it would suggest a very bleak future for this group. Take a look at the table below and see how this group compares.

All three of these companies are based in Europe. Transocean is based in Switzerland, while Ensco and Noble are both based in England (UK). As a result of currency conversions, the data I compiled from different internet sites is slightly different. For the purposes of this discussion though the differences are immaterial. In my opinion Transocean represents a slightly better margin of safety than Ensco or Noble. Even though Transocean has a lower operating margin and slightly higher PE ratio than the other two, it pays a higher dividend and has a dramatically higher ratio of cash relative to debt. Assuming that Transocean's liability in 2010 oil spill is largely behind it, as I believe, all that cash will provide both fiscal stability and the opportunity to reinvest in the business for years to come. For the rest of this article I'm going to focus only on Transocean.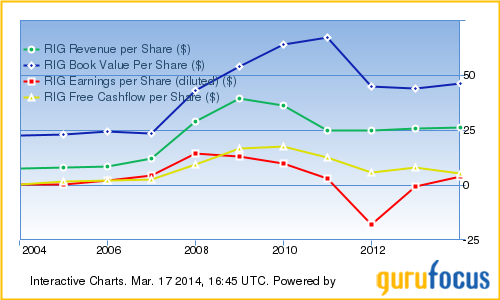 Transocean caught my eye because the stock is selling at 80% of book value and a PE around 10. As you can see from the chart above, courtesy of GuruFocus.com, Transocean financial metrics have been on a wild ride for the last few years. Costs associated with the 2010 oil spill are clearly evident by the drop in earnings a few years ago. Free cash flow and revenue are still struggling to recover from the 2010 oil spill. The graphic below, also from GuruFocus.com, shows a company that is struggling to get back on the ball. Debt is holding (more or less) steady while cash and operational cash flow levels are trending lower. This does not look encouraging.

The current dividend yield looks attractive. At 5.8% it is 3% higher than the current yield on the 10 year treasury bond. One reason for the spread is that investors are skeptical Transocean will continue to pay such a sizable and consistent dividend. Transocean had only paid dividends sporadically until 2011. Even over the last few years the dividend payout per share has bounced around between $2.37 in 2011, $0.79 in 2012, and $1.68 in 2013. Payments like these do not inspire trust for investors.
Conclusion
Given Transocean's spotty dividend history, slowly declining financial trends, and my personal outlook for crude oil, I will not be investing in its stock at this time. I will reevaluate Transocean's prospects later this year, but if the price of crude oil goes lower (as I expect) Transocean's business will be hurt. In my experience commodity producers rarely make great long term investments, because they lack pricing power. For every Exxon Mobil (NYSE:XOM) and Chevron (NYSE:CVX) there are dozens of companies that nearly go bankrupt with each business cycle.
Disclosure: Long CVX. This article is for informational purposes only and should not be considered a recommendation for anyone to buy, sell, or hold any equities. I am not a financial professional. The information above is provided by Yahoo Finance, Morningstar.com and GuruFocus.com I am long CVX. I wrote this article myself, and it expresses my own opinions. I am not receiving compensation for it (other than from Seeking Alpha). I have no business relationship with any company whose stock is mentioned in this article.