Akebia Therapeutics Inc. (NASDAQ:AKBA), a biopharmaceutical firm, focused on the development of novel treatments for anemia, plans to raise $76.0 million in its upcoming IPO.
The Cambridge, Massachusetts-based firm will offer 4.9 million shares, at an expected price range of $14-$17 per share. If the IPO can find the midpoint of that range at $15.5 per share, AKBA will command a market value of $302 million.
AKBA filed on February 14, 2014.
Lead Underwriters: Credit Suisse Securities (USA) LLC, Morgan Stanley & Co LLC
Underwriters: Nomura Securities International Inc, UBS Investment Bank
Summary
AKBA is a biopharmaceutical firm, engaged in the development and commercialization of therapeutics, based on hypoxia inducible factor (HIF)-the primary regulator of red blood cell production-for patients with kidney disease. The firm's lead product candidate, AKB-6548, is a once-daily oral therapy for anemia, secondary to chronic kidney disease, CKD. If approved, AKBA would have significant advantages over current treatments for anemia, secondary to CKD, which carry dangerous side effects and must be delivered via injection.
AKBA has initiated a Phase 2b trial for patients with anemia secondary to CKD, not dependent on dialysis, with data expected by the fourth quarter of 2014; the firm has also initiated a development program for dialysis-dependent patients. AKBA anticipates initiation of Phase 3 trials for AKB-6548 in 2015 and the submission of New Drug Application by 2018.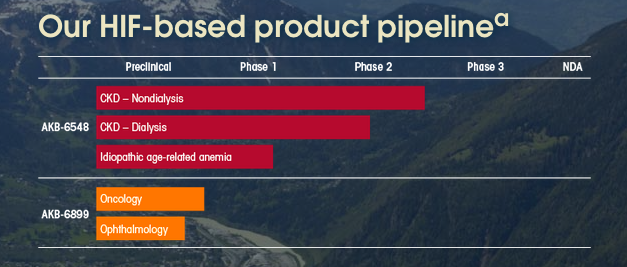 Valuation
AKBA offers the following figures in its S-1 balance sheet for the year ended December 31, 2013:
Revenue: $0.00
Net Loss: ($13,167,180.00)
Total Assets: $34,664,892.00
Total Liabilities: $3,909,814.00
Stockholders' Equity: ($127,072,057.00)
AKBA's lack of revenues is typical of a pre-commercial biopharmaceutical firm, and should not be taken as an indication of the company's potential for future success. AKBA will be unable to generate significant revenues or profits until it has commercialized one or more of its product candidates.
Business
If approved, AKB-6548 will face competition from numerous other drugs. Some of the firms that have commercialized these drugs have far greater financial and technical resources than AKBA, including Amgen (NASDAQ:AMGN), Johnson & Johnson (NYSE:JNJ), and Roche. Other firms currently in the process of developing drugs that may compete with AKB-6548 include Fibrogen, AstraZeneca (NYSE:AZN), Japan Tobacco, GlaxoSmithKline (NYSE:GSK) and Bayer.
Management
President and CEO John P. Butler has served in his current positions since August 2013. Mr. Butler previously served as the CEO of Inspiration Biopharmaceuticals, Inc. He also served in various positions at Genzyme Corporation, including President of the company's rare genetic diseases business, and held sales and marketing positions at Amgen and Hoffmann-La Roche. Mr. Butler holds a B.A. in Chemistry from Manhattan College and an M.B.A. degree from Baruch College, City University of New York.
Mr. Butler received a total compensation package of approximately $2.3 million in 2013, which strikes us as excessive, given the firm's high current losses and lack of revenues for the foreseeable future.
Conclusion
We plan to avoid this IPO.
AKB-6548 is still years away from commercialization, and there is no guarantee it will attain FDA approval. Though AKB-6548 could prove a strong alternative to the current methods of treating anemia, secondary to CKD, those methods are firmly entrenched as the standard of care and are marketed by firms with far greater resources than AKBA can muster. Numerous other firms are in the process of developing potentially competing drugs, and since AKBA does not anticipate submitting a New Drug Application for AKB-6548 until 2018, it's likely to face even stiffer competition if and when it is commercialized.
We're also concerned by the large compensation packages received by CEO John Butler and other members of the executive team, which seem outlandish, since the firm is losing millions of dollars and won't have a product to market for years to come.
Disclosure: I have no positions in any stocks mentioned, and no plans to initiate any positions within the next 72 hours. I wrote this article myself, and it expresses my own opinions. I am not receiving compensation for it (other than from Seeking Alpha). I have no business relationship with any company whose stock is mentioned in this article.