In my previous article, I wrote that Alibaba will be the next big thing after the Facebook (NASDAQ:FB) and Twitter (NYSE:TWTR) IPOs, and that it will be a bargain if it is traded at $120 billion or lower in market cap. The eCommerce giant has finally confirmed that it will be listed in the U.S. instead of Hong Kong because the Hong Kong exchange does not allow a partnership structure that allows the partners and executives to nominate the majority of board members.
According to Techinasia, Alibaba provided the following statement:
Alibaba Group has decided to commence the process of an initial public offering in the United States. This will make us a more global company and enhance the company's transparency, as well as allow the company to continue to pursue our long-term vision and ideals. Should circumstances permit in the future, we will be constructive toward extending our public status in the China capital market in order to share our growth with the people of China. We wish to thank those in Hong Kong who have supported Alibaba Group. We respect the viewpoints and policies of Hong Kong and will continue to pay close attention to and support the process of innovation and development of Hong Kong.
Alibaba is Much More Profitable Than Amazon
While the company has not issued an IPO prospectus yet, the company's financials are shown on Yahoo's quarterly earnings reports. Here is the latest one from Yahoo (YHOO) Q4 2013 earnings slides: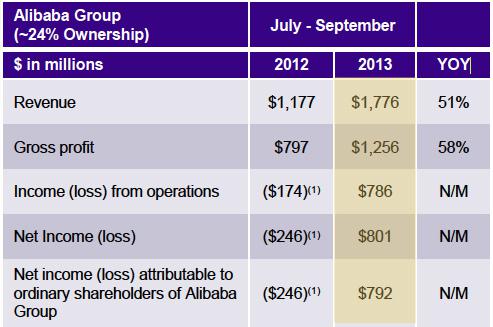 Source: Yahoo's Q4 2013 earnings report
In comparison, Amazon (NASDAQ:AMZN) had much larger revenues-$17.09 billion-in the same period (note that Alibaba's latest earnings were for Q3 2013), but Alibaba was much more profitable with $792 million in net income while Amazon had a net loss of $41 million.
Alibaba had an exceptionally high profit margin of 44.59% for Q3 2013, while Amazon had a razor-thin profit margin of 0.37% for 2013 (note: Amazon had a net loss in Q3 2013, so a full year profit margin is used). Alibaba's business model is very profitable because it is not an online retailer like Amazon-it does not buy inventory and sell products directly to customers. Instead, it operates a number of marketplace websites-Business-to-Business (B2B), Business-to-Consumer (B2C) and Consumer-to-Consumer (C2C)-and earns most of its revenues from advertising as well as commissions. Its business model is more similar to eBay's (NASDAQ:EBAY) than Amazon's.
Another interesting fact is that it surpassed Amazon and eBay in combined transaction volume in 2012, according to Wall Street Journal. It is likely that Alibaba is still surpassing Amazon and eBay in transaction volume because the company owns the major eCommerce websites in China and has the largest market share there. Some of Alibaba's websites-such as Taobao.com (C2C), Tmall.com (B2C) and Alibaba.com (B2B)-are virtually a monopoly in China. The only companies that can compete with Alibaba are Tencent Holdings (OTCPK:TCEHY) for the eCommerce market and Baidu (NASDAQ:BIDU) for advertising revenues.
Alibaba's Valuation
According to Bloomberg, analysts have, on average, given Alibaba a valuation of $153 billion, while Macquarie Group Ltd. estimated the company to be worth as much as $200 billion.
I have compiled Alibaba's earnings from the latest four quarters (Q4 2012 to Q3 2013) based on the data from Yahoo earnings releases and a Reuters article (see image below).

If the numbers are correct, Alibaba had a total net income of $2.81 billion between Q4 2012 and Q3 2013. And a valuation of $153 billion means that the company will be traded at a price-to-earnings (P/E) of 54.4 or more, depending on the company's latest quarterly earnings which will be available once the IPO prospectus is released to the public.

If we compare Alibaba's estimated value with Amazon and eBay's market caps (see image above), a valuation of $153 billion or lower is likely a bargain because Alibaba is much more profitable than Amazon and eBay (in terms of profit margin) and because Alibaba also has higher revenue growth rates than both companies. The eCommerce market in China is still in its early growth stage and the country has around 618 million internet users, with a penetration rate of 45.8% (source: Thenextweb). That is almost twice the population in the U.S.
The Bottom Line
Alibaba is an exceptionally profitable IPO company because the eCommerce giant does not own inventory and sell products like Amazon. Instead, it operates marketplace websites and earns the majority of revenues from advertising and commissions. The company is also very competitive in China with the largest eCommerce market share. If the company is traded at $153 billion or lower when it goes on IPO, then I believe that it will be a bargain compared to Amazon, since the company also has higher revenue growth rates and margins.
Sources: Techinasia, Wall Street Journal, Yahoo earnings releases, Bloomberg, Reuters and Thenextweb.
Disclosure: I am long AMZN, FB, BIDU. I wrote this article myself, and it expresses my own opinions. I am not receiving compensation for it (other than from Seeking Alpha). I have no business relationship with any company whose stock is mentioned in this article.