Sprint Corporation (NYSE:S) is a technology company operating in the wireless communications industry. The company was founded in 1899 and is headquartered in Overland Park, Kansas. SoftBank acquired Sprint in 2013 and the company now operates as a subsidiary of SoftBank Corp. The company offers wireline, wireless and data services to customers all over the U.S. Sprint's network utilizes 3G, CDMA (Code Division Multiple Access) and 4G technologies. 4G includes LTE (Long Term Evolution) and WiMAX (Worldwide Interoperability for Microwave Access). The company is planning to shut down WiMAX by the end of 2015. It is divided into two segments for reporting purposes - wireline and wireless.
Wireless: Sprint offers wireless services on a prepaid and postpaid basis. It offers several plans including a family plan in the postpaid segment. A family of four can subscribe for $40 per person with unlimited talk, text and 1GB data. The wireless segment of the company competes with Verizon (NYSE:VZ), AT&T (NYSE:T) and T-Mobile (NASDAQ:TMUS). Note that the company is a facing strong price competition because of T-Mobile's un-carrier strategy while AT&T has also responded with attractive packages. These developments are expected to impact Sprint's, and the industry's, earnings in the near future. The company generated around 81% of its revenue from the wireless segment during the year ended 2013.
Wireline: The wireline segment of the company provides voice and data services to other communication companies, business clients and consumers. Sprint also provides IP and other services to cable system operators. The wireline segment competes with AT&T, Verizon Communications, CenturyLink (NYSE:CTL) and Level 3 Communications (NASDAQ:LVLT). The company generated around 19% of its revenue from the wireline segment during the year ended 2013.
Market Performance
Shares of Sprint are listed on NYSE and are currently trading at around $8. The market cap of the company is around $35 billion. Valuations of the company have shown a growth of 40% since July 2013 despite negative EPS throughout 2013. The main reason behind this appreciation seems to be the acquisition of the company by SoftBank. Moreover, the company managed to surpass analyst estimates regarding EPS in the last three quarters. Beating analyst expectations consistently has also contributed to the valuation growth in the past few months.
Financial Performance
Revenue and EPS
Sprint posted a revenue figure of $16.81 billion as compared to $35 billion posted in the previous year. However, due to the merger activity with SoftBank, the results of these two years are not comparable and we will use a combined result to identify the revenue trend for the company.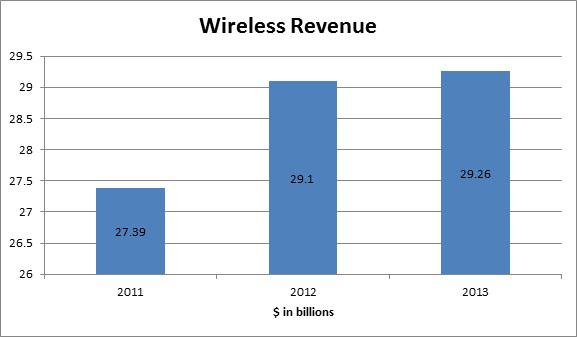 *Source: SEC filings
Revenue almost remained flat during the year ended 2013. Revenues from wireless depend upon the ARPU (Average Revenue Per User) and the addition and retention of the customers in a given period. The average revenue per user increased in the year ended 2013 but the effect was offset by the decrease in overall postpaid customers and hence, the company did not experience a considerable growth in revenues. Sprint almost lost 1.34 million postpaid subscribers during the year which resulted in the flat revenues. The average revenue from prepaid subscribers also increased during the year ended 2013.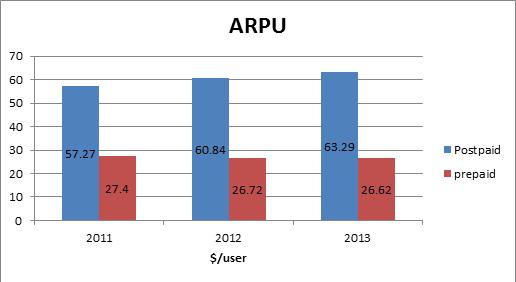 *Source: SEC filings
At present ARPU is improving as far as postpaid customers are concerned. This might not be the case in the coming year because of T-Mobile's aggressive pricing strategy. Sprint cannot withstand price cuts due to its consistent losses. The company is generating cash flows but long-term loss exposure can limit that ability as well. If the company does not sacrifice its ARPU this year, we believe it will lose more subscribers. T-Mobile's ARPU is around $52 and is expected to be around $50 in the coming year. With $63 ARPU, Sprint is not expected to gain subscribers at the expense of T-Mobile.
On the EPS front, the company was not able to post a positive EPS and posted a net loss of $3.012 billion as compared to the net loss of $4.326 billion in the year ended 2012. This reflects the good cost control of the company during the year. The graph below summarizes the net income position of the company: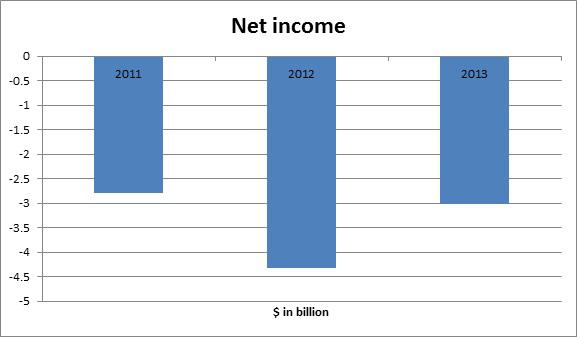 *Source: SEC filings
Sprint's net loss position improved in 2013 but remained negative. It is a worrying sign as far as the performance of the company is concerned. Long-term and consistent exposure to losses will affect the liquidity and cash flow generating ability of the company and will eventually challenge its going concern position.
Cash and Balance Sheet
The company has a healthy cash balance of around $7.47 billion and its current ratio is around 1.22 while the industry average is 0.97. The company's liquidity position is satisfactory. The table below summarizes this position relative to the competitors:
| | | | | |
| --- | --- | --- | --- | --- |
| Comparisons | Verizon | AT&T | T-Mobile | Sprint |
| | | | | |
| Cash | 54.13 | 3.44 | 5.89 | 7.47 |
| Current ratio | 2.63 | 0.66 | 2.11 | 1.22 |
| OCF | 38.82 | 34.80 | 3.54 | 2.61 |
*Source: Yahoo finance
We can see that T-Mobile and Sprint are in the same league. Sprint holds the third position as far as market share is concerned but it is evident that T-Mobile is generating more cash flows and is better covered for its liquidity. The point is that T-Mobile can indulge in price wars for a longer time than Sprint without external help. Sprint needs to decrease its ARPU if it wants to gain subscribers at the expense of T-Mobile and it can do that with the help of SoftBank. Currently, T-Mobile appears to be in a better position to challenge sprint.
Subscriber Growth
Sprint has around 53.9 million subscribers with a market share of approximately 15.6%. See the graph that follows: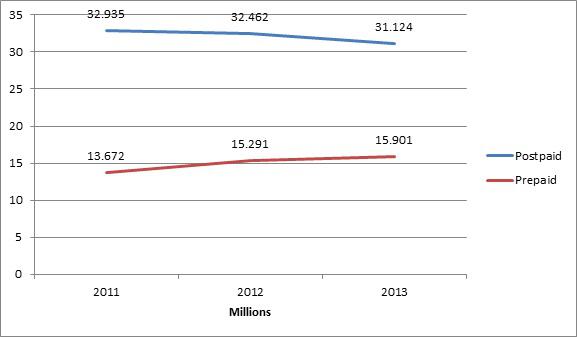 *Source: SEC filings
The company's prepaid subscribers are increasing while postpaid subscribers are decreasing. By analyzing this graph in comparison to the ARPU graph presented above, it is quite clear that subscriber addition and retention is correlated to the price structure of the service. The main reasons for Sprint's subscriber decline are the aggressive price reductions from T-Mobile and general price competition in the industry.
Network and Coverage
Sprint is the third largest U.S. network with around 53 million subscribers as per its recent news release. More than 200 million customers are covered by Sprint's 4G LTE network. OpenSignal rates the network reliability of Sprint at around 93.71%, which is slightly higher than T-Mobile's 93.62%.

*Source: opensignal.com
According to this snapshot, T-Mobile is ranked above Sprint because of a higher download speed which compensated for the marginal difference in reliability. On the other hand, the average revenue charged by T-Mobile is also lower than Sprint. In short, the network quality of Sprint and T-Mobile is comparable but the prices charged by T-Mobile are low and therefore, it is expected to gain market share at Sprint's expense. Sprint can protect its own share by entering into a price war but this will affect the industry's overall margins and valuations. In our view, Sprint is in a tough position and T-Mobile looks set to benefit in the near future.
Valuations and Final Thoughts
Assumptions
Standard CAPM assumptions. the telecom sector average is used for Sprint rather than beta.
3% growth until 2018 based on IDC's low single digit growth predictions for the telecom sector and Sprint's historic growth rate. No growth is assumed in perpetuity.
Capital expenditure assumptions based on historic pattern and reduced as the LTE network installations will be completed by the end of 2015.

The price target of the company reveals that the stock is overpriced at present. We believe that a cash flow based price target correctly reflects the valuation of the company. As can be seen from our target price, at these levels Sprint seems grossly overvalued. Comparatively we believe T-Mobile is a much better investment option at these levels than Sprint. T-Mobile is more likely to gain subscribers than Sprint because of its slightly better 4G and 3G networks and low prices. The company is also generating better cash flows than Sprint. Investors are valuing Sprint higher than it should be and therefore, the stock is a candidate for short sell.
Disclosure: I have no positions in any stocks mentioned, and no plans to initiate any positions within the next 72 hours. I wrote this article myself, and it expresses my own opinions. I am not receiving compensation for it (other than from Seeking Alpha). I have no business relationship with any company whose stock is mentioned in this article.
Additional disclosure: Equity Flux is a team of analysts. This article was written by our Technology analyst. We did not receive compensation for this article (other than from Seeking Alpha), and we have no business relationship with any company whose stock is mentioned in this article.