By Dirk Van Dijk
We got some mixed news as Initial Claims for Unemployment Insurance fell by 3,000 last week to 456,000. However, it is not good enough. If one factors in the upward revision to the previous week's number, it is actually an increase of 3,000. The decline was also much smaller than consensus expectations, which were looking for a level of 450,000 new claims.

Since the week-to-week numbers can be noisy and volatile, it is generally better to look at the four-week moving average to get a better sense of the overall trend. This is tracked in the graph below (from Calculated Risk).

After a massive and steep decline starting in April of last year, and continuing through New Year's 2010, the trend of initial jobless claims has become very erratic. This is starting to look like a replay of what happened after the last two recessions, when after a steep decline at first, initial jobless claims remained on a high plateau for a very long period of time. Those periods coincided with jobless recoveries.

The four-week moving average increased by 2,500 this week to 463,000. That, however, is still a huge improvement over the 612,250 level of a year ago. If we are going to make a serious dent in the unemployment rate (currently at 9.7% for May) we probably need to see the four-week moving average fall below the 400,000 level and stay there.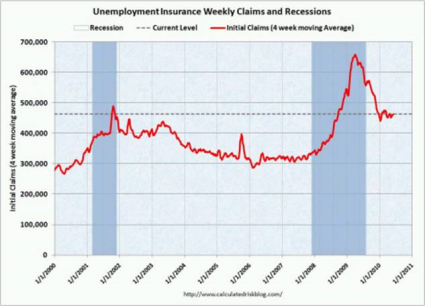 Continuing Claims

The news on continuing jobless claims was a bit more positive. Regular continuing jobless claims fell by 255,000 to 4.462 million, although that, too, is from an upwardly revised figure from last week. Based on the original number, the decline is 202,000, which is still pretty good.

Regular continuing jobless claims have been in a steep downtrend of late. A year ago they were at 6.543 million, so over the course of the year we have seen a 31.8% decline. However, regular continuing jobless claims do not tell the whole story, not by a long shot.

Regular jobless claims are paid by the state unemployment insurance funds, and last for only 26 weeks. As of May, 46.0% of all of the unemployed had been out of work for longer than that.

After 26 weeks, people move over to the extended jobless claims programs, which are paid for by the federal government as part of the Stimulus Package. In the current report, extended jobless claims were up 69,500 to 5.390 million.

While regular continuing jobless claims might have dropped over the last year, the same is not true for extended jobless claims. They have almost doubled from last year's level of 2.765 million.

Thus, a better way to look at things is the total number of people getting unemployment benefits. On that basis, the number of people getting benefits is 185,000 lower than a week ago, and 544,000, or 5.8%, higher than a year ago. It is not clear how much of the regular jobless claims decline is due to people finding new jobs, and how much is due to people moving over to extended jobless claims.

Similarly, it is not known how many people are leaving the extended claims roles for the "wrong reason" in that even those jobless claims have run out, and how many are leaving for the right reason of finding a new job. Given the extremely long duration of unemployment in this recession, it is likely that many are leaving the extended jobless claims roles for the wrong reason.

The duration of unemployment is totally off the charts relative to anything we have experienced since the Great Depression. In May, the median duration of unemployment hit 23.2 weeks, a new record high, up from the April record high of 21.6 weeks. Prior to the Great Recession, the highest median duration of unemployment ever hit was 12.3 weeks -- at the tail end of the Reagan Recession in May 1983.

According to the non-partisan Congressional Budget Office (CBO), the stimulus has been very effective in getting the economy back on track (see here) and resulted in the size of the economy being between 1.7% and 4.2% larger than it otherwise would have been. If the GDP had been smaller because the stimulus did not happen, then so too would have been the tax base. Thus the net cost of the ARRA is significantly less than the $787 billion over 3 years that was authorized (although still a very large amount, but more like $500 billion).

Also according to the CBO, extended jobless claims are one of the most effective tools in the arsenal in saving or creating jobs on a per-dollar-spent basis. This is in addition to the obvious humanitarian benefit of helping those who would otherwise be without any income at all.

Deterioration from Long-Term Unemployment

After 26 weeks of only getting about 60% of what you were earning prior to being laid off (up to a maximum of about $400 a week, although the numbers vary by state), most people would have already depleted most of their savings, particularly any savings outside of sheltered retirement accounts. They may have already started to pull money out of their IRA's and 401-k's, even though doing so requires them to pay taxes on the money as if it were earnings, and an additional 10% penalty on top of that. That is quite a blow to people's long term retirement security. They have also probably run up their credit card balances.

If benefits ended abruptly after six months, those people would not even afford to buy the basics of life at deep discounters like Big Lots (NYSE:BIG). They would have no hope of paying their mortgages if they were homeowners, and would most likely either sell (putting more houses on the market, further depressing housing prices) if they still have positive equity in their homes.

They could borrow against the equity in their homes, which was a common strategy in previous downturns, but with 24% of all houses "underwater" and another 4% with less than 5% positive equity, that option is not open to many. That is especially true if you consider that the areas with the highest levels of unemployment are also generally those with the highest percentage of homes underwater. (Ironically, the places with the most underwater homes are in the desert, notably in Nevada and Arizona.)

Many would try to survive simply by not paying their mortgage and waiting for the sheriff to show up at the door, which in many areas of the country these days can take more than a year. While such a move might help those people to stretch their last few financial resources, it would hardly be good news for just about any firm in the mortgage complex, ranging from the wards of the state like Fannie Mae (FNM) and Freddie Mac (FRE), which would simply have much larger losses, to the major banks with big mortgage operations like Bank of America (NYSE:BAC). If we try to save money by cutting off extended benefits, it is likely that we will simply have to spend more money on losses at Fannie and Freddie, so the savings would be an illusion.

Jobs Creation vs. Deficit Reduction

Jobs have to be the first priority, given the still fragile state of the recovery and the very high level of unemployment. Over the long-term, deficit reduction is important, but it can wait. The long-term deficit is a structural problem due to the cost of entitlements, most notably Medicare. The high cost of Medicare is due to overall health care inflation running far ahead of inflation in the rest of the economy.

Right now, the federal government needs to be running large budget deficits or the economy will collapse once again. Attempts to cut the deficit at this point, either by sharply cutting spending or by raising taxes, will only result in a slower economy. A slower economy will result in lower tax collections and more people who need to get things like extended benefits.

It will not be a total offset, and the deficit would come down, but by far less than a static analysis would imply. The current mood of needing to put deficit reduction first is a serious mistake and simply amounts to masochism on the part of the deficit hawks. It gives them a thrill, but mostly results in a lot of pain and not much benefit.

Most of the increase in the budget deficit over the past two years has been due to the decline in revenues from a weak economy, as well as the automatic stabilizer payments. The first stimulus program helped a great deal, but it was not enough. The economy needs more stimulus right now (and that means higher deficits) not less.

The market is, quite frankly, not very concerned about the current level of deficits. If it were, the government would not be able to borrow for ten years at a cost of 3.2% -- one of the lowest levels in history. That makes the long-term cost of the debt at this point very low, particularly if it is financed long term. Short-term rates are even lower, but that would risk having to roll over the debt at higher rates in the future. The Treasury should be trying to lock in as much long-term financing as it can at the current level of interest rates.