For those of you who are not familiar, Schwag would be the lowest grade marijuana. Or so I hear.
As investors are beginning to realize the significance of Canada's new MMPR program and Uruguay's historic legalization, investors have jumped head first into players that hope to capitalize on the marijuana market. This article began as an investigation of Easton Pharmaceuticals (OTCPK:EAPH), a company many have expressed interest to learn more about. I'm sad to report that signs point to avoid, not only for this company but also Global Links Corp. (OTCPK:GLCO) and Modern Mobility Aids (OTCPK:MDRM). In one way or another, these three companies attempt to attach themselves to the Canadian marijuana sector offering nothing but pomp and promise.
I have attempted to contact all three companies. I have yet to hear from them. I will happily amend the article if there is any documentary evidence to dispute my findings.
Easton Pharmaceuticals
This company has been on my radar as a potential Canada play. I'm sad to say this just might be a low-floater.
According to the filings, the company owns and develops transdermal delivery technology called Viorra Delivery Matrix or VDM. This has been their main product since 2009. Nevertheless, "the company has not recognized material sales of Viorra or VDM-based products to date."
What is Viorra?
Easton Pharmaceutical's Viorra is intended to treat Female Sexual Arousal Disorder (FSAD), a subjective condition that many doctors claim does not have proven anatomical etiology. Although the condition continues to be researched, scientists remain ambivalent that a viable drug can be prescribed to treat the condition.
There have been attempts to create pharmaceutical grade products to treat the condition. Some scientists have reported success with prescribing testosterone. But the general view from the scientific community and even WebMD is that an over-the-counter lubricant should be sufficient for many women suffering from FSAD.
With that in mind, Easton Pharmaceuticals' product Viorra "is an over-the-counter aid for the treatment to restore and improve vaginal moisture and elasticity, which has a very positive effect on women's sexual desire and arousal." In plain English, Viorra makes lube for women. But the company brands itself as a pharmaceutical company. This is highly misleading.
Viorra is not a pharmaceutical-grade product. Yet somehow Viorra has faced undisclosed hurdles, which has prevented it from selling the product. Since 2011, EAPH has been working on distributing the product in Mexico. In December of 2013, Easton Pharmaceuticals updated shareholders that it has not yet received regulatory approval from Mexico to sell Viorra.
Bear in mind that with all these studies being done on FSAD, EAPH seems to not have reached out to recruit any of these scientists or collaborate research.
Easton Pharmaceuticals has recently decided to set aside the "pursuit to solve the female orgasm." Now it is moving onto the marijuana sector. Some potentially positive news came out that puts it in the running to become a possible player. However, I would caution investors not to overstate Easton Pharmaceuticals' investment in the marijuana industry. EAPH at this point cannot be considered a player in this industry. The company has merely agreed to "engage a leading legal consultant on medical marijuana." Upon this, Easton has signed a Letter Of Intent for a non-disclosed agreement to work with a MMPR licensed producer. Again, investors should be hesitant in overestimating this deal. No binding agreement has taken place.
This could be a game changer for Easton Pharmaceuticals. If the deal were to go through, Easton Pharmaceuticals could be listed alongside the more legitimate public players vying to get on the Mary-Jane train. Investors apparently agreed. From the day Easton Pharmaceuticals announced its intentions to jump in the medical marijuana industry on October 4, 2013 till March 17, 2014, the stock has risen 1,286%.
Even though the company is based in Canada, it is not traded on any Canadian stock exchange. Because it trades only on OTC markets, there are no financial standards for listing requirements. For a company that has been around since 1997, it not only has yet to make significant revenues since its incorporation, the company has not had even $1 in revenues since 2009 when it became reincorporated as Easton Pharmaceuticals. It seems beyond risky - practically criminal - to even suggest investing in this company. A company like this gives the industry a bad name.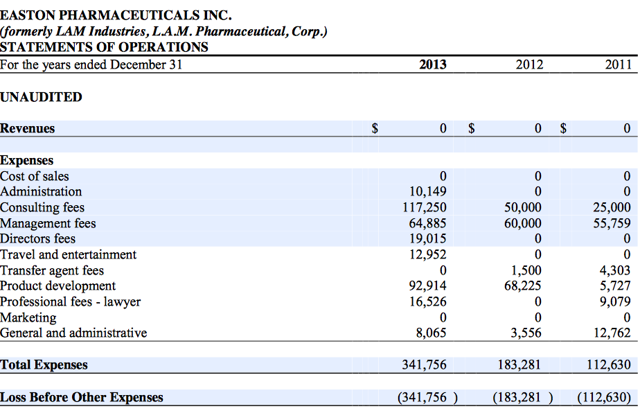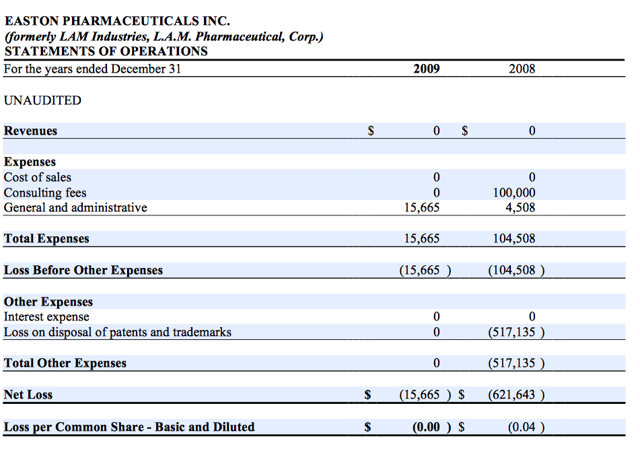 To date, there's no further word on this partnership with this mysterious MMPR licensed producer.
Global Links Corp.
Investors might feel compelled to point out that Easton Pharmaceuticals has nonetheless ventured into the marijuana industry by partnering with Global Links Corp. According to the PR release, Easton will sell an "exclusive line of health and beauty hemp-based products on HempLifeToday.com."
Yes, there is a website called Hemp Life Today. And it looks like they sell some products, like a dry herb vaporizer for $10. However, no product on this website is identifiably linked to Easton Pharmaceuticals. The site also sells scented hemp candles, hemp beanies, and hemp T-shirts.
Global Links has another domain through which it will attempt to situate itself under the cannabis umbrella: CannaMove. If you want to pay $400-$600 a year you can join CannaMove's exclusive network, which is a nice way to burn a half a grand. No member of record exists within CannaMove. Unlike other more successful cannabis communities, CannaMove will leave you high and dry in a cyber-oasis.
Global Links has recently updated their filing information. They have 1.6 billion shares for authorization and currently 600 million outstanding. For their most recent filing, the company listed $200 in cash and 3 million in liabilities.
Oddly, Easton Pharmaceuticals has issued 10 million shares to Global Links a year before the partnership was announced:
On March 31, 2013 the company issued 10,000,000 rule 144 restricted shares to a Neil Mellor and company Global Health Link Corp for services to the company at a price of $0.005 per share. 25% of the value was considered earned at on March 31, 2012 and the remaining 75% is to be earned in equal installments annually over the next three years.
This suggests that EAPH and GLCO planned for a manufactured pump-and-dump partnership a year prior to announcing their joint-venture into marijuana. I do not see high prospects for Global Links Corp. in the marijuana sector. Note: There are other ventures that Global Links Corp. is currently engaged in that are unrelated to the marijuana industry.
Modern Mobility Aids
One of the latest penny-pumpers comes out of a Nevada-based company called Modern Mobility Aids. Its business dealings in the marijuana sector are limited to its glossy website, MarijuanaHMO. In a bizarre, tautological press release on March 6, 2014, the company announced that it has created the marijuanahmo.com, where investors can learn about their website.
These antics are a bit outrageous. With investors scrambling to discover the next big stock, Modern Mobility Aids launches an arguably well-designed website with zero substance. The homepage merely states that the company is:
...passionate about driving the notion that medical marijuana should be readily available to all who need it to alleviate pain and discomfort through the most efficient and compassionate means.
This is not a going concern. This only states that MDRM is "passionate" about marijuana. In other words: "I'm passionate about marijuana, so buy my stock." Contiguously, the company references Canada's new MMPR program and reminds readers that MDRM is based in Toronto, Canada. And that's it.
The team at MDRM includes Mr. Declan French and Mr. Preston Shea. Both boast serving on the board of E-World Holdings Inc. E-World Holdings is an American-based holding company that markets to the Chinese community. However, Mr. French and Mr. Shea are not listed on the company's SEC filings. (Note: E-World is expected to have its IPO in the near future).
Although the website is pretty to look at, there is nothing to invest in but gloss.
Conclusions
With the Marijuana industry booming, failing companies are almost daily announcing plans to capitalize on the marijuana industry. Companies that produce misleading advertisements should be avoided at all costs. With the sector already scrambling to improve its image and assert its legitimacy, companies like EAPH, GLCO, and MDRM deceive investors to hand over their hard-earned cash and offer nothing in return.
The valuations given to these companies confirm my thesis that this is the time of a rising tide for marijuana stocks. Although the rising tide lifts all ships, some of those ships have gaping holes. Investors jumping on board might find themselves drowning as the steadier ships sail on.
It is incumbent upon all marijuana investors to reject these misleading companies. As this inchoate industry becomes more established, marijuana investors have a duty to disassociate with these schwag companies that offer no underlying value, no clear going concern, and no assets.
Disclosure: The author has no positions in any stocks mentioned, and no plans to initiate any positions within the next 72 hours. The author wrote this article themselves, and it expresses their own opinions. The author is not receiving compensation for it (other than from Seeking Alpha). The author has no business relationship with any company whose stock is mentioned in this article.
Editor's Note: This article covers one or more stocks trading at less than $1 per share and/or with less than a $100 million market cap. Please be aware of the risks associated with these stocks.