Philip Morris International Inc.'s (NYSE:PM) shares trade near $80, reflecting a 12% decrease throughout the year. Presently, the market has mixed sentiment concerning the company's future return generation potential. Despite owning one of the world's most recognizable brands, Marlboro, PMI has found it difficult to maintain volume over the past year.
It is wise to look at the company's recent performance to verify PMI's performance. I will also be taking you through the events the organization is involved in so that you may judge whether PMI is still a fit choice to be included in your portfolio.
The Year
During the period that ended last month the company reported annual sales of $31.2 billion reflecting a decrease of 50 bps from 2012. Excluding the currency impact the growth rate would have been positive at near 2%. This wasn't satisfactory because nearly $2 billion came from higher pricing that was significantly lowered by a 5.1% decline in total volume. There's a limit to where pricing can be altered in order to increase the top line and although it is a good sign for short run profitability, long-term sustenance essentially requires volumetric growth to be a major part of sales.
PMI attributed this to a weak economic and employment environment in the EU and unfavorable impacts from excise tax-driven price increases. It doesn't seem that these issues are going to be resolved anytime soon.
Source: 10K
Cost of sales increased by $37 million (0.4%) due to higher manufacturing costs principally in Indonesia partly offset by a positive volume/mix ($266 million) and favorable currency ($95 million) impact. The results were totally opposite compared to revenue where product mix was negative.
Operating income was $13.6 billion, down 2.5% including unfavorable currency of $642 million. Excluding currency income increased by 1.9%, in line with revenue reflecting favorable pricing partly offset by an unfavorable volume/mix of $1.2 billion due to a lower total market/mix in all regions, higher manufacturing, asset impairment and exit costs.
Currency fluctuations remained a key problem for PMI making final profits uncertain. Moreover, falling volumes were another issue outside the scope of the company, especially related to governments imposing limits. The net result was diluted EPS growing 1.7% to $5.26 during the year.
The Future
Asian Region Facing Declining Quantity and Revenue
Asia, which accounts for nearly 40% of the company's total stock price, is on the decline. Last year, revenue from the Asian region fell 6.2%. The region accounts for more than 30% of the company's total revenue and has been experiencing volume declines as well as bad currency fluctuations. Going forward, there isn't much good happening.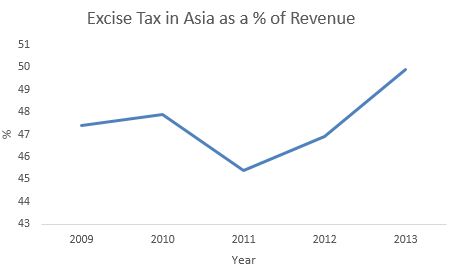 Source: Trefis
Japan is projected to remain a challenging market during 2014. The government is increasing the consumption tax in April from 5% to 8%. This has been the case in the past where excise tax as a percentage of revenue has been on the rise since 2011 (see graph above). The related retail price is presently ¥14 per pack.
Although PMI has applied to the government for approval to increase the prices of Marlboro, Lark and Philip Morris brands by ¥20 per pack and other brands by up to ¥10 per pack, until they are approved I am unsure whether it will be safe to rely upon them. Also, the new prices will result in more acceleration of the total market decline of 3% - 3.5% during this year which may reduce to 2% in 2015.
Similarly, the Philippines remains a problem. It is estimated that the local manufacturer, Mighty Corporation, is producing double the volume that it declares to the Bureau of Internal Revenue. This is preventing PMI from being able to operate on a level playing field. Although the "planned" implementation of a system of fiscal stamps in the second quarter this year will hopefully help to address this issue, it's just a theoretical plan.
PMI continues to encourage the authorities to act decisively on this matter and is pursuing the idea of suspending the license of Mighty Corporation but again until it is done I cannot say whether this will be fruitful for investors.
Bottom Line
Similar or non-similar negative happenings tend to cover most of the areas the company is operating within. PMI is trying to alter all the negative events through introducing cost saving programs. The company achieved more than $300 million in savings as part of that program last year. An extension has been introduced that will result in similar savings this year. Other efforts to boost profits include new product variants and advertising campaigns designed to boost loyalty but this doesn't seem to be enough. Declining markets and negative currency impacts persist. For 2014, currency fluctuations alone are estimated to bring a $0.71 decline in EPS. This is sufficient to realize that PMI is not a positive investment to date and the future is extremely unpredictable. Therefore, I recommend investors stay away from the stock.
Disclosure: I have no positions in any stocks mentioned, and no plans to initiate any positions within the next 72 hours. I wrote this article myself, and it expresses my own opinions. I am not receiving compensation for it (other than from Seeking Alpha). I have no business relationship with any company whose stock is mentioned in this article.