Pending home sales have risen for three consecutive months, according to the National Association of Realtors. The United States index rose 6%, and the Western states index increased 7.5% from March to April. Year-over-year gains are 22.4% and 12%, respectively. What, if anything, does this mean for local real estate markets (in my case, southern California and the South Bay)?
Here's the data NAR published last week: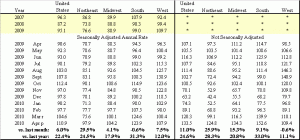 The amount of homes under contract and pending sale have increased quite a bit on the national level, up 23% from a relative low in January, led mainly by the Northeast. Pending home sales are up a modest 5% regionally in the West since the start of the year.
The big question, though, is whether these increases in pending home sales will mean anything for local markets? Can local Realtors trumpet these stats to clients as if they know what they're talking about?
Let's take a look at how pending home sales have correlated to median housing prices in Manhattan Beach (again, my market) over the last year: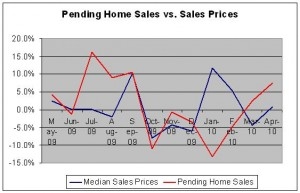 Despite the lines on the above chart lining up with each other sporadically over the annual period, there is little statistical correlation between changes in pending home sales in the regional West and changes in Manhattan Beach median home prices. Sales volume certainly increases, but that does not always cause an increase in housing prices.
There are two ways of considering pending home sales from a theoretical economics perspective:
An increase in pending home sales indicates increasing market velocity and inventory turnover. A big risk to markets is excess inventory, particularly from distressed properties. If the market can cycle through inventories quicker it should lead to a more rapid recovery.
The pending home sales increase could be nothing more than market manipulation by regulators, providing temporary incentives for first-time home buyers to enter the market now, versus at some point in the future. In effect, this merely transfers future sale to the present, weakening the economy in the long term.
I understand that aggregate national and regional real estate data will not always mirror precise conditions within some subset of the population, but the point is that local Realtors ought to quote such broad statistics sparingly. They should at least confirm that the regional or national stats conform to what's really going on in their own market before spouting off claims of wisdom to clients.
Real estate markets are so manipulated, convoluted, and complex that most theoretical stories are just too simple to explain reality. Nonetheless, economists would be out of jobs if they stopped making predictions, so we'll just have to take them with a grain of salt and focus on the data.
Disclosure: No positions