" To be clear, Lenovo could be quite a strong competitor long-term in servers - but for the remainder of 2014 H-P could gain." Barclays analyst Ben Reitzes in a recent note to clients.
When an investor has the chance to buy a stock that is undervalued in relationship to its peers plus the stock has a low PE ratio and positive momentum, it often spells opportunity.
Benjamin Graham, the "father" of value investing, referred to buying bargain shares of well-established companies as purchasing with "a margin of safety". That's a smart idea in an effervescent market.
Hewlett-Packard (HPQ) spiked nearly 4% on Tuesday March 18th partially because it was cited in a Barron's article titled, "Where the Stock Market's Bargains Are". In a list of the S&P 500's cheapest stocked based on price/earnings (PE) multiples in the article, HPQ was ranked at #2.
What also sparked Tuesday's rally was an upgrade by a Barclay's analyst quoted at the beginning of the article. Ben Reitzes raised his rating to overweight from equal weight, saying the Palo Alto, Calif.-based tech giant "could gain share for several quarters in x86 servers at the expense of IBM/Lenovo."
With a forward 2015 estimated PE ratio of slightly less than 8, Hewlett-Packard is the cheapest technology company based on PE ratio "... and its turnaround is grinding forward, helped by what could be a bottoming in the personal-computer market" according to the Barron's article.
As you may know, IBM (IBM) sold its low-end server business to Lenovo within the past few months. This was seen by many analysts as Big Blue's effort to move IBM out of its low-margin commodity businesses.
The move was a reminder of IBM's decision to "... sell its iconic personal computer business to Lenovo (OTCPK:LNVGF) nearly a decade ago" according to MarketWatch report posted Tuesday.
That report made reference to a note sent to clients where Barclay's Reitzes cited that 2005 sale as "a historical precedent for H-P gaining share in a 'commodity business.'"
"We use the IBM divestiture of PC's to Lenovo in 2005 as an analogy and map out the potential for earnings per share upside in 2014 if H-P were to win share in the x86 market at about the same rate it did in 2005 when Lenovo bought the PC business from IBM," Reitzes wrote.
HPQ shares pay a dividend yield-to-price of nearly 2%. As of January 31,2014 the company had trailing twelve month (TTM) operating cash flow of over $12 billion, and total cash on hand of nearly $16.2 billion.
The company's current dividend represents a very modest payout ratio of 21% of earnings, so I'm anticipating that the company will raise the dividend payout when it next reports earnings on May 21st.
Below is a 1-year chart that speaks volumes about Hewlett-Packard's momentum drivers that have helped propel the share price higher.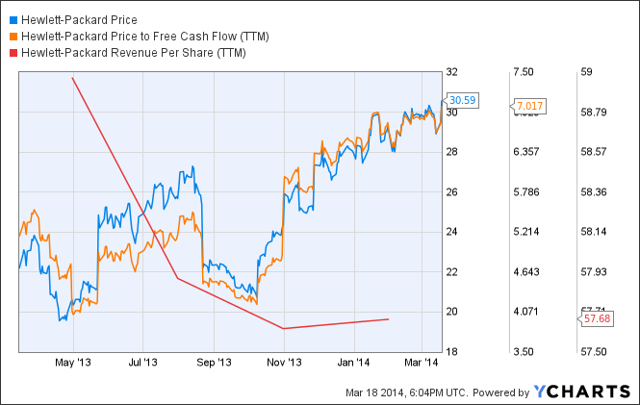 HPQ data by YCharts
Notice that the TTM revenue-per-share began turning up at the beginning of 2014, and along with the burgeoning price-to-free-cash flow have helped the share price soar.
The Natural Comparison with Cliff Natural Resources
The Barron's article ranked Cliff Natural Resources (CLF) as the cheapest stock as of Friday March 14th based on price/book value ratio (P/B). As of that date the P/B ratio of CLF stood at a paltry 0.52, meaning that shares were trading at almost half of the company's book value.
Based on Tuesday the 17th intraday high of $19.38 shares of CLF have rebounded 5% in two trading sessions. Even at the higher price the dividend yield-to-price is a sweet 3.1%.
My reason for wanting to control shares of Cliff Natural Resources is partly based on a March 6th letter by Casablanca Capital, which owns over 7.9 million shares (5.2% of the total voting shares) of CLF.
The letter to Cliffs' executive chairman James Kirsch stated Casablanca's intention to nominate six candidates to the company's board. Casablanca stated, "In fact, we believe the company has not come close to adequately addressing its 80% destruction of [shareholder] value."
The activist investor wants Cliffs to, "refocus on its core U.S. operations, cement customer relationships, position itself to capitalize on domestic growth opportunities, accelerate cost cuts, and return additional capital to shareholders" (italics added).
This reminds me of how Hess Corp. (NYSE:HES) was turned around in favor of shareholders.
As a well-written recent article titled, "Cliff Naturals Resources: Proxy Battle Could Equal Massive Gains for Shareholders" pointed out, "If Casablanca wins a proxy contest with Cliffs, share prices could double within a year. If Casablanca loses, shares may fall 10-20%". That's why I'm betting that Casablanca will win supported by a majority of the shareholders!
Like Hewlett-Packard, Cliffs' has a relatively low dividend payout ratio (25% as of the end of 2013) and adequate TTM operating cash flow ($1.15 billion) needed to sustain and even increase the dividend.
Both companies have powerful tailwinds to propel the share price forward and both have been singled out as "stock market bargains" by very influential sources.
At the very least let this article and the sources referenced be good starting places for you to research these companies to see if either or both match your risk profile and investment objectives.
Disclosure: I am long HPQ, CLF, IBM, HES. I wrote this article myself, and it expresses my own opinions. I am not receiving compensation for it (other than from Seeking Alpha). I have no business relationship with any company whose stock is mentioned in this article.