(Note: This article covers micro-cap stocks. Please be aware of the risks associated with these stocks.)
In my previous article, I noted that uranium prices were due for a rebound as demand outpaced supply. Since then, uranium spot prices have remained steady around $35/lb, but the uranium miners have all began to rapidly appreciate; due largely in part to the proposed restarting of Japan's nuclear power plants. While many investors focus on the industry leaders, such as Cameco (NYSE:CCJ) and Areva (OTCPK:ARVCF), I believe more attention needs to be given to junior companies. It's in these less noted companies that more risk-accepting investors can expect to see significant upside. As depicted in the chart below from NexGen's investor presentation (NXGEF), uranium prices are expected to increase, leading to many of these micro-cap plays bringing projects back on-line and commencing production.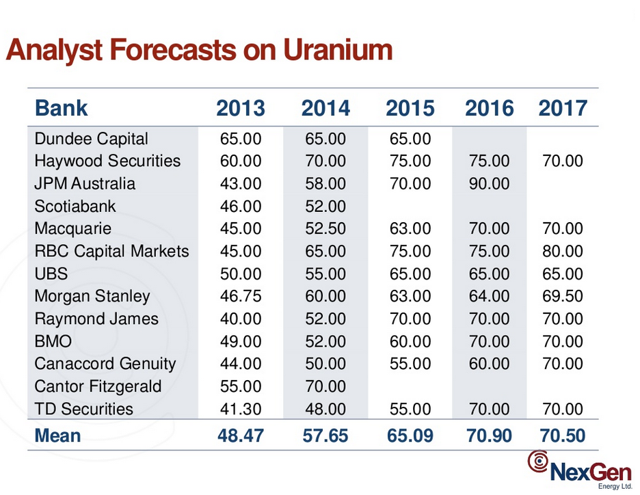 Denison Mines Corporation [NYSE:DNN]
While Denison does not fall within the "micro-cap" classification, it does hold significant upside potential similar to micro-cap miners. Looking at the company's market position, investors can see that Denison is adequately funded and has a diversified portfolio, with projects across several geographic areas and interests in other miners. As of January 2014, the company announced an aggressive 2014 exploration plan focused on properties in Canada, as detailed in the chart below. The most significant part of the announcement is Denison's extended exploration of its flagship property, Wheeler River, including the Phoenix deposit, which is the world's third highest grade project at 15.6% U3O8.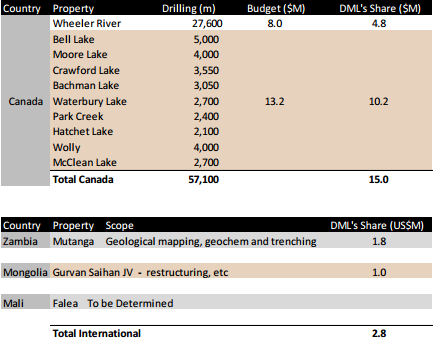 Aside from increased exploration activity, Denison also expects to see increased revenue growth through 2014 from its 22.5% interest in the McClean Lake Mill. With Cameco's commencement of production at its Cigar Lake mine, McClean Lake will begin processing the mine's ore as early as the second quarter of 2014. Moreover, through the joint venture with Cigar Lake, the mill is already underway to expand operations from 13Mlb/year to 24Mlb/year.
To further increase Denison's profit margin, the company is also implementing cost reduction strategies. Like Paladin (outlined below), Denison is cutting costs by slowing down efforts at more expensive properties, such as the Mutanga project in Zambia and Dome project in Namibia, and maintaining focus on high-grade exploration assets.
Lastly, with current depressed prices, halted production across the sector, and difficulty to finance projects, the uranium market has been prime for M&A activity. Denison has acted on this and acquired several key assets:
Acquisition (January 2014): Acquired the remaining 11% of Rockgate Capital Corp., thereby increasing its assets by C$15 million. The acquisition further diversifies Denison's portfolio and builds a marketable African collection of projects that Denison may plan to spin out. This spin-out company would include Denison's Mutanga project in Zambia, Falea project from Rockgate in Mali, and joint venture assets with Rio Tinto (NYSE:RIO) in Namibia.
Acquisition (April 2013): Acquired Fission Energy for C$71.11 million in order to extend holdings in the Athabasca region. Assets included 60% interest in the Waterbury lake project, several interests in Eastern Athabasca, interests in two joint ventures in Namibia, and assets in Quebec and Nunavut. Part of Fission Energy was spun out to form Fission Uranium (OTCQX:FCUUF), which owns the Patterson Lake project and is recommended below.
Through a valuation of Denison's properties and assets using an 8% discount rate, average realized U3O8 price of $75, and estimate of 75M tons of uranium ore across its properties, I have set a target price on Dension of $1.85/share. This valuation, however, does not consider a future acquisition of Denison, which could see the company being bought out at a much higher premium. Risks to this valuation are centered around the outlook for the uranium industry and contract prices that Denison is able to procure in order to commence production.
Mega Uranium Ltd. [OTCPK:MGAFF]
Mega Uranium is currently one of my favorite micro-cap plays. As previously stated in my last article, the company is able to mitigate its risk through its wide project portfolio with multiple uranium resources in Australia and interests in other geographic locations, including the lucrative Athabasca Basin in Saskatchewan. Mega has also mitigated its costs through joint ventures with uranium miners such as Cameco's Australian subsidiary and Forum Uranium Corp. While I see many positive aspects to Mega, it is worth noting some inherent risks to an investment in the company. Like many junior miners, Mega has sidelined all production because of low spot prices. This has put the company in a rough position as it currently has $4.5 million in Cash & Equivalents compared to $6.6 million in SG&A Expenses. Despite these risks, I hold my belief that the company has significant upside as uranium prices rise and production is brought back online.
Aside from its uranium projects, Mega also has interests in other precious metals through a joint venture with West Resource Corporation; helping to further diversify its revenue stream. One explanation for Mega's current undervaluation is due in part to its halted production; like many other miners, the company is holding off on its projects until uranium prices rebound and higher contract prices are available. Despite this, Mega has remained fairly active in the area with the following notable transactions:
Ultimately, Mega Uranium has positioned itself well to pick up production when uranium prices rebound. As fellow Seeking Alpha contributor Peter Epstein notes in his analysis of the company, Mega has been trading at a major discount to its asset value in the last few months. As the chart below indicates, based on the company's current holdings, Mega should be valued near C$0.30/share. This valuation, however, only takes into account a sale of the company's current indicated & inferred uranium resources at a current price of C$1.60/lb. With uranium demand outpacing supply, Mega's assets will be sure to see an appreciation in value, further leading to a run-up in the company's value.

Paladin Energy Ltd. [OTCPK:PALAF]
Paladin is another great micro-cap uranium miner. With the recent sale of a 25% stake in its Langer Heinrich Mine to China Uranium Company, Paladin has reduced its balance sheet risk as well as removed the need for an equity raising. Moreover, unlike Mega, Paladin has $78 million in Cash & Equivalents and $644 million of debt outstanding, with none of the debt being current; this leaves Paladin with a strong capital position and the ability to grow their operations. Aside from Langer Heinrich, Paladin's other producing mine, Kayelekera in Malawi, had production suspended as of February 2014. Reasoning behind the suspension was due to Kayelekera's higher priced contracts coming to an end, leaving the mine exposed to current spot prices that stand below production costs. The chart below reemphasizes the point that uranium prices will have to increase for miners, such as Paladin, to resume production.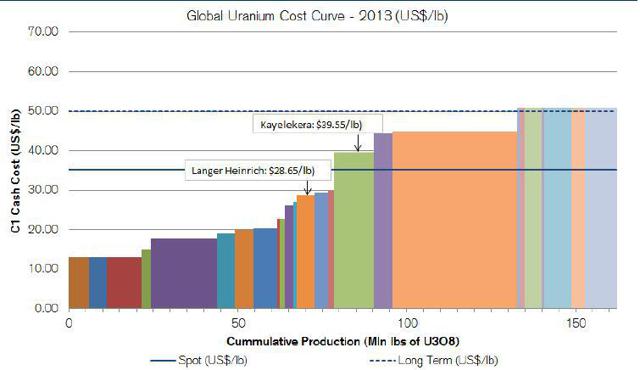 Aside from Langer Heinrich and Kayelekera, Paladin has mines throughout Australia and holds interests in several subsidiaries, including: 100% interest in Aurora Energy Resource Inc. (formerly owned by Fronteer Gold), 19% interest in Deep Yellow Limited (OTCQX:DYLLF), and 82% interest in Summit Resources Ltd (OTCPK:SRCSF). Each of these holdings further diversifies Paladin's portfolio, exposing it to different areas and commodities aside from uranium. Ultimately, Paladin does not show signs of being profitable in the short term, but will be a major play with the rise in uranium spot prices as they begin to bring their vast list of projects back on-line.
Valuing Paladin based on its NAV/share gives an estimated target price of $1.11/share, as detailed in the chart below. Unlike Denison, these estimates are assuming uranium prices of $45/lb since Paladin does not have high priced long-term contracts.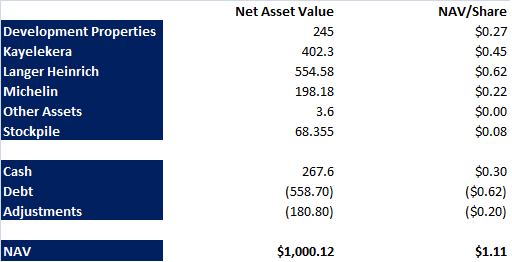 Fission Uranium Corp. [OTCPK:OTCQX:FCUUF]
Fission Uranium has been in mining headlines a lot recently because of its numerous announcements of successful drill holes at the company's Patterson Lake South (PLS) project. As part of the company's Winter drill program, Fission is undertaking a $12 million exploration plan that includes over 30,000m of drilling and 90 holes. With a 100% hit rate at each of the company's current drill sites, PLS is one of the most exciting new projects in the Athabasca region. One of the strongest upsides to the site is that high grade deposits appear to be closer to the surface when compared against many other projects in the Athabasca Basin, as shown in the chart below. This reduces some of the technical risks of the project as it allows Fission to use open pit mines and tap high grade deposits.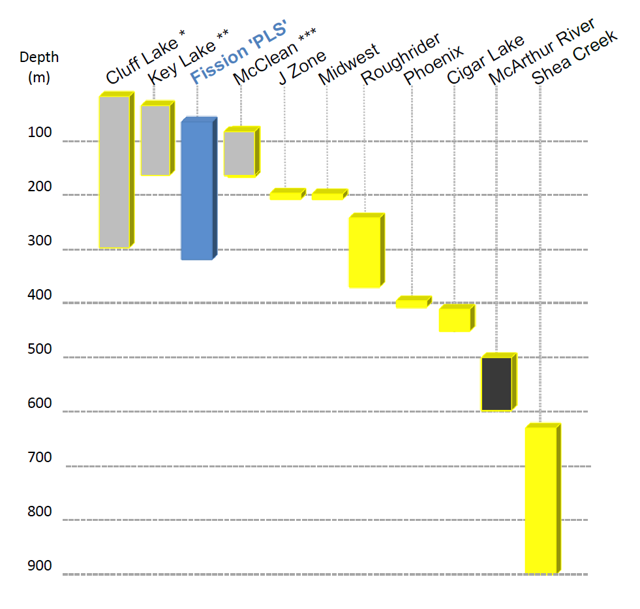 Moreover, scintillometer readings from twenty of the company's drill results suggest that the R780E and R945E zones, shown below, may be one larger high grade zone; further pointing to the possibility that all of the 1.78km site is mineralized. Fission continues to focus on narrowing the gap between their current zones as they push forward with their Winter and Summer exploration plan.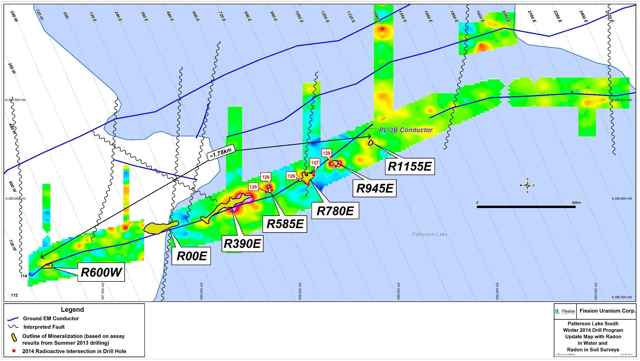 With the continued good news coming from the Patterson Lake project, Fission has set itself up as a probable takeover target; much like Hathor Exploration's Roughrider project, which was acquired by Rio Tinto in January 2012 for C$10/lb. Additionally, with current forecasts of 70-100Mlbs of U3O8 at Patterson Lake and a sale price of C$10/lb, Fission's PLS property potentially values the company's stock around $2.50-$3.20/share. With shares currently below $1.60, an investment in the company could prove very profitable in the near future.
Noka Resources Inc. [OTCPK:NOKAF]
My wild card pick in the uranium industry is Noka Resources. Noka is a junior exploration company with a focus on under explored uranium properties in the Athabasca Basin. The company has a 100% interest in properties in the Northern and Southern sections of the Athabasca region and most recently became part of the Western Athabasca Syndicate, which entitles it to a 25% interest in the orange areas show in the map below.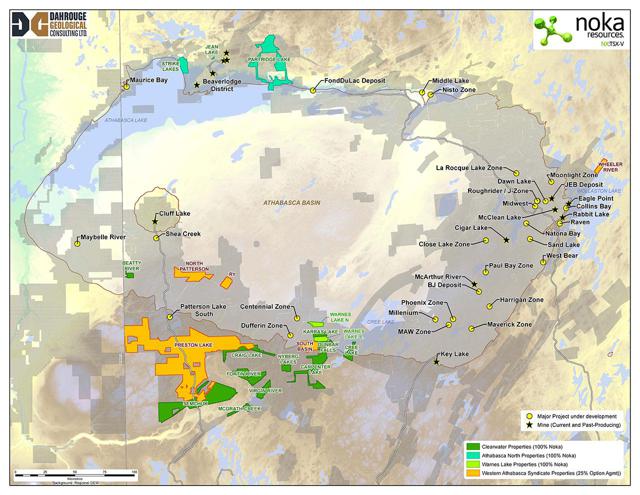 The Western Athabasca Syndicate includes Athabasca Nuclear Corp., Skyharbour Resources Ltd. (OTCQB:SYHBF), and Lucky Strike Resources Ltd. (OTC:LKYSF), and currently owns the largest mineral claim position along the Southwest margin of the Athabasca Basin. The Syndicate targeted these lands totaling over 700,000 acres because of their close proximity to Fission's Patterson Lake South project, which, as mentioned, has shown a lot of potential. However, this doesn't necessarily mean that the Syndicate's properties will be mineralized as well. Over the next few months drill results should start to outline what is to be expected from the Syndicate's properties. Aside from the interests through the Syndicate, Noka's other properties have strong upside as well. The company's Clearwater properties in the South-central region of the Athabasca Basin are heavily under explored and have started to see preliminary steps to identify uranium mineralization. The company recently announced a radon survey at its Carpenter Lake property, which will include 1,000 sample locations over a 16km strike length. Noka's final holdings in the Athabasca Basin are its Athabasca North properties. This group of properties is very promising as they are located within the historically prolific Beaverlodge district, which boasts 60Mlbs of historical uranium production; no drill plans have been announced.
With its strong asset base and strategic property locations, I believe an investment in Noka will see significant upside. Much like Fission, Noka has the possibility of becoming a takeover target if drill results prove to be successful across their vast list of properties. However, investors must be cautious about an investment in Noka as the company has not yet identified any uranium reserves on its properties. At its current stage, it is difficult to put a price target on Noka until it further develops and explores its holdings and announces M&I reserves at its sites. However, at the company's current stock price and considering the potential for each of its properties, Noka is a risky bet worth taking.
Disclosure: I am long DNN, MGAFF, PALAF, FCUUF, NOKAF. I wrote this article myself, and it expresses my own opinions. I am not receiving compensation for it (other than from Seeking Alpha). I have no business relationship with any company whose stock is mentioned in this article.