Two Harbors Investment Corp. (NYSE:TWO) is a real estate investment trust (REIT) based in Minnesota, which is involved in investment, financing and management of residential mortgage-backed securities [RMBS]. The company focuses on both Agency and Non-Agency RMBS. The difference between each RMBS is that Agency RMBS is backed by government agencies, which mean that interest payment and principal amount of RMBS is guaranteed by government companies like Ginnie Mae, Fannie Mae (OTCQB:FNMA) or Freddie Mac (OTCQB:FMCC). Two Harbors is paying around 90% of their earnings to shareholders, meeting the criteria of REIT, which means that the company is exempted from taxes. The company didn't perform very well last year and reported a decline of 13% in their share price. While the company's performance might be average as compared to the industry on the whole, it has been poor compared to its competitors like Capstead Mortgage (NYSE:CMO).

Share Repurchase
Many mREITs have started to refocus on their share repurchase programs in anticipation of the expected rise in the interest rate by the end of 2014. This decline would negatively impact capital appreciation and dividends, forcing REITs to support the price through repurchases.
TWO's share price has declined, and there have been dividend cuts. The REIT purchased 1.45 million shares during their third quarter of 2013 for a total of $13.4 million, while the total repurchase amounted to 2.45 million shares during nine months ending 30th September 2013 at cost of $23.9 million. The company has planned to buy back 22.5 million additional shares under their share repurchase program or 6.1% of total shares outstanding (it currently has 364 million outstanding shares). The company is trying to return shareholder value with its repurchase program, but it's too soon to say if it's the right move. According to Gregory V. Milano Fortuna Advisors:
The evidence shows that heavy buyback companies usually create less value for shareholders over time.
Balance Sheet Structure
The company structure allows it to control the amount of risk it undertakes, as a major part of its portfolio consists of Fixed Rate Agency Bonds. This puts more burden on hedging, as not all of the interest rate can be reduced by hedging, and this ultimately keeps their hedging cost higher compared to other firms like Hatteras Financial (NYSE:HTS). TWO has made a move towards decreasing its Fixed Rate Bond from 67.5% to 62%, which was one of the major risks of investing in Two Harbors before. This is simply because the portion being hedged is just too large and creates a major cost burden.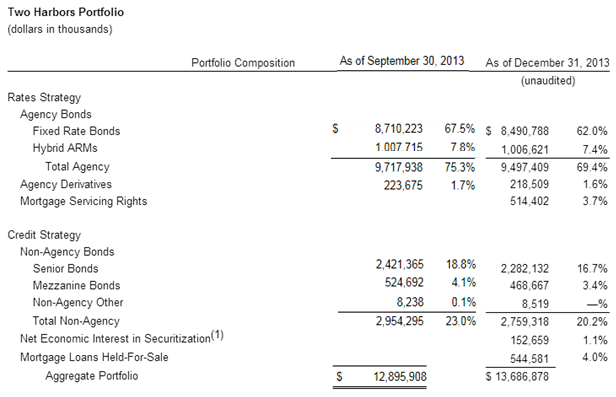 Source: Yahoo! Finance
Recently, the company announced solid fourth quarter earnings. During the quarter, it managed to increase the aggregate portfolio value from approximately $13 million (3rd quarter) to $13.7 million at the end of the fourth quarter 2013, especially when, at the same time, US treasury rates have increased from 2.78% to 2.99%. While the Fed is still not ready to make any drastic changes in the interest rate, with a steadily declining unemployment rate, it seems highly likely that interest rates are on their way up in the short term. This would narrow the profit margin of TWO and negatively impact the value of its fixed rate mortgage bonds. Therefore, while the decline in fixed rate bonds is a welcoming sign, we believe TWO should be targeting a percentage way below the current level.
Mortgage Service Rights [MSR]
Mortgage service Rights are rights that allow the buyer of mortgage rights the authority to manage the mortgages of Freddie Mac or Fannie Mae. In these rights, the buying party of these rights collects the mortgage payment including the interest charged on the mortgage against which they get a service fee from the seller of these rights. MSR also works as hedging; as the interest rates go up, value of the MSR goes up as well, but if interest rates go down, the borrower of the mortgage will avail the opportunity to refinance his mortgage loan from another service provider, which means that MSR value will drop.
Right now, the interest rates are very low and will be kept that way by the Fed, until a specific unemployment and inflation rate level is reached, which is expected till end of 2014. This means that the acquisition of MSR by Two Harbors will prove to be a good investment as they will be hedging their investment through this MSR, keeping the possibility of a drop in value of MSR to minimal in the current economic situation. In a way, they will be getting paid for hedging their funds rather than paying for it. This would enable the mREIT to earn stable cash flows even if interest rates increase, which seems inevitable in the current economic scenario
As of 30 September 2013, the company had $15.7 million MSRs and during December 2013, Two Harbors' subsidiary, Matrix Financial Services, acquired a pool of MSRs from Flagstar Bank on residential mortgage loans amounting approximately $40.7 billion of unpaid principal balance for $500 million. This is a smart move and will enable it to stabilize cash flows.
Interest Rate Spread and Hedging
Due to the changes in portfolio, we believe that TWO was able to improve the realized net interest rate spread to 3.1% compared to the third quarter's 2.8%. A higher interest spread translates into more value for shareholders. During the same period, cost of financing dropped to 1.1% from 1.2%, while Agency yield improved from 2.8% in the third quarter to 3.1% in the fourth quarter.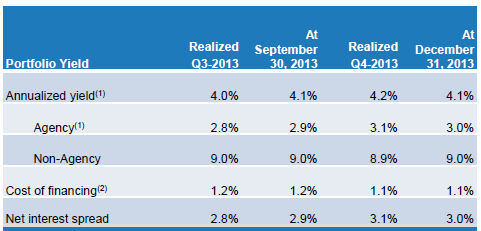 Source: Company Presentation
Two Harbors has hedged around $14.4 million of its portfolio through swap maturities for the long term. The hedge will protect TWO Harbors from any radical increase in the Fed-rate and is a major positive from this quarter. On the downside, this will increase the hedging costs significantly if the company doesn't substantially reduce its fixed rate portfolio. We believe that TWO is looking to dump a major portion of its fixed portfolio this quarter, and that would help reduce hedging costs.

Source: Company Presentation
Financials
The company announced a dividend of $0.28 in the third quarter of 2013, which decreased to $0.26 per share for the fourth quarter of 2013. In the end, the investors should still focus on the dividend aspect of the company, and TWO is still a solid investment in that regard. We can see from the graph below that the dividend yield has decreased during 2013 from 12% to 10%. However, this yield is still better than Capstead Mortgage (9.70%) and is very high compared to the industry average (more than double the industry). At the same time, the company has a leverage ratio far lower compared to the industry. Both these things show that financially, the company is moving in the right direction.
| | | | |
| --- | --- | --- | --- |
| | Company | Industry | Sector |
| Dividend Yield | 10.01 | 4.25 | 2.13 |
Going forward, we expect TWO to increase its dividend yield in light of its improving interest rate spread and more stable cash flows.
Conclusion
Two Harbors is trying to reduce its cash flow fluctuation through MSR, which is a positive sign for investors. Furthermore, the company is decreasing its Fixed Rate Bond, which is a good strategy, as the high percentage of investment in FRM would increase the company's operating risk in the expected high interest environment.
Recently it acquired $40.7 billion of unpaid principal balance of residential mortgage loans. This will positively impact the company's current cash flows. Therefore, while the dividend per share declined in the fourth quarter of 2013, investors should look forward to better dividends in future. If share repurchase program proves to be successful, this might also give a better return to the investor in both forms; capital gains and higher dividends due to less outstanding shares.
Therefore, we believe TWO is a very good mREIT investment in the current scenario, and has upside potential and an excellent dividend yield. The move towards defensive cash flows from MSR, the share repurchase program and the reduction of fixed rate portfolio are all good long-term signs for this investment and support our buy recommendation.
Disclosure: I have no positions in any stocks mentioned, and no plans to initiate any positions within the next 72 hours. I wrote this article myself, and it expresses my own opinions. I am not receiving compensation for it (other than from Seeking Alpha). I have no business relationship with any company whose stock is mentioned in this article.
Business disclosure: Equity Flux is a team of analysts. This article was written by our Technology analyst. We did not receive compensation for this article (other than from Seeking Alpha), and we have no business relationship with any company whose stock is mentioned in this article.