As an income-driven investor who has a knack for higher-yielding income oriented plays, I've decided to shift my focus to the oil and gas drilling and exploration sector and highlight a number of reasons behind my decision to remain bullish on shares of Vanguard Natural Resources, LLC (NYSE:VNR).
Company Overview
Based in Houston, Texas, and through its subsidiaries, Vanguard Natural Resources engages in the acquisition and development of oil and natural gas properties within the United States. The company owns properties and oil and natural gas reserves primarily located in nine operating areas. These areas include the Arkoma Basin in Arkansas and Oklahoma, the Permian Basin in West Texas and New Mexico, the Big Horn Basin in Wyoming and Montana, the Piceance Basin in Colorado, South Texas, the Williston Basin in North Dakota and Montana, the Wind River Basin in Wyoming, the Powder River Basin in Wyoming, and parts of Mississippi.
Recent Performance And Trend Behavior
On Monday, shares of VNR, which currently possess a market cap of $2.31 billion, a forward P/E ratio of 19.24, and an annual distribution yield of 8.36% ($2.49), settled at a price of $29.78/unit.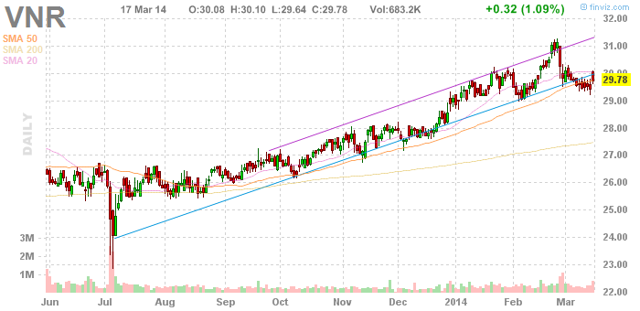 Based on their closing price of $29.78/unit, units of VNR are trading 0.97% below their 20-day simple moving average, 0.12% above their 50-day simple moving average, and 8.35% above their 200-day simple moving average.
It should be noted that these numbers indicate a slight short-term downtrend as well as a very moderate mid-to-long term uptrend for the stock, which generally translates into a slight buying mode for most near-term traders and a stronger buying mode for most long-term investors.
Comparative Forward P/E Ratios Set Vanguard Apart From One Of Its Peers
Although the above referenced numbers indicate a long-term uptrend for the company's stock, I actually think its unit price of $29.78/unit offers investors a considerable point of entry. Why? Well, I think that shares are trading at a much better forward P/E ratio than one of its sector-based peers which could translate into a great buying opportunity for many investors.
As of Monday's close, Vanguard's forward P/E ratio of 19.24 was much lower than the forward P/E ratio of Legacy Reserves, LP (NASDAQ:LGCY) (forward P/E ratio of 25.00 as of 3/17), which was considerably higher. A stronger forward P/E ratio clearly signals a greater level of affordability for Vanguard Natural Resources, especially when compared to the forward P/E ratio of Legacy Reserves, LP.
A Look At Vanguard's Distribution Behavior
When it comes to Vanguard's most recent distribution behavior, it should be noted that since converting to a monthly distribution payout in August 2012, VNR has demonstrated a distribution 3.85%. In the chart I've inserted below, both potential investors as well as existing unit-holders can see the company's significant distribution growth over the last several years.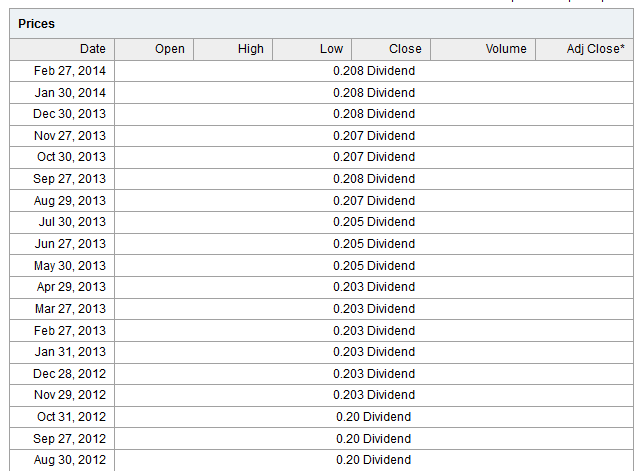 Since August 30, 2012, the company has increased its monthly distribution three times over the last 13 payable months (including the company's most recent payout that took place on February 28). From an income perspective, the company's forward yield of 8.36% ($2.49) coupled with its 12-month dividend behavior certainly make this particular stock a very viable income option for long-term investors in search of a higher-yielding play in the energy sector.
Conclusion
For those of you who may be considering a position in Vanguard Natural Resources, I strongly recommend keeping a close eye on the firm's recent trend performance, any further developments with regard to the Wyoming-based natural gas properties it acquired in December 2013 and its ability to continue to enhance shareholder value over the next 12-24 months, as each of these factors could play a role in the company's long-term growth.
Disclosure: I am long VNR. I wrote this article myself, and it expresses my own opinions. I am not receiving compensation for it (other than from Seeking Alpha). I have no business relationship with any company whose stock is mentioned in this article.