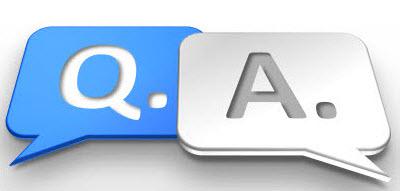 Dave Fry interviews Kevin Rich of Rich Investment Solutions and sub-advisor to ALPs U.S. Equity High Volatility Put Write Index Fund. The fund is designed to generate a high level of income while maintaining risk management tools.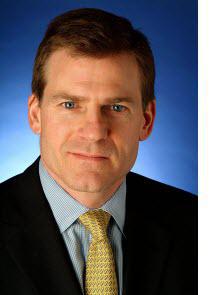 Kevin created and launched the Deutsche Bank commodity- and currency-based ETFs in 2006. These included popular DBC (DB PowerShares Commodity Tracking ETF), DBA (DB PowerShares Agriculture ETF), UUP (DB PowerShares Bullish Dollar Index ETF), and UDN (DB PowerShares Bearish Dollar Index ETF) among others. During that period, it was my pleasure to interview and get to know Kevin and incorporate these funds for ETF Digest subscribers.
Kevin left DB several years ago and recently launched an interesting ETF, so we thought we would check in and see how year one went for HVPW, the ALPS US Equity High Volatility Put Write Index Fund. Kevin's firm, Rich Investment Solutions, is the sub-adviser to this new fund off the same ALPS platform that has brought the select SPDRS series of ETFs and the Alerian MLP ETF AMLP.
Dave: Congratulations on a key milestone: "year one under your belt". So many ETFs have difficulty getting out of the gate these days. Remind us what HVPW set out to do, and more importantly, how did it perform?
Kevin: Thanks Dave, as you may recall, HVPW is an income generating fund, and creates income by selling 15% out-of-the-money put options every two months on a portfolio of twenty stocks. The stocks are selected by a rules based underlying index, which focuses on high volatility securities that also meet criteria on liquidity, market cap and sector concentration. Investors receive the income by assuming the risk the underlying equities drop in value below the option strike price.
HVPW launched at $25 a share in February 2013, and over the first twelve months paid six distributions totaling $2.29 per share (a little over 9%), and had a total return of about 10.7%. Notable in year one was the low realized volatility of HVPW, about one-third of the volatility of the S&P500, which gave it an impressive risk/return profile.
Dave: Sounds like you are off to a good start. Who have you seen using HVPW, and how are they using it?
Kevin: The first adopters were primarily RIAs, funds and institutions familiar with the mechanics and benefits of put writing strategies, we believe. Most added us into their income models and allocations, while some viewed HVPW as a defensive equity position. Still others, mainly institutional accounts, we believe, allocated HVPW to their liquid alternative bucket. Certain channels wait to see whether new ETFs gain assets and trading volume, so HVPW's current assets of $73 million and 30 day trading average of 67,000 shares a day should have put us on the radar/review pipelines for many of the major advisory firms.
Dave: Meeting your 9% distribution target has been impressive, so I get the "income" part, but why do you and others view HVPW as "defensive equity"?
Kevin: Because HVPW writes 15% out of the money puts every two months on a diversified set of 20 underlying stocks, even though the underlying stocks have a high volatility, the 15% buffer, diversification and short duration have given the index and fund themselves a level of downside protection relative to the overall market.
Dave: You know we live in a yield hungry world. HVPW has done a good job so far as has been our experience as well, but how confident are you the fund will generate at least 1.5% each 60 day period so you can meet your target going forward?
Kevin: Looking at the index HVPW tracks, which launched in February 2012, we see the strategy generated approximately 3% premium on average per period, so based on this, we believe the 1.5% should continue to be achievable, but there is no guarantee.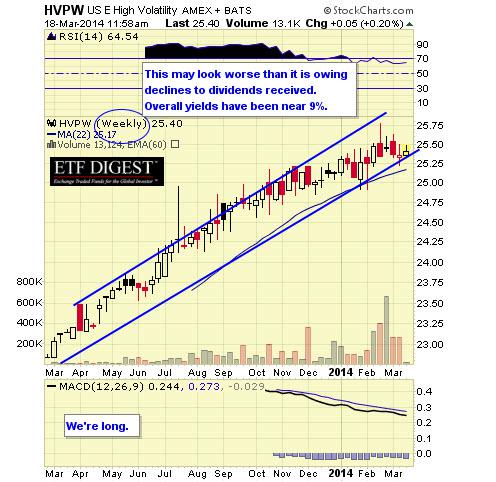 Dave: Is HVPW the same as a buy-write strategy or buy-write ETF?
Kevin: Yes, HVPW is similar to the buy-write ETFs, since both generate income and give up the upside of the underlying equities. HVPW has an advantage over buy-writes in that it sells 15% out of the money puts, where buy-writes are typically at-the-money or out-of-the-money strategies, and do not give you a buffer on the downside the way HVPW does.
Dave: What market environments do you think your fund will do well in, and where may it struggle?
Kevin: We believe HVPW should perform well in upward trending and sideways trading markets, and may perform better than the broad market equity funds in downward trending/bear markets because of the downside protection it provides. In extreme bear markets, because HVPW is effectively long the stocks it has written options on, HVPW will probably perform poorly just like the broad market equity funds, with the potential to perform better because of the downward protection it provides.
Dave: How often do you expect the options in HVPW to expire worthless on average?
Kevin: Based on the index history and what we have seen in the fund so far, we would guess over time 80%-85% of the options would expire worthless.
Dave: Thanks Kevin.
Disclosure: ETF Digest incorporated HVPW into our Growth & Income model portfolio when HVPW was launched.
Disclosure: I am long HVPW. I wrote this article myself, and it expresses my own opinions. I am not receiving compensation for it. I have no business relationship with any company whose stock is mentioned in this article.