While investors have been focused on precious metals and energy commodities to start 2014, there have been several soft commodities, such as sugar, that have reached fresh highs and are continuing their ascent.
Sugar futures dropped 16% last year amid forecasts for record stockpiles after four straight years of global surpluses. The event also marked the third straight yearly drop in prices and the longest slump in more than two decades. However, the production is expected tumble this year to cut the global glut.
Reasons for price rise
The sugar supply is starting to feel the pressure as dry weather threatens crop yields in Brazil, the world's biggest producer and exporter. The country had the driest summer in more than four decades, which is taking a toll on its sugarcane season. In view of the parched conditions, cane forecasts of the top producing regions in Brazil were cut by as much as 6.6% for the season starting in April, according to a report by Bloomberg.
While extreme drought is affecting sugar output in Brazil, excessive rains are cutting yields of key producing regions in India, the world's second-biggest sugar producer. As a matter of fact, sugar output in India is expected to tumble to the lowest in four years. Indian Sugar Mills Association (ISMA) revised its outlook for production on March 7 to 23.8 million metric tons in the current marketing year through September, less than 25 million metric tons forecasted last August. Consequently, the nation is expecting a 5.3% drop in output this year compared with 25.14 million metric tons in 2012-2013.
The deteriorating situations of Brazil and India, given their relevance as suppliers of the sweet commodity, may spur the first global deficit in five years. Sugar futures entered a bull market and have jumped more than 17% from the January low.
But that's not all. Perhaps another reason for global sugar prices to keep rising is the increased usage of sugar as a fuel, a phenomenon gaining acceptance in some of the world's largest sugar producing nations. For instance, 54% cane production in Brazil is now used for ethanol. With a capacity to produce 500 million liters of ethanol per year, BP has become a significant ethanol and sugar producer, as well as a significant power supplier to the national grid in Brazil.
BP is just one example of a major oil company developing interest in sugar-based biofuels, there are many companies working on similar technologies. It goes without saying that increasing ethanol consumption will have a consequent impact on cane diversion to sugar and, in turn, to the export capacities of countries like Brazil and India. This would further cause supply side issues and probably hike price.
In 2014, the global sugar consumption is expected to increase by 2.3% and, considering the recent developments, demand could possibly outpace supply in near term. Before the recent correction, the soft commodity had seen a considerable rise in prices over the last few weeks, and the growth could continue in weeks ahead if shortage estimations persist.
How to play
Believing the situation can continue and sugar prices may see some action in near term, it would be beneficial to discuss a few ways to follow sugar prices. Apart from futures, there are a few ways to trade sugar through exchange-traded products that offer direct exposure to return of sugar futures.
One way to play the sugar bull market is to invest in the iPath Dow Jones UBS Sugar ETN (NYSEARCA:SGG), which is one of the easiest way to follow sugar price action. As illustrated in the chart below, the note is up 1.60% year-to-date, better than the SPDR S&P 500 ETF (NYSEARCA:SPY). SGG charges investors a yearly-fee of 75 basis points and focus of front month futures for exposure.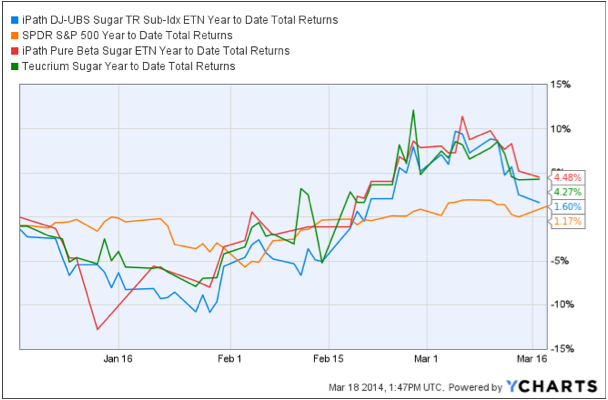 Another ETN to consider is the iPath Pure Beta Sugar ETN (NYSEARCA:SGAR) that tracks the Barclays Capital Sugar Pure Beta Index. The ETN's approach seeks to select the contract that best tracks the front year average price in order to mitigate the negative impact of contango. The approach seems to be working well, as the note is up 4.48% year-to-date, outperforming SGG. It charges investors 75 basis points a year for exposure.
The Teucrium Sugar Fund (NYSEARCA:CANE) is the only ETF on the market that tracks a benchmark of several sugar futures. The fund is up by 4.27% year-to-date, but given its structure and exposure to sugar futures, it is the most volatile of the three exchange-traded products. The volatility, though risky, offers the investor to benefit the most from sudden price changes. So if one predicts a spike in sugar prices, this ETF would be a wiser option. The approach also seeks to reduce the impact of backwardation and contango, though it charges a hefty 1.62% in expenses.
Bottom line
The recent developments pertaining to supply-side issues in the sugar market are not easy to reverse, considering new crops require a full season to develop. The downward revision of yearly output in Brazil, the nation that accounts for 22% of world's sugar production, is likely to impact the global sugar supplies this year. The situation in India is compounding the negative outlook as the nation also sees lower output for current year. Besides, the increasing usage of sugar for biofuels will have an impact on the export capacities of sugar-producing nations. As a result, sugar prices may see action not only in short term but also in long term. Therefore, to benefit from the current trends in the sugar market, investors might want to invest in the above-mentioned exchange-traded products.
Disclosure: I have no positions in any stocks mentioned, and no plans to initiate any positions within the next 72 hours. I wrote this article myself, and it expresses my own opinions. I am not receiving compensation for it (other than from Seeking Alpha). I have no business relationship with any company whose stock is mentioned in this article.