Investors looking for a quiet backwater to the raging waters of equities this month may want to consider markets whose prices are less susceptible to headline news and currency fluctuations.
Traditional investments typically require some type of movement in the market to generate returns. However, as an option seller, a nice, quiet , stable market will do just fine. These are typically markets with ample supply and steady demand; markets like 2010 soybeans.
While soybeans are a global market, this time of year tends to see prices focus on the US as we enter the heart of growing season. And to simplify the outlook for this year, it is this: We should have plenty of soybeans come October.
Crop Conditions Nearly Perfect
The US planted a record 78.1 million acres of soybeans this year. And while some years have seen yo-yo like price movements in oilseeds this time of year, 2010's crop has experienced almost perfect growing conditions to date.
The 2010 US soybean crop posted an all time record high crop condition report for the week of June 6th with 76% of the crop rated in good to excellent condition. The weather outlook for the rest of June remains favorable.
The Number That Counts
However, as we discussed in the past, grain markets tend to take price direction from two figures: ending stocks and stocks to usage. These figures measure total projected supply and demand.
Before explaining these figures, however, one must accept a fundamental caveat in regard to futures prices: The market tends to price the crop in the field, not the one in the barn. Remember, these are called futures contracts for a reason. And while we do not trade the futures contracts themselves, we must be aware of what moves them to adequately determine the best options to sell. While the 09/10 crop year ends on September 1 of this year, the market will be using the summer months to price in the 2010/2011 crop as that is the crop currently growing in US fields.
It is interesting to note that the actual crop projected to be harvested this fall will be close to the same size crop harvested in 2009. And yet, there is a massive difference in projected ending stocks between the two years. It's not how much you grow. It's how much is left in the store at closing time.
Big Increase in Supply Coming
Ending stocks measure the total amount of soybeans left over at the end of the crop year (September 1). This is why they are sometimes also referred to as "carryover" stocks. 2010 ending stocks will total 185 million bushels of soybeans. In other words, that is the amount of soybeans still left in the barn when we start harvesting the new crop (the 2009/2010 crop year ends on September 1, 2010).
However, next year's ending stocks,(supplies left in the barn on September 1, 2011) is projected to be a whopping 360 million bushels – the highest in 4 years and nearly 100% higher than 2010. This is due primarily to a projected drop in both crushings and exports in 2010/2011.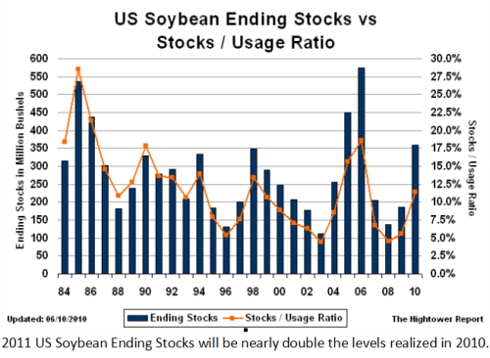 (Click to enlarge)
We do not believe the market has yet fully priced this rise in ending stocks. The market appeared to be waiting for the critical June 10th USDA supply/demand report to confirm there were no surprises lurking in official crop projections. However, there were no surprises. With ending stocks and stocks to usage (leftover supply versus projected demand) both close to May's projection, the market should now be free to begin pricing the 2010/2011 US soybean crop over the next 30 days.
Globally, 2011 world ending stocks are expected to swell to a record high 66.99 million tones, as Brazil and Argentina add hefty crops of their own.
Outlook and Strategy
With global figures projecting similar surges in both ending stocks and stocks to usage ratio, long-term weather forecasts looking favorable, and projected slowing demand beginning to manifest itself in the form of Chinese order cancellations, we advise traders taking a neutral to bearish stance on the soybean market in mid 2010.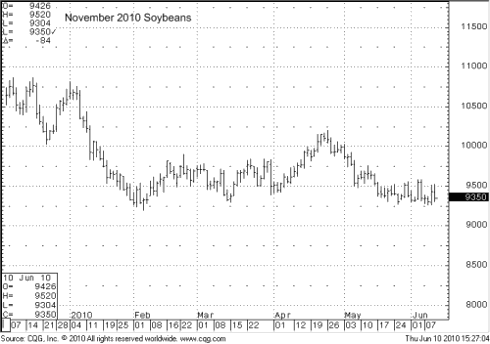 (Click to enlarge)
Our price projection for Q2-Q3 is $10.20 to $8.00 per bushel with a bias towards the lower end of the range as the market begins to digest projections for next year's higher stock levels. Look for the bulk of any move lower to occur once the crop is "made" in August.
The November contract is still offering attractive premium for option sellers. Calls sold in the $11.40 - $12.00 range should yield solid, high-percentage premium (in our opinion). A weather event could change our price range projection. However, with the crop off to a near perfect start, each day that passes sees the chances of weather related supply threats decline.
As far as soybeans go, we're projecting a quiet summer of steady time decay.
I wish I could say the same for Wall Street.

Disclosure: No positions