As I wrote earlier in the week, I am trying to build a wing of the portfolio for companies with insane valuations that people just buy hand over fist on every rally because, well, they go up.
Another name I looked closely at was American Tower (NYSE:AMT), which is a hedge fund favorite. It has a simple business description, providing all the towers needed for mobile communication.
American Tower Corporation, through its subsidiaries, operates as a wireless and broadcast communications infrastructure company. It develops, owns, and operates communications sites. The company operates in two segments, Rental and Management, and Network Development Services. The Rental and Management segment leases space on its wireless communications towers to customers, including personal communications services, cellular, specialized mobile radio, WiMAX, paging, and fixed microwave. The Network Development Services segment provides tower-related services, such as site acquisition, zoning and permitting services, and structural analysis services. As of March 1, 2010, the company owned and operated approximately 27,000 communications sites in the United States, Mexico, Brazil, and India.
Rather than just buying as the chart turned positive when the stock broke over all key resistance areas late last week I made the mistake of checking out its EPS estimates. The stock was around $42. In return, I get $0.87 EPS for 2010, aka a forward PE of just under 50 for a company growing about 20%. Not a 1 PEG (PE to Growth ratio), and not a 2 PEG, but a cool 2.5.
But who cares? The stock goes up, and that's all that seems to matter to the computers. I suppose if you are paying 50x forward, there is no shame in paying 80x and then 150x. This is 1999 logic. It's a missed opportunity for me as the stock has gone off to the races today. (Click to enlarge)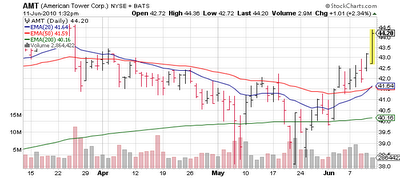 Disclosure: No position