It looks like déjà vu all over again for emerging markets (EM). The past months has renewed concerns about EM given the political upheaval in countries including Thailand, Turkey and the Ukraine; currency devaluation in Argentina; and rising concerns over sub-par GDP growth in China compounded by its impending debt crisis. Emerging market performance across asset classes have been among the worst-performing in 2013, along with increased volatility. These raise a critical question for investors as whether this phenomenon is a temporary cyclical downturn or a structural shift that needs a reassessment of strategic asset allocation towards EM as an asset class. I would be writing a series of articles on EM. The first of the series focuses on the current crisis and tries to draw parallel with the 1997 Asian Financial Crisis.
How Does The Portfolio Inflow/Outflow Cycle Dynamic Affect Emerging Markets & What Does History Tell Us?
The portfolio inflow/outflow cycle follows the US real interest rate cycle. With low US real rates, investors park their funds in EM which have high real yield. Any rise in US real rates lead to a reversal of these flows. The US Fed resorted to easing after the 1989 recession, when the real Fed funds rate were dropped to 0% in 1993 (vs. ~5% in 1989). This culminated into portfolio inflows into the EM between 1991 and 1996. Increased liquidity led to higher consumption, additional leverage and inflation which made EM less competitive and also added to its current account deficits.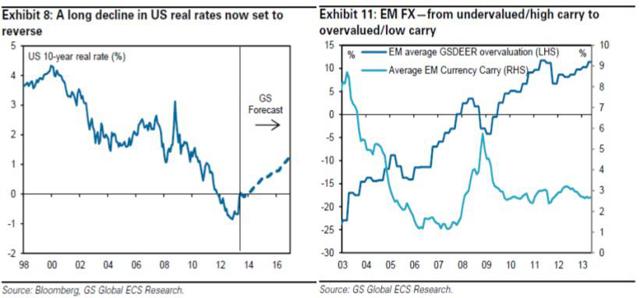 With US real rates again rising between 1997 and 2002, net portfolio outflows began. This was characterized by falling asset prices and problems funding the ballooning current account deficits. As a result, EM currencies depreciated and servicing the FX denominated debt became hard. Policy makers resorted to capital controls and hiked policy rates to stabilise their currencies. Capital outflows, coupled with rising interest rates and capital control led to a sharp contraction of GDP growth and investor losing faith in EM story.
What Is Similar To The Recovery Post 1997 Asian Financial Crisis And Now?
1. The period was marked by tightening by the Fed, while the interest rates in Europe and Japan remained low. The rise in US bond yields lead to dollar gaining strength.
2. Recovery driven by US
3. Commodity prices were subdued as the US driven economic recovery was not commodity intensive compared to the investment driven Chinese growth story.
4. Sharp depreciation of the Japanese yen.
How Is The Situation Better Now?
1. Less aggressive policy stance adopted by the Fed: Fed policy would be less aggressive over the previous cycle when it was more concerned over inflation. Given the dovish stance adopted by Fed, the tightening would be mild as it is now trying to steer itself out of deflation.
2. Current account deficits at manageable levels: Many countries like Thailand, Hungary, Malaysia, Czech Republic and Mexico had current account deficit at levels greater than 5% of GDP. However in this cycle, only Turkey, South Africa and Poland have reached this magnitude.
3. Lower levels of FX denominated debt: With currencies pegged to the US dollar, EM could borrow in US dollars at attractive rates than local currency denominated debt. This led to FX denominated debt at ~40% of the GDP before the Asian Financial Crisis of 1997. When the currency depreciation became severe, the value of these debts rose and servicing them became an issue. However foreign currency debt now stands at 24% of GDP now and is not an area of concern now.
4. Higher FX reserves: FX reserves stand at about 120% of total debt, while it stood at ~20% in the run up to the crisis.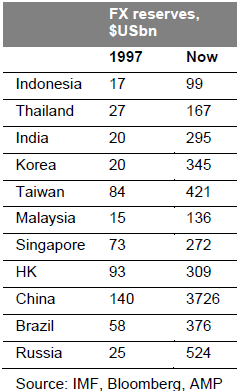 What Could Be A Cause Of Concern This Time Around?
1. Commodity prices have been one of the key factors that affect the emerging and developed market growth differential. EM real effective exchange rate has shown strong correlation with commodity prices. While commodity prices increased by 65-70% during the bull run of 1990's, they tripled in prices between 2001 and 2012.
2. Emerging market exposure towards China means more contagion risk.
3. High leverage in the private sector leverage
4. Many EM countries are operating above their full capacity and any spurt in growth would lead to inflation and hurt margins. This places them at a disadvantage over developed countries. The excesses could be gauged from the unemployment rates, running way below their long run averages.
Investment Implications:
Focus on Asia: Though EM looks cheap, investors should focus on countries that have current account surplus as they are less vulnerable to foreign capital outflows. Emerging markets need a fundamental fiscal adjustment as it needs to get out of the overhang from high commodity prices, credit driven growth and other favourable macro conditions. The period of ultra-low interest rates and easy money has led to accumulation of external current account deficits. Given the Fed tapering, funding avenues of external deficits is drying up. This could be made good though weaker currencies and higher interest rates on the domestic front.
Now let us look into a recent research by GS, who have calculated the proforma exchange rate levels that would be consistent with sustainable current account levels, either with balanced inflation or a balanced output gap. Asia ex Japan looks in better fundamental shape with respect to the adjustment pressures.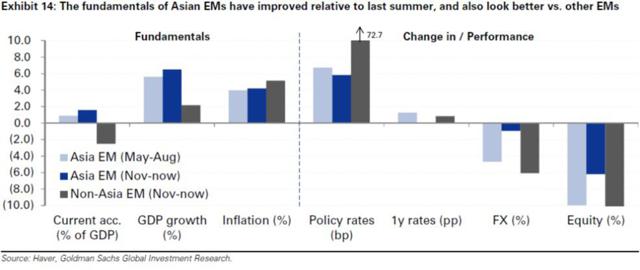 "At current exchange rates, these equate to further 10-20% declines in the Brazilian real, Mexican peso (NYSEARCA:FXM), South African rand (NYSE:SZR) and Turkish lira. However, no further depreciation is needed for either the Indian rupee (NYSEARCA:ICN) or the Indonesian rupiah."

Source: Two themes: DM exposure, attractively valued growth, GS
Japan Reflation Game: Readers can refer to my previous article "Asia And Japan's Reflation Game", which explains how the Japanese government is taking measures to reflate itself. The two major outcomes of Japan's (NYSEARCA:DXJ) reflation game are: Yen (NYSEARCA:FXY) depreciation and growth in Japan's domestic demand.
Disclosure: I have no positions in any stocks mentioned, and no plans to initiate any positions within the next 72 hours. I wrote this article myself, and it expresses my own opinions. I am not receiving compensation for it (other than from Seeking Alpha). I have no business relationship with any company whose stock is mentioned in this article.