Since being spooked by a weak outlook, Seadrill Ltd. (NYSE:SDRL) is making new lows daily. The market is ignoring Seadrill's double-digit dividend rate. Things worsened when Transocean Ltd. (NYSE:RIG) said it would enter the deep water drilling market. Transocean also raised its dividend but are hovering at yearly lows. Three charts briefly summarize why bearishness and short selling volume is rising for Seadrill. The charts support downside ahead, but Seadrill is not facing any immediate uncertainties. This gives the company a significant advantage: it may prioritize its dividend and share buyback schedule over reckless exploration projects. In short, a rich dividend will support the stock at current levels.
Declining backlog
Seadrill has a backlog that is declining: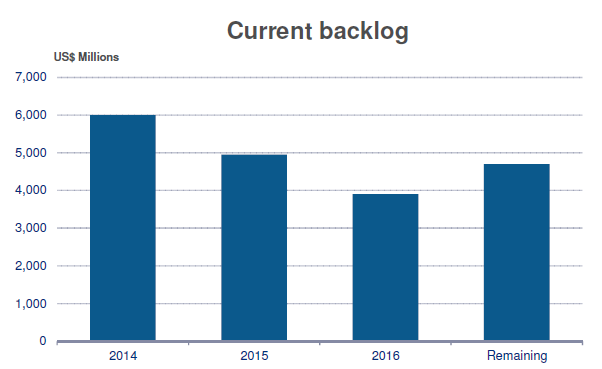 Source: Seadrill
It still has a solid relationship with companies like BP (NYSE:BP), Exxon Mobil Corp. (NYSE:XOM), Petrobras (NYSE:PBR), Total SA (NYSE:TOT), and Statoil (NYSE:STO). Projects pushed from 2014 to 2015 are: Block 32, Mad Dog 2, Stampede, Chevron Indonesia, and Bonga. Seadrill could reasonably expect the backlog to increase slightly from current levels over the next two years.
To lock in prices and availability, its customers may start adding orders for 2016 and beyond. Seadrill has the financial flexibility to accommodate for these orders. Even though the U.S. economy is improving, interest rates will remain low for years to come. This will keep debt costs low.
Growth rates slowing
Seadrill's expectation for higher investments but lower free cash flow growth is creating uncertainty for its shareholders. Investors should recognize that the slowdown in investing for E&Ps is led by onshore drillers. For example, the capital expenditure for E&Ps focused in North America declined 6.6% between 2012 and 2013. Investors could reasonably expect the deep water drilling to draw investments after 2014. Oil companies like BP will continue exploration to support growth. It might lower these activities in the short term, but the company has long-term plans that include deep water drilling activities.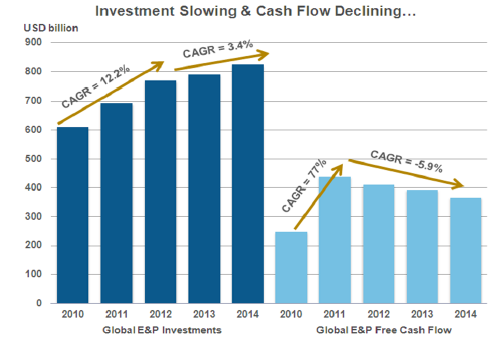 Ultra deepwater delivery rates decline
The bulk of the deepwater deliveries will be in 2014, far higher than last year. Deliveries will drop in both 2015 and 2016.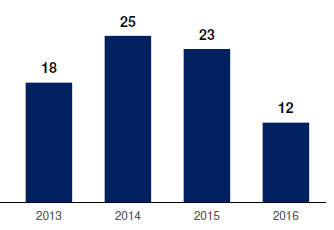 Source: Rystad Energy, DNB
Investors should look beyond 2016 while being assured Seadrill will back dividend payments with its strong cash flow in the short-term. Demand for deep water drilling will also exceed potential supply for the next few years. Weaker deep water players could be less aggressive in building and deliveries due to lower day rates. This will be to Seadrill's benefit, which has the financing to carry out winning bids.
Bottom line
Seadrill's stock price action towards new yearly lows is a surprising gift. This is due to short-term uncertainty between Ukraine and Russia, along with investor bearishness for Transocean. Its floater utilization is higher than its competitors that include Ensco and Transocean. Bearish investors betting against Seadrill on need to realize that the company will not have any problems sustaining its sizable dividend in the foreseeable future. The trend of rising oil prices that began in 2009 is unlikely to break, thanks to a sustainable economic recovery. Investors looking to either start or to add a position in Seadrill may do so confidently at these levels.
Disclosure: I am long SDRL. I wrote this article myself, and it expresses my own opinions. I am not receiving compensation for it (other than from Seeking Alpha). I have no business relationship with any company whose stock is mentioned in this article.