Quick Review of Last Week:
Primary market moving events included:
German Constitutional Court reviews legality of German payments to EU debt. Fitch comments on the UK's urgent need to cut its deficit
Positive data: China shows much better than expected export data, US exports beat expectations too. US railroad and trucking volume data confirm the improvement. Germany and Japan also show good manufacturing data, the RBNZ raises New Zealand interest rates and hints at more on the way.
Positive Talk: Bernanke, Trichet, and Bollard all issue relatively bullish comments. Chinese officials made supportive comments about the Euro, aiding its bounce higher
Stocks managed to close with a gain on the day and the week (DJIA 2.8%, S&P 500 2.5%, NASDAQ 1.1%) Friday despite the worst retail sales figures in months, confirming the message from last week's jobs data that recovery in both jobs and spending remains tentative. This did not prevent a late rally and positive close on the day. Commentators noted that the report was not as bad as it looked, because it was concentrated in autos, gasoline, and building materials, and the drop in the latter two was partially attributed to lower prices rather than fewer purchases.
Implications for the Coming Week: No change, outlook remains bearish
In sum, nothing has changed since last week to alter our near term bearish view of risk assets. The market was due for a technical bounce, its first positive weekly close since April 23rd, and the absence of bad news out of the EU for the first week in recent memory, plus some positive data noted above made this possible.
As the chart below shows (), the bellwether S&P 500 remains firmly in a downtrend, within its past months' trading range, and has yet to break through any kind of major resistance on its daily chart.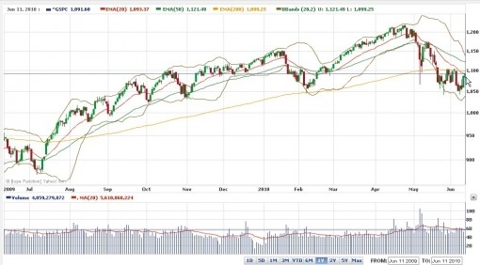 S&P 500 Daily Chart: Firm downtrend, multiple near term resistance levels 02jun13
Note in particular:
Its death cross (50 day moving average below 200 day m.a.) is widening
The zone around 1100 offers quadrupled-layered resistance immediately ahead
The psychologically important 1100 price level itself
The 20 day moving average (red)
The 200 day m.a. (gold)
The 50 day m.a. just above these, around 1130
Watch these resistance points carefully.
Otherwise, the big picture implications remain unchanged
The Coming Week's Likely Market Movers
EU Debt Crisis: Nothing has changed for the better in the past week besides some assorted cheerleading from interested officials, yet suddenly there is widespread commentary in the popular financial press that markets have been overly negative about Europe. We disagree. As long as no one is sure who is exposed to whom, ANY news that any European nation is at risk of imminent default will likely stop bank lending and crash markets, just as it has in past months.

Further news on Hungary, other new sovereign debt skeletons popping out of the closet.
i. Donor nations: for example--legal challenges to Germany.
ii. Debtor nations: new problems for PHIIGS, or new contagion threats like Romania or Bulgaria. Both have stayed out of the contagion threat spotlight thus far, but don't be shocked to hear about them.
The chart below () illustrates the contagion threat posed by Romania and Bulgaria, in addition to Greece and Hungary.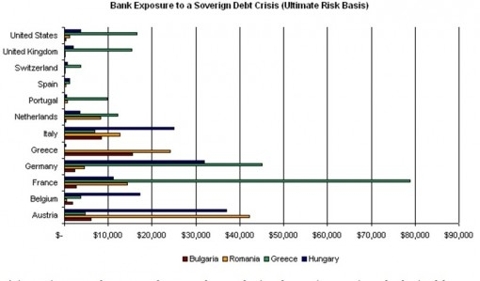 Source: Kerrisdale Capital, compiled from BIS report here via ZeroHedge.com (in units of $ 1 million, thus, for example, France holds $75 bln of Greek bonds) 04jun13
As the original report notes:
Romanian and Bulgarian debt [together] comprise more than 25% of the foreign debt that Greek banks hold. Austria also has a high concentration of risk in these four countries, at 29% of total foreign claims outstanding. When investors talk about contagion, what they are really referring to is positive feedback loops. We can see from the chart above how trouble at one country can quickly develop into a concern for other countries. The situation in Greece could make it difficult for Bulgaria and Romania to roll over their debt, an event which would in itself reduce the value of Greece's assets, creating further difficulty for Bulgaria and Romania.
The risk is more than theoretical. For example, this past Wednesday, June 9th, Bulgarian CDS spreads hit an 11 month high of 376.5 bps, lower than those of Hungary, Turkey, and Peru (source).
Also, this past week, FT Deutschland reported that Spain had requested aid from the EU, but Spain denied the report and said it had no plans to ever ask for aid. Now where have we heard that before?
a. Government stability: threats to stability of any major debtor/donor administration
b. Progress in deficit cutting, pay special attention to:
i. political and labor opposition to these cuts
ii. GDP and employment slowdowns from deficit cutting
c. Bank stability
2. Wildcards: Watch for updates on
a. China construction and housing data: On Friday China reported a 3.1% annual jump in inflation, the largest inflation increase in 19 months, highlighting risks of growth fueled inflation
b. US: pre-earnings announcements, banking scandals, housing market and affects on bank finances, BP oil spill.
3. Economic Events: No data of first-tier importance. The BoJ and SNB may offer remarks of note regarding new stimulus plans for Japan and plans for the CHF regarding the Euro, respectively. For the US, the CPI report is the major event. With jobs and consumer spending struggling, rising inflation is the only thing that might move the Fed to raise interest rates within the coming year. TIC and housing data may have impact too.
Disclosure: No Positions.