MediWound Ltd. (NASDAQ:MDWD), a biopharmaceutical firm, focused on the development of treatments for severe burns, plans to raise $75.0 million in its upcoming IPO.
The Yavne, Israel-based firm will offer 5.0 million shares at an expected price range of $14-$16 per share. If the IPO can find the midpoint of that range at $15 per share, MediWound will command a market value of $326 million.
MediWound filed on February 10, 2014.
Lead Underwriters: BMO Capital Markets Corp, Credit Suisse Securities (USA) LLC, Jefferies LLC
Underwriters: Oppenheimer and Co Inc.
Summary
MediWound is a biopharmaceutical firm, focused on the development, manufacturing, and commercialization of products for the treatment of severe burns, hard-to-heal wounds, and connective tissue disorders. The firm's NexoBrid product is for the removal of dead or damaged tissue, resulting from thermal wounds, received marketing authorization from the European Medicines Agency in December 2012.
NexoBrid is a topically-applied product that removes dead or damaged tissue from burn wounds (also called eschar) within four hours, a significantly shorter period than currently available products, reducing the risks of infection, eventual sepsis, wound deterioration, and consequential scarring. NexoBrid's swift action allows physicians to more quickly analyze a wound and minimize the difficulties of invasive surgical procedures and skin grafts. See image below.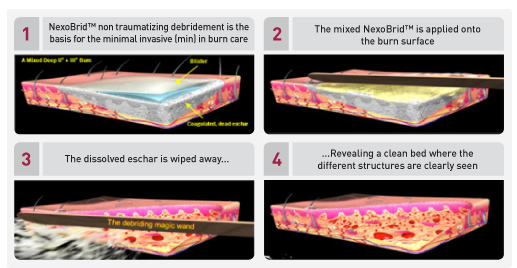 (Source: MediWound)
MDWD launched NexoBrid in the EU through a German subsidiary in December 2013. The firm plans to initiate a Phase 3 pivotal study of NexoBrid in the US in the first half of 2014. MDWD's second product candidate, EscharEx, is designed for the debridement of chronic and other hard-to-heal wounds, including diabetic foot ulcers and venous leg ulcers. EscharEx is currently in clinical trials.
Valuation
MediWound offers the following figures in its F-1 balance sheet for the year ended December 31, 2013:
Revenue: $0.00
Net Loss: ($15,351,000.00)
Total Assets: $14,826,000.00
Total Liabilities: $34,630,000.00
Stockholders' Equity: ($19,804,000.00)
MediWound's lack of revenues is unsurprising, given that the firm has only just launched its first product in NexoBrid, and should not be taken as an indication of MediWound's potential for future success.
Business
MediWound's products and product candidates face competition from products and medical procedures that perform similar functions. Firms producing potentially competing products include Smith & Nephew plc (NYSE:SNN) and Auxilium Pharmaceuticals (NASDAQ:AUXL).
Management
President and CEO Gal Cohen has served in his current positions since November 2006. Mr. Cohen previously served as Director of Strategic Business Planning and New Ventures at Teva Pharmaceutical Industries Ltd. He holds a B.Sc. in Industrial Engineering and Management from the Technion-Israel Institute of Technology and an MBA from Tel Aviv University.
Conclusion
We rate this IPO a buy.
The IPOs based in Israel have performed well and we are hearing the deal is oversubscribed.
MediWound has already managed to bring its first product to market in the EU-a big step forward for any biopharmaceutical firm-and will likely have approval for sale in the US in the near future.
NexoBrid's significant advantages over the current standard of care for eschar removal in burns should propel it to success, especially given the limited competition currently on the market.
The firm's experience in bringing NexoBrid to market should help as it continues to develop other product candidates.
Disclosure: I have no positions in any stocks mentioned, but may initiate a long position in MDWD over the next 72 hours. I wrote this article myself, and it expresses my own opinions. I am not receiving compensation for it (other than from Seeking Alpha). I have no business relationship with any company whose stock is mentioned in this article.