Highlights
The cloud-mobility and security market is expected to grow at an outstanding 20 percent CAGR, putting it at $3.2 billion by 2016.
With the unusually high number of acquisitions within the industry in recent years, WYY is well-positioned for acquisition by a larger company because it is trading at cheap levels and has a government contract worth up to $600 million and a low market cap of $112 million.
Legendary hedge-fund manager Michael Steinhardt owns about 2.2 million shares (3.51 percent of shares outstanding) in WYY, more than is owned by any other institution.
WYY won a $600-million contract with the Department of Homeland Security. Coupled with a low market cap of $112 million, this contract should provide WYY with significant upside.
We believe that with the kickoff of the DHS contract and $19 million in other new contracts that will be recognized going forward, both revenues and earnings should make a significant jump along with share price.
We believe WYY is severely undervalued and should be valued at around $6.50 per share, which would represent a 270-percent increase from current levels
Introduction
WidePoint (NYSEMKT:WYY) has a low market cap of $112 million and recently won a $600-million contract with the U.S. Department of Homeland Security. Poised to benefit from outstanding growth within the cloud-mobility and security market, WYY is an attractive acquisition target. Legendary hedge-fund manager Michael Steinhardt owns about 2.2 million shares (3.51 percent of shares outstanding) in WYY, more than is owned by any other institution. 3D Analytics has completed a thorough review of WYY and determined the stock is grossly undervalued. Consequently, we assign a buy rating with a $6.50 price target, which would represent about a 270-percent increase from current levels.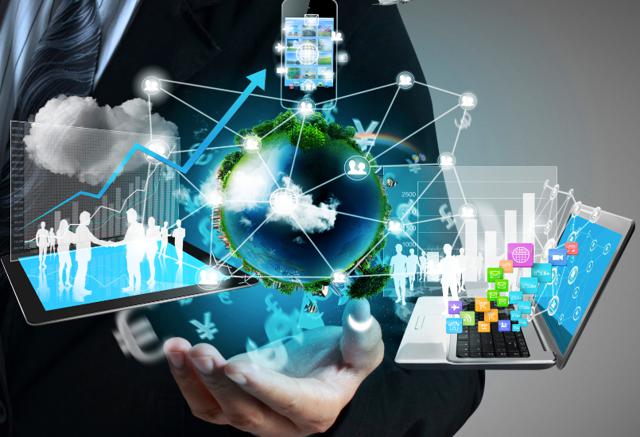 Background
WidePoint Corporation was incorporated in 1997, with the goal of providing secure identity management and communications. Through organic growth and strategic acquisitions, WidePoint has developed three stand-alone segments which can be integrated to provide unparalleled solutions in secure-cloud communications. WidePoint offers both the private sector and government a customizable suite of secure communication available within the cloud. These segments include:
Managed-Mobility Solutions -- A cloud-based portal for managing and tracking telecommunication with an emphasis on security, cost-savings and improved service.
Cybersecurity Solutions -- Aims to verify identity assurance in mobile computing. This is especially useful in online banking, trading and e-commerce
Consulting and Support -- Offers an all-encompassing information-technology consulting service and support suite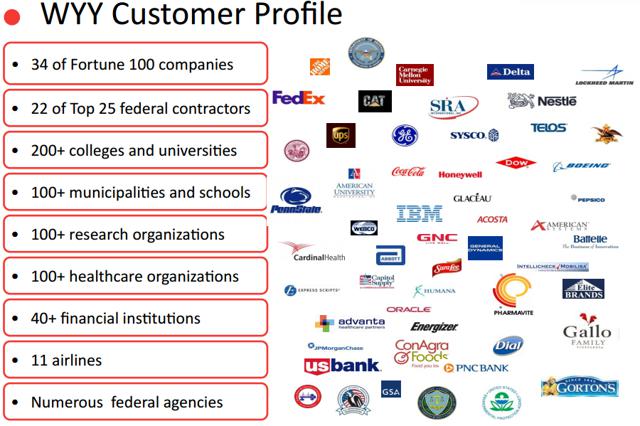 The cloud-mobility and security market is expected to grow substantially
The managed-mobility market has experienced accelerated growth in recent years because of advancements in cloud computing and increasing demand for mobile-device management as companies and governments move toward a more mobile workforce. Examples include wireless workstations, personal digital assistants, mobile hot spots, cloud-based video conferencing, converged voice and data for fixed and mobile communications, virtual networking and other Bluetooth-enabled devices. The transition from in-house data storage to the cloud will cut costs with and provide greater data efficiency. In a presentation on Jan 1, 2014 at the Noble Financial Conference, WYY Chief Financial Officer Jim McCubbin predicted that its market will grow to $3.2 billion by 2016 thanks to an outstanding estimated compounded annual growth rate (OTCPK:CAGR) of 20 percent.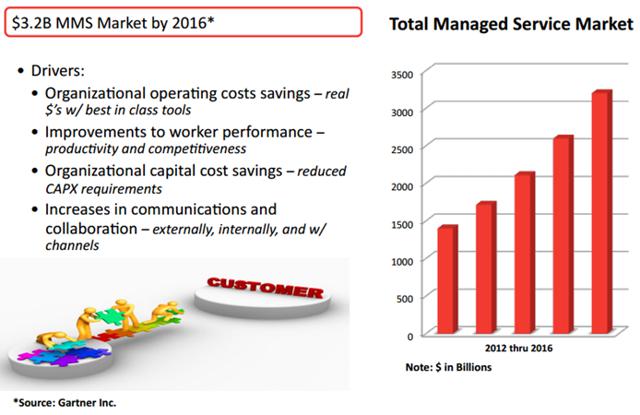 Recent acquisitions within the industry
An unusually high number of acquisitions have occurred within the industry in recent years, primarily because of the rapidly growing and changing market. WYY is well-positioned for acquisition by a larger company because it is trading at cheap levels with a low market cap of $112 million and a government contract worth up to $600 million. Recent acquisitions in the industry include:
Top performing hedge-fund manager owns 3.51 percent of WYY
According to a recent SEC 13-D filing from February, legendary hedge-fund manager Michael Steinhardt owns about 2.2 million shares (3.51 percent of shares outstanding) in WYY. This is significant because Steinhardt has proven to be one of the greatest known investors, with a hedge-fund record averaging an annualized 24.5 percent return after management fees. He currently manages his own money through Steinhardt Overseas Management and Ilex Partners.
WidePoint wins $600-million contract with Department of Homeland Security
On Dec. 23, 2013, the Department of Homeland Security (NYSEARCA:DHS) selected WidePoint's wholly owned subsidiary, iSYS LLC (NASDAQ:ISYS), as the single awardee for its Blanket Purchase Agreement (BPA) for Cellular Wireless Managed Services. The BPA period of performance is for a base of one year plus four optional ordering periods. The BPA ceiling is $600 million. Of WidePoint's cellular and cyber revenues, 80-90 percent are recurring, with an almost perfect re-signing rate as contracts come up for renewal. Therefore, it is highly probable DHS will opt to order after the first year and that it may extend past the four additional years. WidePoint CEO Steve Komar said during the third-quarter conference call that when it is fully rolled out, the contract could contribute an estimated $75 million in incremental revenues each year. Considering WidePoint's market capitalization currently is $112 million, this contract alone should provide WYY with significant upside.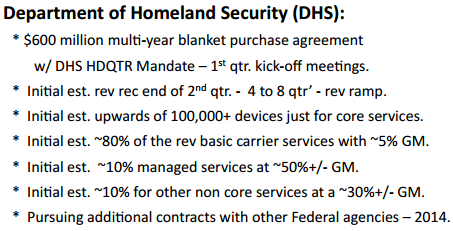 In third quarter, WidePoint recognized more than $20 million in contract awards
WYY executive vice president and CFO James McCubbin said during the Q3 conference call that $20 million in new contracts were won during the third quarter but only $1 million was recognized leaving $19 million that will be realized in future quarters. We believe that with the kickoff of the $600-million DHS contract and $19 million in other new contracts that will be recognized going forward, both revenues and earnings should make a significant jump along with share price.
A peer-group comparison shows WYY is significantly undervalued
Due to its diverse market capabilities, WidePoint has competitors in many different fields. Therefore, in assigning a valuation to WYY, we compared it to many different peers. As you can see, WYY has the lowest market cap and price-to-sales (P/S) ratio of all the companies mentioned. In addition, WYY should be among the revenue-growth leaders through 2015. By taking the 8.2 average P/S ratio, we conclude WYY should be valued at $6.50 per share.

Conclusion
We believe WYY is undiscovered, which creates a huge opportunity for investors to profit. With a low market cap of $112 million and a new $600-million contract, WYY should be an attractive acquisition target. Legendary hedge-fund manager Michael Steinhardt decided to invest his money in WYY, and you should too. Consequently, we assign a buy rating on the stock with a $6.50 price target.
Disclosure: I am long WYY. I wrote this article myself, and it expresses my own opinions. I am not receiving compensation for it. I have no business relationship with any company whose stock is mentioned in this article.