Android Wear:
Google (NASDAQ:GOOG) has announced the release of Android Wear, a new project that is extending the popular Android platform to wearable devices. The giant has stated they intend to start with the most talked about up and upcoming wearable device - watches. A fellow SA author has outlined the huge impact that Apple's (NASDAQ:AAPL) iWatch will have in the marketplace and others have projected (I,II) the huge opportunity in the smartwatch industry itself.
Google has stated that Android Wear will be able to offer useful information, suggestions and the latest updates from social and messaging applications. The platform will also be able to answer direct questions such as sending a text or setting an alarm.
Android Wear seems to be aimed more at watches at present: as the PR states that fitness apps will offer, "real time speed, distance and time information on your wrist for your run, cycle or walk".
Most interesting of the release is the ability to access and control other devices from your wrist, using Android Wear. Android Wear is the software platform that will be used on any future smart watches that Google builds.
Technology Similarities Seen In Apple's iPhone 5S:
Many of the concepts within the Android Wear release are already evident in Apple's iPhone 5S. Apple's iPhone line of smartphones packs many of these concepts already, although are not aimed directly at specific wearable devices - such as an Apple iWatch. Granted, Google does not have a proprietary smart watch either. Apple's iPhone 5S offers some tells into technology already offered by Apple that Google may be catching up with.
Android Wear is set to include Google Voice, a parallel to Apple's Siri application for devices. Siri was released on October 14, 2011 so at first glance Apple seems to have a counterpart for Google's speaking application within Android Wear. Siri has taken much of the press in this area over recent time - although it is worth noting that Android devices have had a speaking application of their own since the early days of the droid line. It is worth noting that Google Voice predates Siri by nearly two years, but it was aimed as a telecommunications service and not as a voice to device control application.
Anyone with an original android will remember the microphone next to the Google search bar, or on their keyboard when texting, to allow voice to text. Albeit not nearly as sophisticated as Apple's Siri, android devices did have skin in the game early on. Many would see Google as attempting to play catch up with Siri in the area of a voice application for mobile devices.
Next in line is Android Wear's drive to offer real time fitness information straight to your wrist. Apple offered a tell on this area with the release of the iPhone 5S, prior to the Android Wear announcement. Within the iPhone 5S is the M7 co-processor for use with fitness applications to save battery and to take some of the work off of the main A7 chip.
The A7 processor can be used with fitness applications to then send the data to a wearable device - such as an Apple iWatch. Apple may not have an iWatch yet, but Google does not have a proprietary smart watch either. Moreover, it should be noted that the tells with Siri and the M7 co-processor denote Apple as being ahead in some areas that Google is hoping to offer in the future.
Having the M7 chip on your device working with a device on your hand could improve accuracy through the use of two devices and help an Apple iWatch's battery by shifting some work to the iPhone's M7 chip instead of the Apple iWatch.
Apple and Google's iWatch Comparison:
Apple's iWatch has been facing manufacturing problems and is rumored to be released sometime in September. Google on the other hand is launching a smart watch, that is supposedly almost finished.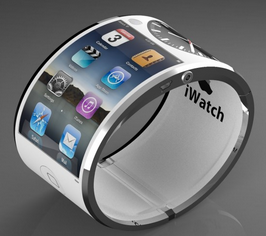 Google's smart watch is aiming at offering mainly notifications such as emails, appointments and directions. It will also have a health and fitness app along with the benefits discussed above.
Apple's iWatch (picture source) is set to offer Healthbook that takes fitness to the next level by monitoring your heart rate, glucose levels, hydration level, blood pressure and miles walked along with calories burned.
Fitness prowess is the key battleground for the two prospective iWatches. Google has not released too much depth into their fitness capabilities on its Android Wear, while Apple has.
Another key battle item is battery life. Apple is viewed ahead in this area as the company has received a patent for converting kinetic energy into battery life - all the boost to help a battery hungry iWatch.
Having a full version of iOS8 is sure to be an excellent selling point for Apple's iWatches, if Apple is able to offer it. Having a 4-5 day battery life, biometric sensors, sapphire screen covers and a curved screen are also areas for differentiation and competition, which the two companies will battle over.
Apple has also received a patent for "Wrist Pedometer Step Direction" that can increase the accuracy of iWatch's motion tracking technology. Apple is also shooting for a 4-5 day battery life in its iWatch as well - that could become a key selling point. The battle between the two giants is fierce, so any differentiating technology can add value to the consumer.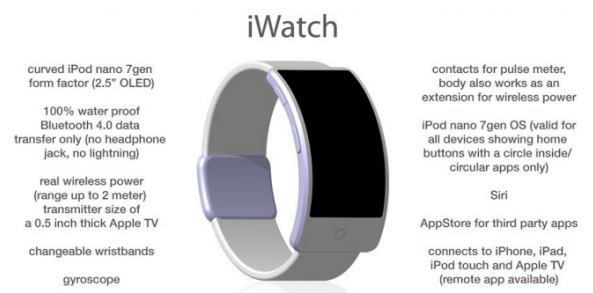 (Source) Apple's prospective iWatch seems very user friendly - packing iOS 8 (hopefully), Siri, kinetic energy powering the device, waterproof capability while having a curved screen.
(Source)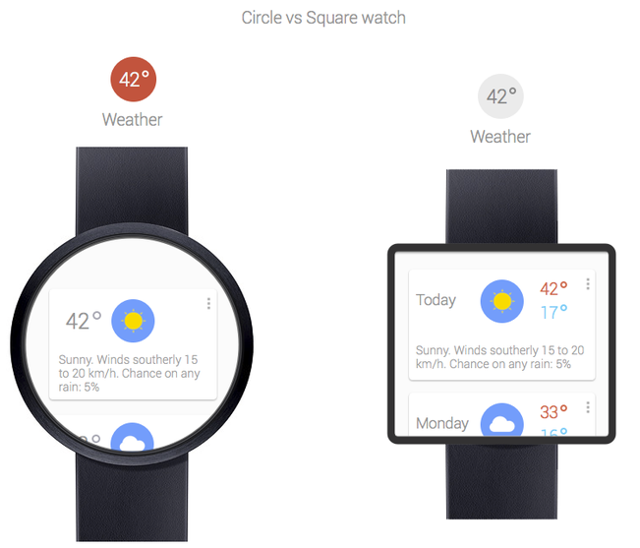 Google's coming smartwatch is more in the dark than Apple's, but the rumors are there. Leaks have supplied information that Google's LG smart watch will have a 1.65-inch, 280px square screen, along with 512mb of ram and 4GB of storage.
Considerations:
Google's Android Wear release is not a device like an Apple iPhone. The early comparisons above are from Android Wear's projections to the iPhone 5S, although Android Wear has released Android Wear as an SDK developer preview with tools for developers.
Even though Google is not releasing a device with Android Wear, developers will create applications for use of Android Wear on Android devices. Much like developers make use of Siri and the M7 co-processor to make applications for the iPhone 5S. The point of alluding to features Google may offer on Android Wear, that are already available on the iPhone 5S, is to outline Apple's lead in these areas - such as Apple's intuitive lead with Siri over Google Voice.
Wearable Device Market:
(Source)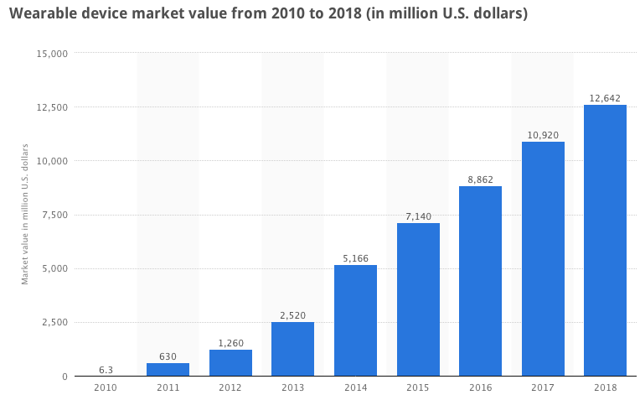 The market for wearable devices is in its infancy, but the future potential is large with a projected market of over $12.6B in 2018.
(Source)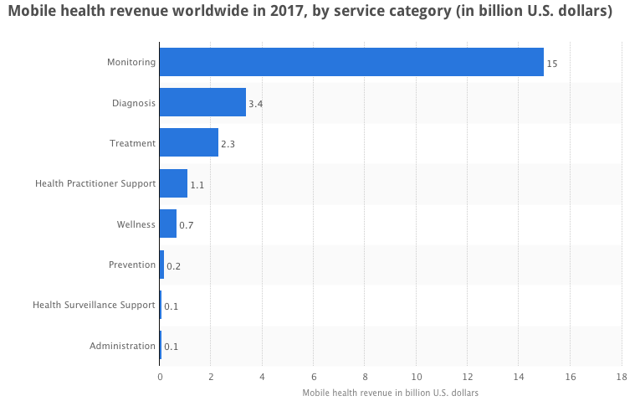 As discussed earlier, Apple and Google are going head to head in many areas of smart watch technology. One of which is a platform for fitness and health technology that developers can use to offer consumers advanced applications. These applications will help monitor several health components and will be the beneficiary of a huge market cresting $15B in 2017.
The market for wearable devices and its included technology offers is massive. As such Google and Apple are in lockstep competition to offer the best wearable devices to their customers. The size of the potential markets outlines the future demand for these products.
With an over $12.6B market projected in 2018 for wearable devices, Apple and Google will compete feverishly to capture marketshare in this area - and profits.
Apple needs more than just iPhone and iPads, argued by SA contributor Bill Maurer. If Apple is able to obtain the lions share of the smart watch market, and the market itself grows considerably, it could equate to an additional $2.50 to $4.00 in annual earnings per share. The market and the products are in there infancy, so investors need to broaden their imaginations to see the future potential in the market.
Apple may have several potential competitive advantages over Google in the smartwatch arena, but they have no response for Google Glass - an interesting product that requires its own report.
Conclusion:
Google and Apple are going head to head in a battle that could end up being very large. Mark Hibben views Apple's iWatch prospective market impact as being equal to the release of the first iPhone.
Smart watches are already on the market, but users are waiting feverishly (I) for Apple and Google to release their own versions. Even Shaq is awaiting the release of Apple's iWatch. There is a lot to gain from having more advanced technology and power in each company's prospective iWatch - a battle whose first shots are starting to be fired now.
Disclosure: I have no positions in any stocks mentioned, and no plans to initiate any positions within the next 72 hours. I wrote this article myself, and it expresses my own opinions. I am not receiving compensation for it (other than from Seeking Alpha). I have no business relationship with any company whose stock is mentioned in this article. This article is informational and is in my own personal opinion. Always do your own research and contact a financial professional before executing any trades.