It baffles me that people can continue to stay on the long side of Pandora (NYSE:P). As an iTunes radio listener, I started to listen to Pandora simply for the purposes of seeing if there was something that I was missing in my analysis of the company and its service. There isn't.
One item that I rarely comment on was the quality of selection. I listened to the same station a few days over now, generally in the morning while writing or getting ready for the day, and within days I've heard numerous repeats. iTunes radio doesn't seem to have that problem - but, I digress.
Since the company's last earnings guidance was botched, the parabolic upward spike that was Pandora trading has calmed down significantly, and we've seen the stock pull back a bit. I still believe the company is massively overvalued with very little future growth potential.
But, alas, the company is still up 24% in the last three months, and an astounding 155% in the last twelve months. This gravy train, however, will likely soon be coming to a close. I'm predicting a Zynga (NASDAQ:ZNGA)-like apocalypse for Pandora to start as early as the end of this year.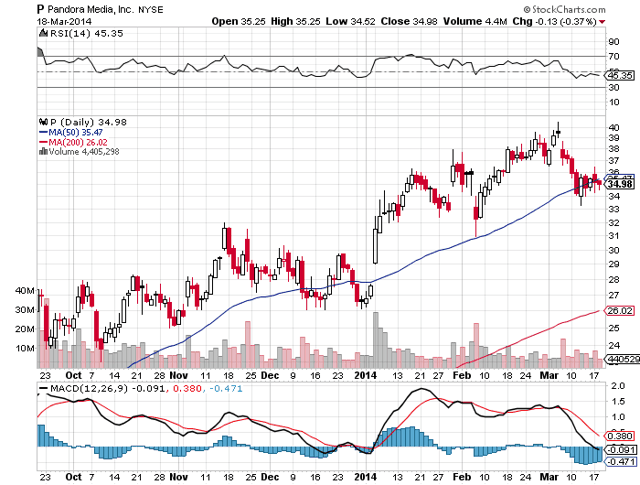 My original thesis on Pandora was a simple one - one that didn't include tons of QA, but a heaping serving of common sense. I looked at the audience metrics, saw little growth, and then looked carefully at the competitive landscape - which includes Google (NASDAQ:GOOG), Apple (NASDAQ:AAPL), and Spotify.
The audience metrics are getting so stale to look at, the company is saying they're going to simply stop offering them this year. And, anyone that's worked in corporate strategy or IR knows there's only one reason you stop offering data - you don't like the trend it's going to show.
As a reminder, here's what our current active listeners graph looks like: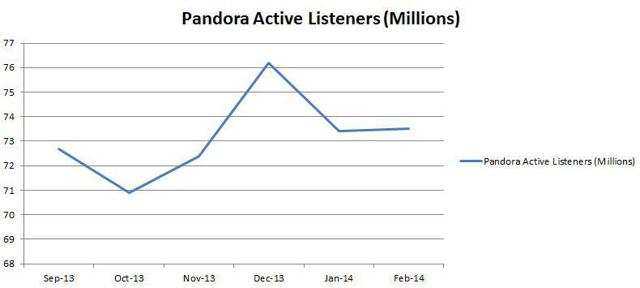 And as I said in my last piece, "Pandora: Don't Say I Didn't Warn You", Pandora is a company priced solely for massive growth, and the company makes its money mostly from advertising. If the amount of advertising channels doesn't increase greatly, there's no justifying giving the stock the credit that the market has, pricing it at this insane multiple. Now, the company is reporting that it's going to be raising the price of its ad-free service - or, as I call it, "implementing 'step 1' in the universal dying business playbook".
Yesterday, Seeking Alpha reported:
Pandora's ad-free One radio service, currently offered for $36/year or $3.99/month, will cost $4.99/month for new subscribers starting in May. Annual subs will get a "discounted loyalty price" of $3.99/month at renewal time, and current monthly subs will see no price changes.
Higher royalty rates are blamed for the hike. Pandora says the rate it pays to recording royalty group SoundExchange (responsible for a large chunk of its licensing fees) has risen 53% in the last 5 years, and is expected grow another 9% in 2015.
Pandora's "subscription & other" revenue soared 132% Y/Y in Q4 to $38.8M, and made up 19% of total revenue. The company ended 2013 with 3.3M subs (compares with 75.3M active listeners in February).
The ad-free version of Apple's iTunes Radio costs only $25/year, and comes bundled with an iTunes Match subscription. But the service doesn't work on Android devices.
So, they're blaming it on higher royalty rates, yet iTunes' price hasn't changed, and they seem to be offering a bit more content - from my personal research.
I see it as, "we better start generating some more money, or we're going to catalyze our own demise".
So, as rates rise, people will once again be tempted to make the switch to one of the other streaming music providers, as this welcomes consumers to take a step back and reevaluate their choice in this niche.
This comes on the heels of the company's CTO stepping down. Andrei Voglin, noted Pandora bear does well in the comments of that news to point out that the company's C-level executive team continues to grow, but the not necessarily commensurate with company progress. As reported by Seeking Alpha:
Tom Conrad, Pandora's ( -0.7%) CTO/EVP of product and a 10-year company vet, is stepping down in three months and "transitioning to an adviser role."
In a blog post, Conrad says he began plotting his departure 18 months ago, but delayed making a move to help Pandora with its CEO transition.
Engineering VP Chris Martin is Pandora's new CTO. The Web radio leader is also promoting VP of technical operations Steve Ginsberg to the role of CIO, and beginning a search for a chief product officer.
Raising prices among another executive shakeup - something isn't working the way it's supposed to inside of Pandora. I continue to feel that Pandora is a losing bet moving forward, for the long-term.
As I said in my last article, Pandora's sole long-term prospect is for it to pull a Green Mountain (NASDAQ:GMCR) style Hail Mary, where it partners with a company like Microsoft, or is acquired before the bubble continues to burst. Those rumors, which were circulating earlier in the month, have seemed to have died down a bit.
Pandora still has massive downside and remains an avoid or short for me.
I have no position, but I reserve the right to add Pandora puts or an options spread at any time.
Disclosure: I have no positions in any stocks mentioned, and no plans to initiate any positions within the next 72 hours. I wrote this article myself, and it expresses my own opinions. I am not receiving compensation for it (other than from Seeking Alpha). I have no business relationship with any company whose stock is mentioned in this article. I have no position, but I reserve the right to add Pandora puts or an options spread at any time.