I recently wrote an article about eBay that was picked up by Investors Business Daily.
EBay's Alibaba?

Robert Wagner, who bills himself as an independent analyst, noted in a report on the Seeking Alpha website last week titled "PayPal Could Be EBay's Alibaba" the similarity to how Yahoo's value is underpinned by its 24% holding in China e-commerce leader Alibaba, which could launch a U.S. IPO this year.

Wagner says a PayPal spinoff would make the payment king a better platform for strategic acquisitions - especially in mobile payments. He also speculates that an independent PayPal would develop a virtual payment currency tailored to merchant needs that would differ from Bitcoin, a digital currency that's a favorite of speculators.

"I imagine PayPal could (develop a digital currency product), but given that they haven't, I assume eBay either hasn't thought of it or isn't interested. An independent PayPal would likely be forced to address the virtual currency issue," Wagner wrote.
In the article I argued that Paypal could be eBay's (NASDAQ:EBAY) Alibaba (ABABA). Most importantly I discussed how an independent Paypal would be more likely to pursue a potential "virtual currency" to compete with the Bitcoin. I've written a lot about alternatives to the Bitcoin, and at least to me a better mouse trap is obvious. The Bitcoin killer will be a merchant centric stable value virtual currency, that has all the benefits of the Bitcoin without the speculative volatility.
The comments I got on that concept were that Paypal wouldn't want to do that because Paypal is very profitable, and they would sacrifice existing earnings. That is 100% true and buggy makers made a lot of money...until the Auto came along. Facts are Paypal can either get in front of this Bitcoin bandwagon or get run over by it. Microsoft's ex-CEO Steve Ballmer is known for mocking and ridiculing change instead of embracing it. He focused on preserving existing markets and products and allowed the world and opportunities to dramatically pass him by while MSFT remained relatively unchanged. Paypal should not make that same mistake.
Right now tobacco company Lorillard (NYSE:LO) faces a similar situation to money transfer companies. Like the Bitcoin to money transfer, the e-cigarette is threatening to dramatically alter the entire tobacco industry. Lorillard can either turn a blind eye to the emerging threat, or it can embrace it and have it work for it. Lorillard has embraced the e-cigarette and has decided to make change work for it instead of getting run over my it. When a "gale of creative destruction" blows, companies have to either pull up the sails and harness the energy to ride with the change to a new location, or stay tied to the dock and get blown over by its force. E-cigarettes are going to happen whether or not the traditional cigarette industry likes it or not, so it is in their best interest to embrace the inevitable change instead of fighting it.
Right now, like the tobacco industry, the money transfer and banking industry is getting hit by a "gale of creative destruction." Only problem is, if the Bitcoin stays as is, it will never turn into a category 5 hurricane. The Bitcoin as a virtual currency is a joke, and a very bad joke at that. Yea, I know someone got an A+++ in their computer science class for developing it, but that person failed econ 101 on an epic scale, and never even made it to Money and Banking 301.
Warren Buffett is no fan of bitcoin.

"Stay away from it. It's a mirage, basically," he said on CNBC's "Squawk Box" on Friday.

In response to a question about the cryptocurrency from Quicken Loans founder Dan Gilbert, Buffett said:

"It's a method of transmitting money. It's a very effective way of transmitting money and you can do it anonymously and all that. A check is a way of transmitting money, too. Are checks worth a whole lot of money just because they can transmit money? Are money orders? You can transmit money by money orders. People do it. I hope bitcoin becomes a better way of doing it, but you can replicate it a bunch of different ways and it will be. The idea that it has some huge intrinsic value is just a joke in my view."
Marc Andreessen took offense to Warren's comments and "tweeted" an insult, basically calling Warren a luddite.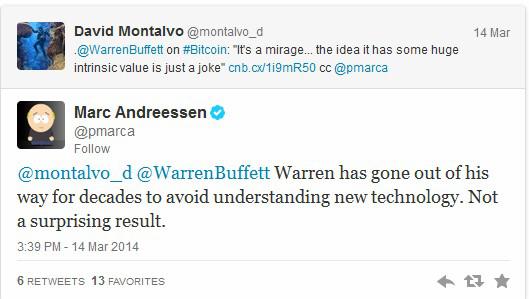 The problem for Marc is that both Warren and Dan are correct, the Bitcoin has zero chance of ever becoming the virtual currency of choice for merchants and causal consumers which make up 99.9999% of the potential market.
This video highights the fatal flaw of the Bitcoin enthusiasts. Like the climate warmists and End the Fedders, the Bitcoin enthusiasts simply have ideological blinders on. The benefit of the Bitcoin is its ease of use, security and low costs/transaction fees. That benefit however is immaterial when compared to the costs and risks involved with its volatility. I can tell a Bitcoin enthusiast 1,000 times that the average consumer or merchant doesn't give one hoot about saving 1% on a transaction fee or possibly making 100% appreciation, when by the time they can check their e-mail the Bitcoin may have fallen 50%, or the exchange where their wallet resides no longer exists, and it will simply go in one ear and out the other. The Bitcoin enthusiasts simply dismiss the risks assuming that merchants and consumes will be willing to risk their entire life's savings and business to support the Bitcoin cause. They simply won't, not matter how desperately the Bitcoin enthusiasts want to believe they will.
Most people simply aren't libertarian fanatics wanting to undermine the global financial system. Most people have no interest in the political philosophy behind a deflationary currency or hate the Federal Reserve and have no interest in becoming high risk currency speculators. The Bitcoin is specifically designed to be a volatile bubble machine. The attraction of the Bitcoin by design is its volatility. The hope was that the possibility of huge gains to be made by holding the Bitcoin will get more and more people to use it and more merchants to accept it. The fatal flaw of volatility inherent in the Bitcoin is an essential part of its design. It is deliberately designed to be what most don't want in a currency, that being volatile.
That is where Paypal comes in. Paypal and other companies are likely to take the Bitcoin virtual currency and alter the code to suit their needs as well as those of their customers." The ultimate virtual currency likely to survive the market Darwinism will be a virtual currency that has a stable value, is secure, can be anonymous, is easily transferred with an e-mail, and have very low or no fees. Those are the characteristics that are important to most merchants and consumers, and that is what virtual currencies will eventually evolve to.
The problem as I see it now is that VC firms like Marc Andreessen's are trying to build an ecosystem around the flawed Bitcoin. They are catering to the Bitcoin instead of getting out the box and designing a Bitcoin to satisfy the needs of the consumers and merchants that will ultimately use it. The flawed Libertarian ideology is inherent in the Bitcoin. Unless that is rejected, virtual currencies will always have a prohibitive level of volatility. If the Bitcoin and future virtual currencies every want to succeed the volatility has to be addressed. As long as the owner of a Bitcoin, be it either the customer of the merchant, has to risk losing far more than they can save or benefit from using the Bitcoin, it will never go mainstream, it is that simple.
The first firm that figures that out will be the Bitcoin killer, and Paypal has the potential to do that. A stable value "Palcoin" would allows customers and merchants to use a Bitcoin like virtual currency without fear of it losing its value. Paypal could also provide secure "wallet" and other services. That is what I speculate to be the future of virtual currencies, and Paypal is ideally suited to make that future a reality.
Disclaimer: This article is not an investment recommendation or solicitation. Any analysis presented in this article is illustrative in nature, is based on an incomplete set of information and has limitations to its accuracy, and is not meant to be relied upon for investment decisions. Please consult a qualified investment advisor. The information upon which this material is based was obtained from sources believed to be reliable, but has not been independently verified. Therefore, the author cannot guarantee its accuracy. Any opinions or estimates constitute the author's best judgment as of the date of publication, and are subject to change without notice. Full Disclaimer and Disclosure Click Here.
Disclosure: I have no positions in any stocks mentioned, and no plans to initiate any positions within the next 72 hours. I wrote this article myself, and it expresses my own opinions. I am not receiving compensation for it (other than from Seeking Alpha). I have no business relationship with any company whose stock is mentioned in this article.