It appears that Putin and Russia have their victory in the Ukraine, with what appears is the annexation of Crimea. Although the markets do not like it, the overall feel of it is that world markets are content with Russia taking over Crimea if that is where the line is drawn and no further expansion of Russia's borders takes place. Even with world markets recovering after the recent events, Russian equity markets continue to face strong headwinds as both foreigners and Russian citizens move to cash, and not necessarily the Ruble either.
Janet Yellen will be in the news today, as the Fed might very well move the market. Everyone will be paying close attention to see if she takes the 6.5% unemployment rate threshold off of the table and indicate that easy money will last a bit longer. Any delaying of rate increases will be good for the market in general and could be exactly what we need in order to boost the S&P 500 to fresh all-time highs.
Chart of the Day:
We have been bullish the SPDR S&P 500 ETF (NYSEARCA:SPY) in recent months, and that trade has worked out. The one issue readers need to pay attention to with the index is that in recent years, many of the largest companies have become international companies, so there is that hidden risk. Dovish comments from Ms. Yellen today should send us to fresh highs, regardless of the China and Russia news, in the near term.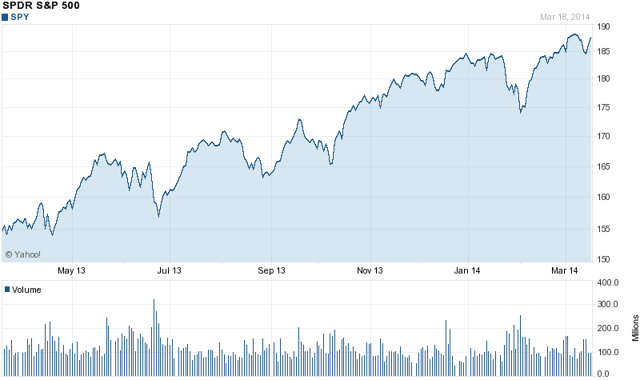 Source: Yahoo Finance
We have economic news today, and it is as follows:
MBA Mortgage Index (7:00 a.m. EST): Est: N/A Act: -1.2%
Current Acct. Bal. (8:30 a.m. EST): Est: -$87.6 B Act: -$81.1 B
Crude Inventories (10:30 a.m. EST): Est: N/A Act: 5.85 M
FOMC Rate Decision (2:00 p.m. EST): Est: 0.25%
Asian markets finished mixed today:
All Ordinaries -- up 0.21%
Shanghai Composite -- down 0.17%
Nikkei 225 -- up 0.36%
NZSE 50 -- up 0.37%
Seoul Composite -- down 0.13%
In Europe, markets are trading higher this morning:
CAC 40 -- up 0.12%
DAX -- up 0.46%
FTSE 100 -- down 0.06%
OSE -- up 0.18%
JPMorgan Sheds Unit
The news this morning is that JPMorgan (NYSE:JPM) is selling its physical commodities trading business to Mercuria Energy Group, a large Swiss trading firm. This is yet another step in the right direction for the bank, and will bring it closer to full compliance with the "Volcker Rule", while also simplifying the company and allowing management to focus more on the traditional banking business.
Now this is something that everyone already knew was in the works, however, the particulars were not known. Today, we know that the price of the deal is going to be $3.5 billion, and when looking at the deal, it seems that this will help the company in its upcoming stress tests, which could lead to regulators allowing JPMorgan to repurchase more shares or increase its annual dividend for shareholders.
CEO Pay
These days, there are more and more shareholders paying attention to the pay packages offered to the CEOs of America's corporations. Some of the best-paid CEOs are those in the media and finance industries, so it was no surprise to us when we read that Wells Fargo's (NYSE:WFC) CEO was not only one of the highest-paid bankers, but also one of the best-paid CEOs in the country, once previously issued options and restrictive stock were factored in. Mr. Stumpf, Wells Fargo's CEO, saw his pay unchanged from 2012, and took home $19.3 million once again for 2013. With Wells Fargo shares providing a roughly 37% return, it is no surprise that Mr. Stumpf's vested and unvested stock, as well as options yielded him another $59 million in income for the year. One has to wonder if shareholders will begin to challenge some of these pay packages and their increases so soon after the financial crisis, especially in the financial services/banking industry.
The company can justify the CEO pay package right now with the performance of the company's stock as well as its operating performance, however if things get rocky in future years, investors might not be too accommodating.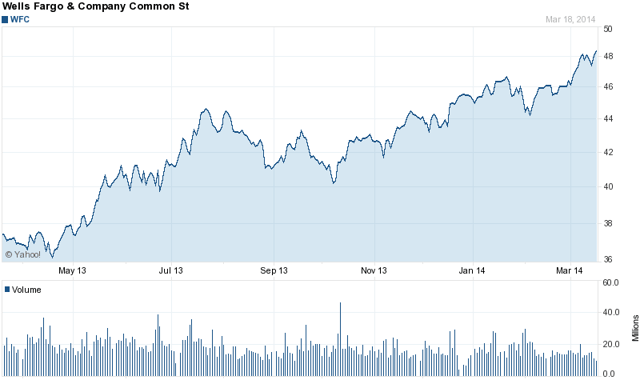 Source: Yahoo Finance
Auto Industry Issues
General Motors (NYSE:GM) has been rocked by recent news reports coming out that the company knew of defects in its vehicles and decided to ignore the issues, rather than correct them and do a recall. The media has really latched onto this story, and it seems daily that new news comes out with more damaging facts for General Motors. With Democrats and Republicans alike upset with the way this was handled at a company the US Government bailed out, we should see some Hill testimony and a long drawn-out process to figure out exactly what happened, when it happened and who exactly decided what (or rather, what not) to do.
In a case which could be an indicator of what lies ahead for General Motors, Toyota Motors (NYSE:TM) announced today that it had reached a settlement with the US Justice Department over its automatic acceleration issues from four years ago. There were fewer injuries in that case and Toyota was proactive for the most part, yet the settlement cost the company $1.2 billion, because it had misleading statements surrounding the recall. This is a step forward for the company, as it gets to put this issue to rest, however it has to be troubling for General Motors' shareholders, because it will most likely face similar suits moving forward.
Disclosure: I have no positions in any stocks mentioned, and no plans to initiate any positions within the next 72 hours. I wrote this article myself, and it expresses my own opinions. I am not receiving compensation for it (other than from Seeking Alpha). I have no business relationship with any company whose stock is mentioned in this article.
Additional disclosure: SPY has previously been recommended.