Diamond Offshore Drilling (NYSE:DO) recently released an updated Rig Fleet Status Report. Some analysts tend to focus only on big ticket contracts and complete their earnings and revenue adjustments solely from these. They are failing to "see the forest for the trees," in my opinion.
Diamond Offshore Drilling, while obviously preferring high day-rates, does not need them in order to take care of employees, service its debt and return capital to its shareholders. It has been estimated that a refurbished drilling rig can command a day-rate approximately 35% lower than a new-build and still be cost effective for the company, especially with the corresponding lower operating cost. Remember that a ready stacked rig bears almost the same operating cost as an operating rig, and this cost must be paid, even in a low-rate or no-rate environment.
This allows flexibility when bidding future contract opportunities in a low day-rate environment. The unspoken truth of Diamond Offshore's mission statement is that the company takes care of stakeholders and maintain its ability to pay dividends to shareholders, including 50.4% owner Loews Corporation (NYSE:L).
Diamond Offshore has consistently offered one of the highest returns on capital employed ratios in the industry.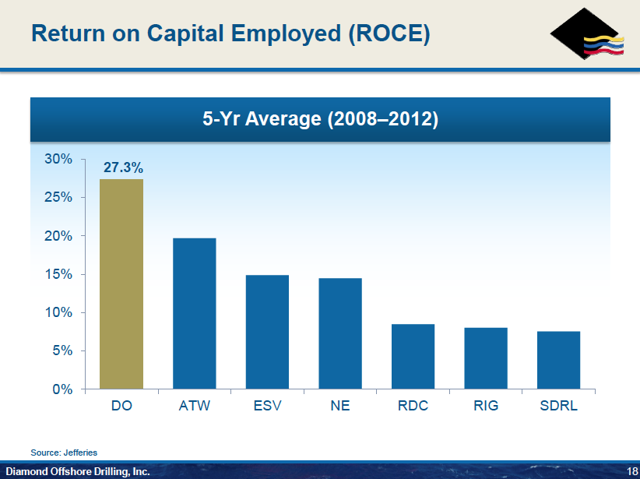 This quote from former CEO Larry Dickerson in the 2010 Annual Report speaks volumes in regards to the "tactical patience" that Diamond possesses:
The BlackHawk and BlackHornet will arrive at the lowest new-build costs we have seen in almost a decade. The cost per drillship is expected to be approximately $590 million, which represents a 35% discount from peak pricing.
I'm sure everyone remembers 2010, when we were "never going to drill for oil offshore" again.
Analysts' opinion of the most recent Rig Fleet Status report seemed to focus on the Ocean Victory re-price which is $82,000 per day less than the recently completed contract for Stone Energy. What the analysts fail to note are the extensions and new contracts in place for the following rigs:
Ocean King (new contract, increased day-rate)
Ocean Saratoga (contract extension)
Ocean Princess (contract extension)
Ocean Confidence (contract extension)
Ocean Star (contract extension)
The Bottom Line:
These new contracts and exercised contract options should increase contract drilling revenue by approximately $65 million for the year, with the majority of that being realized in Q1. Allowing for taxes, this should equate to an additional $0.35 in earnings for 2014 above what analysts were projecting prior to this morning. This shows why Diamond Offshore has consistently beaten analyst estimates in 10 of the last 12 quarters.

(Source: TD Ameritrade)
The competitor to be feared is one who never bothers about you at all, but goes on making his own business better all the time. -- Henry Ford
Disclosure: I am long DO. I wrote this article myself, and it expresses my own opinions. I am not receiving compensation for it (other than from Seeking Alpha). I have no business relationship with any company whose stock is mentioned in this article.