Thesis
With a solid plan to lower costs accompanied by capable management and strong recent performance, Esterline Technologies (NYSE:ESL) appears to have a bright future. But upon looking a little deeper, we come to find that this may already be accounted for in the stock price.
Company Background
Esterline Technolgies designs, manufactures, and markets products to the aerospace and defense industries. These highly engineered products are broken up into three segments of operation: Avionics & Controls, Sensors & Systems, and Advanced Materials. Within these, they address the "Adjacent Applications using A & D technologies", Commercial Aerospace, and Defense markets. Respectively, these markets constitute 20%, 40%, and 40% of the company's revenues. This is a very good balance, especially combined with 50% of sales being within the US and 50% outside of the country.
Numbers
The company recently held an earnings call discussing results for the last quarter of 2013 as well as the full year. In Q4 2013, Esterline reported highly impressive numbers. They achieved record sales of $534.2 million along with record earnings of $66.2 million. All of this was despite a challenged defense environment accompanied by a brief government shutdown in October. Numbers for the full year were equally pleasing. Although net sales were down slightly at $1.97 billion, earnings were up 46% to $165 million. This slip in revenue, though, reportedly was due partly to the timing of orders, as well as the defense struggles. Gross margins increased from 36.1% in 2012 to 36.9% in 2013. Diluted EPS was up as well, rising from $3.60 to $5.19. This percentage increase is slightly different from the increase in earnings due to small changes in the weighted average number of shares outstanding. As a result of growing benefits of scale, strong cost control, and positive contract resolutions, operating margins were operating profit increased 12%, which put operating margins slightly above 17%. Esterline did a great job keeping expenses under control in 2013. In total, they fell almost 8% to $488 million. Also, the chart below (taken from this presentation) shows the fantastic cash flow the company has enjoyed.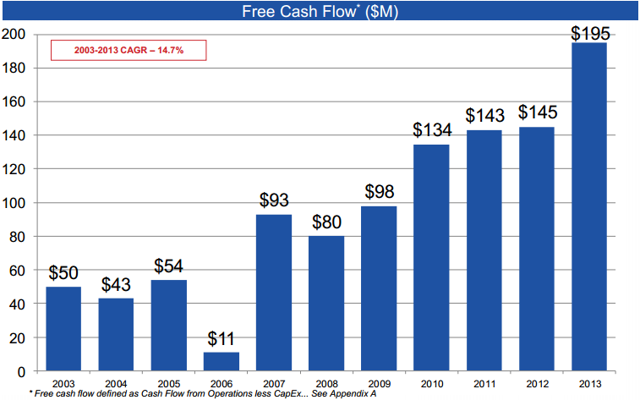 This cash will be reinvested in the company through the channels of organic growth projects, R&D, and M&A.
Also, the company is off to a great start in Q1 2014 (earnings call transcript and SEC filing). Sales were up 10% over last year's first quarter, to $505 million (it should be noted that this year's quarter was 14 weeks long compared to last year's 13 weeks). Even better, net income increased 20% to $30 million. This year's EPS came in at $0.93 per share compared to 2013's $0.80 per share. This is even more impressive considering that Esterline had some special situations both this year and last year:
2014: $0.12 per share in restructuring expenses
2014: $0.03 per share in "incremental compliance cost"
2013: Some discrete tax items boosted earnings by $0.11 per share.
But enough of the numbers, there is no question that this company has been performing superbly as of late. Now I'll explain why this trend is likely to continue.
Catalysts
One catalyst I would like to briefly point out is the myriad of benefits from increasing free cash flow. As I previously noted, the company has been growing free cash flow at a very impressive rate thus far. With this added cash, Esterline can direct funds toward organic or external growth, R&D, and other spots where they will see a significant payback. As the company continues to reinvest in itself, earnings will continue to grow, hopefully at an accelerating pace.
This actually leads us to the one major catalyst that can really be a game changer for the company. With all of this cash flowing into the company's hands, they are able to take on projects that improve the overall performance of the company. Esterline is currently engaged in an accelerated integration program that should benefit them in a huge way. Overall, the goal of the project is to improve the bottom line performance by improving efficiency, lowering costs, and ultimately increasing profitability. Management aims to combine some operations to reduce duplicate costs, consolidate facilities and product lines, improve operational efficiency, and bring together more SG&A operations. For example, the company wants to ensure that similar products are brought together so that production is duplicated to the point where supply overtakes demand. Product consolidation is very important in the process of lowering costs. These moves are accompanied by other strategic actions as well. The production of sensors, for example, has already begun to move into lower cost countries. Esterline is very focused on this idea of lean enterprise, as they aim to eliminate waste and make their company operate in a more simple, useful, and less expensive manner. According to the previously referenced earnings call, "each of our segment group presidents has already begun to identify specific opportunities to accelerate and deepen our integration efforts."
Overall, this project can really change the company's competitive positioning in a significant way. When pricing and competition is fierce, a few percentage points of a lead to start out with for operating margins can make a big difference. Not only that, but the emphasis on efficiency and elimination of waste should make Esterline into a company that is simply of higher quality than its former self. Consolidation means more capital, time, and effort to put toward other projects that will benefit the company. Once the integration program is complete, Esterline will behave, economically, more like a company with synergy than a group of divided companies. And when it comes down to it, this is part of why some businesses fail and others succeed.
Esterline is going after projects that increase value creation in the short term and make the company more globally competitive in the long term. This integration program should cost the company a total of $40 million, with $25-$30 million of the costs coming in fiscal 2014, and with the balance incurred in 2015. Esterline aims to achieve $15 million annually in savings starting in fiscal 2016.
As of the company's last earnings report just a few weeks ago, the project is on schedule. Esterline has 5 specific facility or product integration efforts, and a sixth consolidation that is more general. This includes sales force consolidation, office relocations, as well as IT and HR consolidation. According to this recent earnings report, the IRR of these projects ranges from 30-100+ percent and the payback period is typically around two years. Looking forward, Esterline should see major advances on the bottom line.
I would consider it to be unlikely for this project to fail. Management has reported that it is on track thus far, and they seemed to have a good idea of what they want to achieve and how they will do it. They have already started the six consolidations that I previously referenced, and there are no signs that they will have to stop them short of completion.
Management
"We haven't been happy with our organic growth. So we just had a leadership conference right out of the box where we got all of our general management and key sales folks together and said, how can we share best practices across the businesses and really start to drive some better growth?" -Curtis Reusser, CEO
Esterline's management has been doing a fantastic job with leading the company toward success. They have been making steps in the right direction towards increasing growth rates and profitability. Back in September, the company announced that Curtis Reusser would be the new President and CEO. This was a wonderful move, and there are few people more qualified for the job. Reusser has 30 years of experience in the aerospace and defense industry, as he played a major role in Goodrich (and later United Technolgies') operations. At United Technologies (UTC), he a had financial and operational leadership position over seven business units, with 14,000 employees, and over $7 billion in revenue. During his time there, Reusser was instrumental in improving bottom line results by lowering costs associated with the Goodrich acquisition and successfully integrating the company into UTC's operations. This is remarkably similar to what Esterline is attempting to do right now, and it is a huge benefit to have someone like Reusser on board, who has been through it all before. With his extensive experience, Reusser can bring the company improved profitability, revenue growth, innovative products, and an overall fantastic culture.
Risks
With a significant portion (35%-40%) of the company's revenue coming from the defense industry, a struggling environment in this area is the one major risk that the company is facing right now. The health of this industry relies on the amount of defense expenditures made by each country's government, especially the US. These numbers can swing heavily depending on what conflicts or possible conflicts are going on in the world. After the Budget Control Act of 2011 was signed into law, defense and discretionary spending were cut automatically and in a significant way (read more here). This impacted the company's 2013 results in a negative way, and will continue to take a toll in the defense industry. If the US government continues to support this trend of reduced defense spending, the industry could suffer terrible consequences. This is a very real threat that could have an impact on the company's performance in the coming years. Also, there is the issue of increasing revenues. They rose about 16% from 2011 to 2012, but were about flat from 2012 to 2013. If the company focuses too much on the bottom line, they will not get as much as they hope for out of their integration program. And once it's finished, earnings would remain flat as well. It is possible that this year was just unlucky due to the struggling defense environment, but there aren't necessarily any positive signs that point toward things turning around. Esterline needs to focus both on the bottom line and on revenue, or it could be detrimental to the company and stock price. Of course, there are a number of other risks that are always associated with aerospace and defense companies, such as heavy regulation and the dependence on key customers. But the struggling defense industry should be the main concern for investors.
Valuation
Below is a comparison of valuation metrics between Esterline and a few similar companies, ranging from customers to competitors.
| | | | | | | | |
| --- | --- | --- | --- | --- | --- | --- | --- |
|   | Esterline | Ametek (NYSE:AME) | Boeing (NYSE:BA) | Embraer SA (NYSE:ERJ) | Airbus Group (OTCPK:EADSY) | Average | Standard Deviation |
| P/E | 19.95 | 25.55 | 21.05 | 16.03 | 29.34 | 22.38 | 5.16 |
| P/S | 1.65 | 3.59 | 1.06 | 0.90 | 0.70 | 1.58 | 1.18 |
| P/B | 1.76 | 4.11 | 6.19 | 1.49 | 3.78 | 3.47 | 1.92 |
| EV/Revenue | 1.89 | 3.90 | 0.99 | 0.90 | 0.62 | 1.66 | 1.34 |
| EV/EBITDA | 10.46 | 15.01 | 10.52 | 5.47 | 8.80 | 10.05 | 3.45 |
As you can see, Esterline isn't necessarily wildly overpriced or undervalued. It appears to be right around a fair price at $105.89, at least based on a comparables analysis.
With the integration program in full swing, an analysis based on future earnings can be a little more difficult and a little more subjective than some people would like. Here are a series of my assumptions:
A discount rate of 11%
Integration program: 2014 expenses of $27.5 million will be considered the initial investment, and not discounted. There will be $12.5 million of expenses in 2015, and $15 million in savings per year starting in 2016 and ending in 2020 (purely for PV calculation purposes; these savings will obviously not disappear after 2020). The weighted average number of shares outstanding will be 31.74 million, taken from Esterline's most recent 10-K. This leaves the project with a PV of $0.35 per share.
Current EPS is $5.19. Add $0.35, and you get $5.54.
Earnings will grow at 11% for the next 5 years, a decent estimate considering the company's history. They will then level off to 4%.
This leaves us with a per share value of $110.01, about $3 above the current price. Again, we are led to believe that the current price is about where it should be.
Overall, I would say that now is not the right time to buy, but Esterline is a great company. I would closely monitor the defense segment, and if a dip comes, it might not be such a bad idea to buy a few shares.
Disclosure: I have no positions in any stocks mentioned, and no plans to initiate any positions within the next 72 hours. I wrote this article myself, and it expresses my own opinions. I am not receiving compensation for it (other than from Seeking Alpha). I have no business relationship with any company whose stock is mentioned in this article.