Commodity markets are mixed today ahead of the Fed, but we suspect that the Federal Reserve will reveal to the markets a more dovish stance than is anticipated and will provide a bid for commodities such as gold, copper and oil, to name a few.
Our attention is upon this news first and foremost, but we are also shifting our focus back toward the oil and natural gas plays we have been involved in for so long and could see ourselves become buyers once again. The momentum in that area has certainly shifted and we like the price action we are seeing.
Chart of the Day:
Gold has been a strong performer as of late, boosted most recently by the actions of Russia and Ukraine. We have been out of the gold trade for some time, timing the closing of our recommended gold short trade pretty close to the bottom in hindsight. With Ms. Yellen discussing the Fed's policy moving forward, the next 24-48 hours could be quite interesting for gold bugs. We think that the easy money policy, through low interest rates, will be extended but we do not have a long position in physical gold or the SPDR Gold Shares (NYSEARCA:GLD).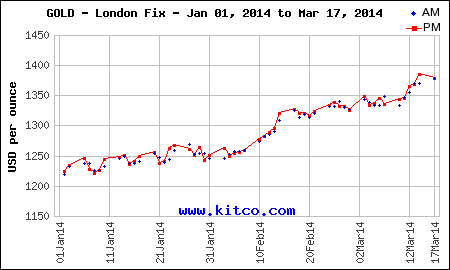 Source: Kitco
Commodity prices this morning are as follows:
Gold: $1,341.70/ounce, down by $17.30/ounce
Silver: $20.785/ounce, down by $0.077/ounce
Oil: $99.78/barrel, up by $0.08/barrel
RBOB Gas: $2.871/gallon, down by $0.0318/gallon
Natural Gas: $4.482/MMbtu, up by $0.026/MMbtu
Copper: $2.9285/pound, down by $0.025/pound
Platinum: $1,453.20/ounce, down by $8.50/ounce
The Indicator
Our long-time readers are aware that we have long looked to Cheniere Energy (NYSEMKT:LNG) as a proxy for the oil and natural gas trade as it is a good indicator of investors' risk appetite at any given moment. It used to move ahead of the general energy markets but lately has fallen more in line and trades in tandem. Due to the nature of the entity it seems to us that although its ability to predict future moves has greatly diminished, the ability to use Cheniere Energy as a proxy for whether investors are looking for a risk-on or risk-off trade still holds.
The continued strength in Cheniere Energy has reinforced our bullishness and has led us to explore the possibility of adding exposure to the oil and natural gas sector. The ongoing talk of the US ramping up efforts to export natural gas to allies around the world, especially the EU, has only helped to prop up Cheniere. Even with that noise, the rest of the energy names seem to be indicating that we are to head higher rather than lower.
Oil Names Of Interest
We have taken our lumps as others have poked fun at our strategy of buying premier E&P names which found their stock prices under pressure after huge runs last year. Buying on the dips will always work when dealing with a company that is quickly growing production and has assets that produce a commodity that has a relatively stable price. This has been the case with both Gulfport Energy (NASDAQ:GPOR) and PDC Energy (NASDAQ:PDCE), two companies which have had difficulty in meeting production targets due to midstream bottlenecks and in some cases their own missteps. In both cases the question is not whether the resources are there, but how quickly and at what rate the companies can ramp up production.
With the recent news flow from both names we would put PDC Energy as our favorite among the two names simply due to their Wattenberg assets ramping up and the potential for the company to prove up the rest of its Utica acreage at the southern end of the play. With the pipeline issues behind the company one would think that the company should be able to reasonably meet its schedule for connecting wells.
Gulfport Energy is another story. We still like the story and the outlook, however we suspect that the company will miss its full-year guidance that it currently has in place. The exit rate might be easy enough to meet, but the history here leads us to believe that either due to the company's drilling or partner midstream issues, which we view as the most likely culprit, Gulfport will disappoint at some point during the year. We are still personally long the stock and have not sold any of our holdings, but with the vast majority of Gulfport's assets being in the Utica, and with that play's infrastructure still being built out, we think that PDC Energy offers the safer play between the two names.
A Bottom Hit?
The chart is looking better, but resistance is strong and will need news to propel shares higher.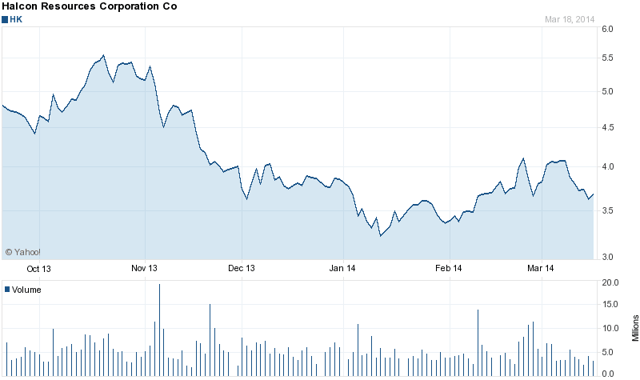 Source: Yahoo Finance
We have been watching Halcon Resources (NYSE:HK) closely as we try to figure out whether it is time to walk away from the name or continue to wait it out and trust management. The most recent price action has been encouraging, however the $4-4.10/share area has posed serious resistance for the shares. Our guess is that the stock is range bound until the resistance can be broken, but good news might be required in order to help push the stock through that level. We remain long the small position that we have in this name, but continue to watch as we try to make up our mind as to whether this will continue to be a long-term hold or not in our portfolios.
Disclosure: I am long GPOR, PDCE, HK. I wrote this article myself, and it expresses my own opinions. I am not receiving compensation for it (other than from Seeking Alpha). I have no business relationship with any company whose stock is mentioned in this article.